Understanding Pregnancy Discomforts -- Symptoms
In this article
What Are the Symptoms of Pregnancy Discomforts?
Women can expect some or all of these changes in a normal pregnancy:
In the first trimester: absence of menstrual flow, minor weight gain, increased urination, enlarged and sore breasts, morning sickness, and nausea
In the second trimester: significant weight gain (about 1 pound a week), stretching of the abdominal wall and pelvis, backache, constipation, heartburn, and fetal movement
In the third trimester: swollen limbs from fluid retention, leaking breasts, constipation, hemorrhoids, insomnia, urinary incontinence, and discomfort below the rib cage a few weeks before the baby drops at about 36 weeks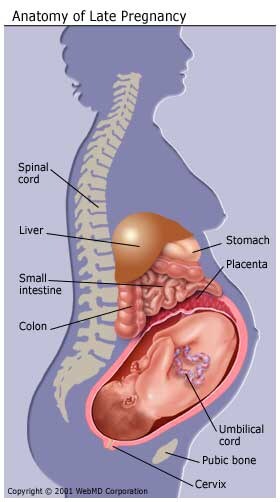 Call Your Doctor About Pregnancy Discomforts If:
View Article Sources
© 2015 WebMD, LLC. All rights reserved.