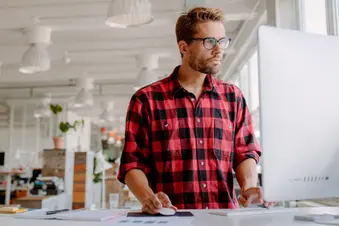 By Jacob Hascalovici MD, PhD, as told to Kara Mayer Robinson
To successfully manage ankylosing spondylitis (AS), I recommend being active, staying social, and living your life the way you want to as much as possible.
Many of today's assistive devices, gadgets, and pieces of technology were created specifically for people with AS, and they can help you achieve this.
Tools and Gadgets
You'll find many tools and gadgets online and at local medical supply stores. If you're the DIY type, you can construct some yourself.
Adjustable Bed Railing
When it's time to get in or out of bed, a railing gives you a sturdy handhold that reduces your risk of a fall while helping you feel steadier and more in control.
These devices come with suction cups for stability and can be adjusted to fit your bed. Some even come with pockets to hold your book and glasses.
Padded Seat
A padded seat that boosts you up as you stand from a sitting position can take a lot of strain off your hips and muscles. This may prevent unnecessary struggling and falls. Pick one that fits you best, depending on your size and weight. 
Buttoning Hook Dressing Aids
If everyday tasks like buttoning feel painful, you have many options to help. There are many grabbers and devices available to make these tasks easier.
You can find gadgets that help you put on socks, get your shoes on, reach something just beyond your fingertips, and much more.
Thick Kitchen Mats
AS can make the kitchen a painful, awkward place. That's why I tell my patients to look for opportunities to improve their kitchen however they can.
A good start is a thick floor mat, which gives you extra cushioning for your ankles, knees, and hips.
These mats come in different sizes and thicknesses. As a bonus, they're often easier to clean than tile or other common kitchen surfaces.
Other Kitchen Devices
Electric appliances like can openers and pot stirrers can make cooking and food preparation easier. Gadgets designed to pull open tabs on cans or unscrew tough jar lids can really save your hands.
Kitchen multitools make things a little easier, as do specialty stands that hold your computer, electronic reader, recipe book, or phone so you don't have to hunch over quite so much to read your recipes.
Standing Desk
Over the last few years, standing desks have gained popularity. These desks may help prevent you from feeling sore while sitting at work. They can range from a stack of bricks to fancy desks that you can raise or lower at the push of a button.
Foot Support
Custom orthotics, like gel shoe inserts customized to the size of your foot, can support your feet to make activities easier. Stools and chairs that help you stand up can also help with foot support to counterbalance some of the toll of AS.
Shower Essentials 
Staying sturdy and avoiding slips in the shower can be a challenge. Grab bars, non-skid mats, and a shower stool aren't new concepts, but they're still incredibly helpful at keeping you sturdy and preventing falls.
Extra Pillows 
For truly good sleep, you may need more than one pillow. A wedge pillow can support your torso or slide under your legs. A cervical pillow cradles your head and takes the strain off your neck.
Tech-Based Tools
Advances in the digital health care space can help you better understand and manage AS.
Health Tracking Apps
Many health care apps help you monitor and track your AS symptoms. 
When you use your digital device to manage and track your symptoms, you get a better understanding of how your pain levels change over time. That can help you tailor your lifestyle choices and reduce flare-ups.
I've seen overwhelming positive responses from patients who've noticed pain relief by doing something as simple as tracking their symptoms.
I urge my patients with AS to check out weight loss, sleep, and mental health apps as well. These can be extremely helpful, particularly if you struggle with obesity, insomnia, or mental health issues.
Telehealth
If you can't make it to your doctor's office, telehealth is a great option to address concerns about your AS symptoms.
During a virtual visit, your doctor can assess your pain and give you recommendations for how to go about your day with less pain. 
Virtual Physical Therapy
Some smartphone apps offer at-home physical therapy, which may improve your physical function and relieve your AS symptoms.
After meeting with your doctor, you receive exercises that are personalized for your range of motion and ability.
Trial and Error
Everyone's body and symptoms are unique, so there's no one-size-fits-all approach for managing AS with assistive devices.
Try a few options to see what's best for you. It may take some trial and error to find what works for your needs.
Show Sources
Photo Credit: Jacob Ammentorp Lund / Getty Images
SOURCE:
Jacob Hascalovici, MD, PhD, co-founder and chief medical officer at Clearing, a telehealth platform for people with chronic pain.