Fab at 40: Luscious Lips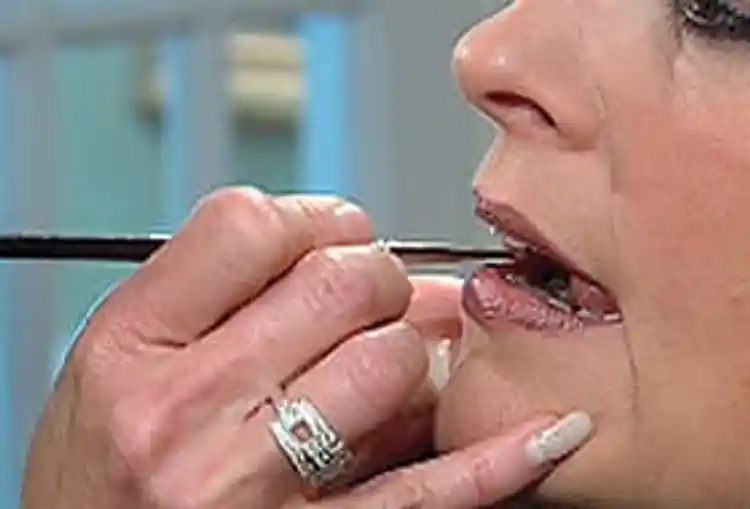 Video Transcript
Janeen Loria
Using a rosy brown cheek color. And you really just want to swirl blush into the apples of your cheek.
Janice
So for night should I put on darker blush?
Janeen Loria
Brighter. Brighter is the word you want to go for. You want to brighten the face. Just to set all the makeup that I've just done, I'm going to use it on a puff instead of a brush, ok. And I'm going to roll the powder onto the face. Loose powder is your driest, sheerest powder. Throw a compact in your purse to carry with you when you go out. All right, let's work on lips. And I'm going to start with a little bit of liner in a neutral color. Let's moisturize your lips just a tiny bit first. I'm going to go barely outside your line. And the only reason I'm able to get away with that is because of the shade that I'm using. You don't want to do this with darker lip liners. Becomes too obvious. I'm also going to go for a softer color on your lips and add a little bit of gloss. This may be where you want to consider what you're wearing. If you're wearing black, it might be nice to add just a little bit richer color. This color is a little different. It's a plum, but it has almost a metal look to it. Looks darker than it is. It's more of a shine. It's best to use a brush, a lip brush, that's flat, not, you know, if it starts to get frayed you need to toss it. You need a nice, flat, firm brush. I'll apply a little bit of gloss, only to the center. This is more of a moisturizer than a sticky, gooey lip gloss. The center of the lip just adds the highlight and the focus right there to the fullest part of your lip, which is in the middle. You don't want to get carried away with gloss because it will eventually mess up the lipstick. And we are done. There is your glamorous look for the evening.
Janice
I like the colors!