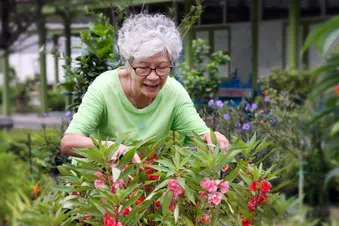 It's always a good idea to take care of your health and well-being. But it's even more important to make self-care a priority when you're faced with a diagnosis of HER2+ breast cancer. 
Cancer of any type can make you feel as though your life is spinning out of control. Finding ways, big or small, to take care of yourself can help you take back some control. In addition to supporting your general health, good self-care habits also may help with stress, sleep problems, and anxiety.
In your effort to take good care of yourself through your journey with HER2+ breast cancer, try these tips:
Stay active
Get out and exercise, even if you are going through chemo or other treatment. Women who stay active during chemo often seem to handle treatment better.
If there's a particular exercise you enjoy, then stick with that. If you feel well enough, go outside for a walk or light jog. If you're looking for something new, consider yoga or Pilates. You could try a class or find a video you can do at home.
Keep in mind that some treatments for HER2+ breast cancer can affect your heart. Others may lead to weight gain. Along with the usual benefits of exercise, physical activity can help with some of these side effects that may come with your cancer treatment.
Eat well
It can be hard to eat well when you're in treatment. Depending on your medicines, you may not feel like eating or you may only want to eat certain things. Give yourself permission to eat what sounds good to you. If you are losing or gaining weight, tailor your diet accordingly.
Try to eat a range of foods that will keep you well-nourished. If you have trouble doing this or aren't sure what to eat, ask your doctor or see a dietitian for advice.
Find support
Don't be afraid to ask family and friends for help. Many people also find support groups helpful as a way to connect with others in a similar situation. It always helps to know what to expect and to realize you aren't alone.
Talk to a professional
Your mental health is just as important as your physical health. If you need help to manage your feelings, you may want to see a psychologist who specializes in cancer and its treatment. A good therapist can talk you through ways to handle feelings of anxiety, depression, fear, and grief that may come with a diagnosis of HER2+ breast cancer. They also can help you consider options for antidepressants or other medicines that can help.
Advocate for yourself
If something doesn't feel right to you, it probably isn't. One way to take care of yourself now is to make sure you've got the right care team in place. Make sure it includes people you feel you can trust to support you. If you have questions or needs that aren't being met, don't hesitate to ask for help.
Set boundaries
It's great to have people in your life who care, but sometimes you'll want time to yourself. Set boundaries by letting friends and family know what you need and when. Set regular hours for people to visit, and turn off your phone when you need peace and quiet.
Don't be afraid to say no
If loved ones ask you to do something you just aren't feeling up for, or you've been asked to take on a task that's more than you can handle now, it's OK to say no. If the timing just isn't right, ask for a raincheck.
Get some rest
Good rest is always important for good health and well-being, and sleep trouble is really common in people with any sort of cancer. If you're tired, take a nap. If you have trouble sleeping, make sure to let your doctor or therapist know. They may offer strategies or medicine to help.
Keep it simple 
As part of caring for yourself, the small stuff matters. Slow down. Meditate. Pick up a book you'd like to read. Make yourself a nice cup of tea. Take a bath. Do whatever it is that helps you feel relaxed and fulfilled.
Give yourself grace
Even if you are doing everything you can, there will be bad days. If you set good self-care habits, it will carry you through the tougher times. Remember also that everyone is different. What works for someone else might not work for you.
Show Sources
SOURCES:
Jaimie Heldstab, breast oncology nurse practitioner, The University of Kansas Medical Center, Kansas City.
Penn Medicine: "Self care during cancer."
National Breast Cancer Foundation: "Physical activity, wellness & nutrition: Taking care of yourself during treatment and beyond."
Breast Cancer Research and Treatment: "Prospective evaluation of the cardiac safety of HER2-targeted therapies in patients with HER2-positive breast cancer and compromised heart function: the SAFE-HEaRt study."
Fox Chase Cancer Center: "5 Keys to Self-Care During Cancer Treatment."
Current Treatment Options in Neurology: "Sleep Dysfunction in Patients with Cancer."
UCSF Health: "Breast Cancer Self-Care and Recovery: Lifestyle Changes."