Uses
This medication is used to control cytomegalovirus (CMV) eye infections (CMV retinitis) in persons with AIDS. This medication is an antiviral that works by stopping the growth of viruses. Controlling CMV retinitis can help decrease the risk of blindness from the infection. Foscarnet is sometimes combined with another antiviral drug, ganciclovir, when the CMV infection does not respond to either drug used alone for treatment.This medication is also used to treat herpes infections (HSV) that do not respond to treatment with acyclovir (acyclovir-resistant).This medication is not a cure for CMV or HSV diseases.
How to use Foscarnet SODIUM Bottle, Infusion
This medication is given by injection into a vein by a health care professional. It is given as directed by your doctor, usually 2 to 3 times a day for the first 2 to 3 weeks of treatment, then once a day thereafter. It is usually infused slowly over 1 to 2 hours using an infusion pump. Infusing this medication too quickly can result in serious side effects.
The dosage is based on your weight, medical condition, and response to treatment.
If you are using this medication at home, learn all preparation and usage instruction from your health care professional. Do not mix this product with any other medications. Before using this product, check it visually for particles or discoloration. If either is present, do not use the liquid.
To prevent kidney damage, it is important to drink plenty of fluids while using this medication. Fluids may be given by injection into a vein to make sure you get enough.
Antivirals work best when the amount of medicine in your body is kept at a constant level. Use this drug at evenly spaced intervals.
It is very important to continue using this medication exactly as prescribed by your doctor. Stopping treatment too soon may result in ineffective treatment.
Do not use more of this drug or infuse it more often or faster than prescribed by your doctor. Your condition will not improve faster, and you may experience side effects.
If skin contact with this drug occurs, flush with plenty of water. If irritation occurs, contact your doctor right away.
Learn how to store and discard medical supplies safely.
Side Effects
See also Warning section.
Nausea, vomiting, headache, diarrhea, dizziness, or swelling/pain at the injection site may occur. If any of these effects last or get worse, tell your doctor or pharmacist promptly.
Remember that this medication has been prescribed because your doctor has judged that the benefit to you is greater than the risk of side effects. Many people using this medication do not have serious side effects.
Tell your doctor right away if you have any serious side effects, including: new vision problems, fast breathing, unusual tiredness, painful urination, irritation/sores on the penis, vaginal irritation/sores, signs of infection (such as sore throat that doesn't go away, fever).
A very serious allergic reaction to this drug is rare. However, get medical help right away if you notice any symptoms of a serious allergic reaction, including: rash, itching/swelling (especially of the face/tongue/throat), severe dizziness, trouble breathing.
This is not a complete list of possible side effects. If you notice other effects not listed above, contact your doctor or pharmacist.
In the US - Call your doctor for medical advice about side effects. You may report side effects to FDA at 1-800-FDA-1088 or at www.fda.gov/medwatch.
In Canada - Call your doctor for medical advice about side effects. You may report side effects to Health Canada at 1-866-234-2345.
Warnings
This medication is used only for cytomegalovirus (CMV) eye infections and acyclovir-resistant herpes infections.
Foscarnet may cause serious side effects such as kidney problems and seizures due to mineral/electrolyte imbalance. You may be given fluids and/or minerals/electrolytes while receiving this medication. Your doctor should check your kidney function and lab tests while you are using this medication to decrease the risk of these side effects. Tell your doctor right away if you have any of signs of kidney problems or mineral/electrolyte imbalance, such as change in the amount of urine, numbness/tingling of arms/legs, tingling around the mouth, seizures, muscle cramps/spasms, mental/mood changes, weakness, or irregular heartbeat.
Precautions
Before using foscarnet, tell your doctor or pharmacist if you are allergic to it; or if you have any other allergies. This product may contain inactive ingredients, which can cause allergic reactions or other problems. Talk to your pharmacist for more details.
Before using this medication, tell your doctor or pharmacist your medical history, especially of: liver disease, kidney disease (including being on dialysis), dehydration, low electrolyte levels (calcium, magnesium, potassium, phosphate), nervous system problems (such as a history of seizures), a low sodium diet.
This drug may make you dizzy. Alcohol or marijuana (cannabis) can make you more dizzy. Do not drive, use machinery, or do anything that needs alertness until you can do it safely. Limit alcoholic beverages. Talk to your doctor if you are using marijuana (cannabis).
Before having surgery, tell your doctor or dentist about all the products you use (including prescription drugs, nonprescription drugs, and herbal products).
Children may be more sensitive to the side effects of this drug, especially the effects on developing bones.
Older adults may be more sensitive to the side effects of this drug, especially kidney problems.
During pregnancy, this medication should be used only when clearly needed. Discuss the risks and benefits with your doctor.
It is unknown if this drug passes into breast milk. Because of the possible risk to the infant, breast-feeding while using this drug is not recommended. Consult your doctor before breast-feeding.
Interactions
Does Foscarnet SODIUM Bottle, Infusion interact with other drugs you are taking?
Enter your medication into the WebMD interaction checker
Overdose
If someone has overdosed and has serious symptoms such as passing out or trouble breathing, call 911. Otherwise, call a poison control center right away. US residents can call their local poison control center at 1-800-222-1222. Canada residents can call a provincial poison control center. Symptoms of overdose may include: seizures, tingling around the mouth, numbness/tingling in arms/legs.
Do not share this medication with others.
This medication is usually first given in the hospital where your condition can be monitored closely. Lab and/or medical tests (such as kidney function, electrolytes levels, complete blood count, regular eye exams) should be done while you are using this medication. Keep all medical and lab appointments. Consult your doctor for more details.
It is important to get this medication as scheduled. If you miss a dose, ask your doctor or pharmacist right away for a new dosing schedule. Do not double the dose to catch up.
Store at room temperature away from light and heat. Keep below 104 degrees F (40 degrees C). Do not store in the bathroom. Keep all medications away from children and pets.
Do not flush medications down the toilet or pour them into a drain unless instructed to do so. Properly discard this product when it is expired or no longer needed. Consult your pharmacist or local waste disposal company.
Images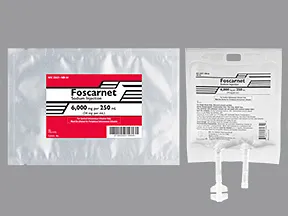 foscarnet 24 mg/mL intravenous solution
Color: colorless
Shape:
Imprint:
This medicine is a colorless, clear, solution
Drug Survey
Are you currently using Foscarnet SODIUM Bottle, Infusion?
This survey is being conducted by the WebMD marketing sciences department.
Selected from data included with permission and copyrighted by First Databank, Inc. This copyrighted material has been downloaded from a licensed data provider and is not for distribution, except as may be authorized by the applicable terms of use.
CONDITIONS OF USE: The information in this database is intended to supplement, not substitute for, the expertise and judgment of healthcare professionals. The information is not intended to cover all possible uses, directions, precautions, drug interactions or adverse effects, nor should it be construed to indicate that use of a particular drug is safe, appropriate or effective for you or anyone else. A healthcare professional should be consulted before taking any drug, changing any diet or commencing or discontinuing any course of treatment.