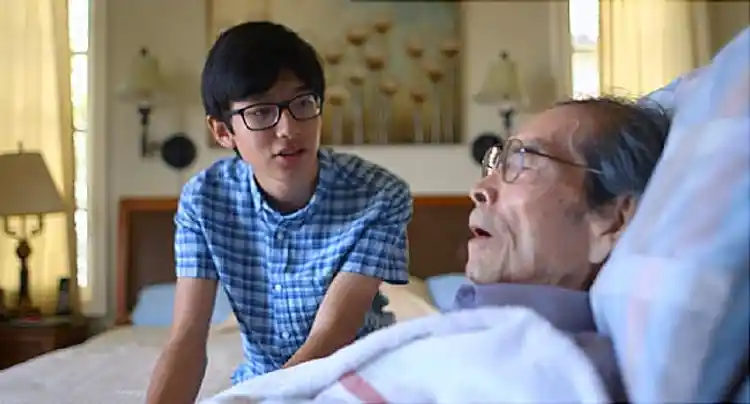 Kenneth Shinozuka, 17, grew up in a household with three generations. He worried that his grandparents would be among the millions of older adults injured in falls each year. So he had an idea: Place sensors under the tiles of bathroom floors that would send an alert to a caregiver's wristwatch if someone fell. His "smart bathroom" concept never reached stores -- mainly because he was only 6 years old when he invented it. But "that process implanted in me a very firm passion to help the elderly using technology," he says.

A few years later, Shinozuka's grandfather, who has Alzheimer's disease, began to wander. One night, police found him shuffling along a California freeway in his pajamas. "My aunt was caring for my grandfather. She was experiencing a lot of stress. She had to stay awake all night," Shinozuka recalls. He wanted to invent something to help -- but what? "I was looking after my grandfather one night and I saw him stepping out of bed. The moment his foot landed on the floor, I saw the solution to my family's problem."
That turned out to be a pressure sensor in a sock that sends an alert to a caregiver's smartphone the instant someone with dementia steps out of bed. It took a year of trial and error for Shinozuka to design and build the prototype -- a pressure-gauging sensor, wireless circuit, and smartphone app. He first tested it on his grandfather -- with 100% success -- then at some senior care facilities in Irvine, CA. "It confirmed my lifelong belief that technology can change lives for the better," he says. In 2014, Shinozuka won the Scientific American Science in Action Award at the Google Science Fair.
Today he continues to refine his invention, called SafeWander. He's made a sensor that attaches to clothing for people who like to sleep sockless, and he's increased the range so caregivers can get an alert from any distance . The high school senior hopes to one day find cures for Alzheimer's and dementia, "so that other generations don't have to suffer through the same pain my family did."
Update: SafeWander and Shinozuka in the Spotlight
Since he was named one of WebMD's 2015 Health Heroes, Shinozuka's life has gotten even busier.
"To receive all this attention is definitely surreal," he says. "I never would have imagined that any of this would have occurred."
Eagle-eyed TV viewers might have caught his recent cameo in an ad for Cadillac that aired during the Oscars.
"In January, I received an email from an ad agency," Shinozuka says. "Initially, I actually didn't know who they wanted me to star in the ad for."
The spot, part of the luxury brand's "Dare Greatly" campaign, was shot in Los Angeles.
"I had never been in an ad before. It was a new world, actually," he says. "I was very fortunate to be a part of it."
If Tinsel Town doesn't come calling again soon, he's well on his way to making a name for himself in health care technology.
In January, he visited Las Vegas to speak at the Digital Health Summit during the 2016 Consumer Electronics Show (CES). It was his second trip to CES. The first, in 2015, was as a spectator.
"It blows my mind, really," Shinozuka says of the show.
In February, he received a $50,000 grant from Digital Health Marketplace for a joint pilot program at Hebrew Home, an assisted-living facility in Riverdale, NY.
SafeWander was one of 10 companies to receive funds.
"It's really incredible to see the sheer amount of innovation that's occurring in the health care technology space," he says. "It's exciting to know that we're living in a time when so many [advancements] are happening."
How does he see his own role in that space?
"To be able to contribute to that broader effort to utilize technology to make the world a healthier place is something that's very special," he says.
As far as the future, in the short term, an Android app for SafeWander is in the works. In addition to the Hebrew Home, the product is also being piloted in assisted living facilities in Maine and California.
"It's exciting to see that SafeWander is being used by lots of different institutions," Shinozuka says. "We're just trying to make sure that [it] can be delivered to as many different people as possible."
Looking further out, Shinozuka says he's working on some technology that he says could help users of the product more, particularly in preventing falls, another common problem among the elderly.
Through it all, this teenager remains amazed at -- and grateful for -- the journey he's on.
"[SafeWander] was my personal solution to a family problem," he says. "I never would have imagined that any of this would have occurred. I love advancing technology, and I love using it to help the elderly."