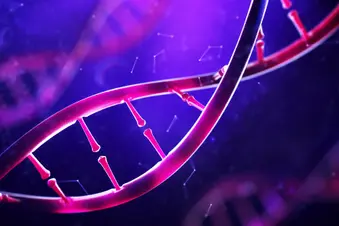 May 4, 2022 – Many general health screening recommendations are based on broad averages. Regular mammograms, coloncancer screenings, and diabetes screenings are all advised over age 45.
But what if you could have a customized plan based on your genetics – so you could take preventive steps earlier, or avoid needless procedures, depending on your unique risk?
That could be where the future is headed, according to researchers in a new Nature Medicine study who developed and validated six "polygenic risk scores," or measures of disease risk based your genes.
Looking at one genetic marker is not clinically useful, but a calculation based on hundreds or thousands of these markers could help patients make meaningful health decisions, says Jason Vassy, MD, the study's lead author and a primary care doctor at Brigham and Women's Hospital.
"This is another great example of precision medicine," he says. "There's always been a tantalizing idea that someone's genetic makeup might help tailor preventative medicine and treatment."
The researchers – from Brigham and Women's, Veterans Affairs Boston Healthcare System, and Harvard Medical School – hope to transform that "tantalizing idea" into reality.
Will You Get a Disease? Finding a More Definitive Answer
Evaluating each patient's disease risk can be tricky. Available tools, such as the heart risk calculator designed by the American Heart Association and American College of Cardiology to help guide patients in considering cholesterol-lowering statins, are geared toward populations, not individuals, Vassy says.
"Patients ask what the risks are for them personally, and I say I don't have a crystal ball; I don't know your future," he says. "While that's still true, there's an allure to be able to tell them, 'Here's your genetic makeup and the risk score that applies only to you.'"
As part of a larger randomized trial – the Genomic Medicine at Veterans Affairs Study – Vassy and his colleagues obtained six published polygenic risk scores and validated them using data from 36,000-plus people in the Mass General Brigham Biobank. They chose atrial fibrillation, coronary artery disease, type 2 diabetes, breast cancer, colorectal cancer, and prostate cancer.
The scores were tested among 227 healthy adult patients. Of those, 11% had a high-risk score for atrial fibrillation, 7% for coronary artery disease, 8% for diabetes, and 6% for colorectal cancer. Among men, 15% had a high score for prostate cancer, while 13% of women had a high score for breast cancer.
Eventually, the researchers plan to enroll more than 1,000 patients and track them for 2 years to see how their primary care providers use the scores in clinical care. (The team also developed resources to help doctors and patients use the scores.)
But there's a challenge: Risk scores are less accurate in patients of non-European descent. That's because most genomic research has been done in European populations.
While the researchers made changes to address this, it's important that future studies strive to include more – and more diverse – groups of people, Vassy says.
The Ultimate Goal
Someday these scores could help doctors and patients make decisions for preventive health. High-risk patients might choose to have screenings more often or take medicines to lower risk.
Ultimately, the goal is to reduce blanket recommendations that can lead to false positives and needless biopsies and imaging, Vassy says.
"It's easy to say that everyone needs a colonoscopy at age 45," says Vassy. "But what if you're such a low risk that you could put it off for longer? We may get to the point where we understand risk so much that someone may not need one at all."
"Getting to that point will take time," Vassy continues, "but I can see this type of information playing a role in shared decision making between doctor and patient in the near future."
Show Sources
Nature Medicine: "Development of a clinical polygenic risk score assay and reporting workflow."
Jason Vassy, MD, primary care doctor, Brigham and Women's Hospital.