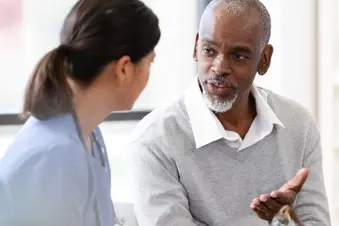 With late-stage NSCLC, you may want to talk about many things with your doctor.
Those might include your treatment options, possible side effects, outcomes, and support systems. Your doctor will tell you what to expect going forward. You also might talk with them about things outside of your medical treatment, like your personal concerns and life goals.
Here are some things you might want to discuss:
Treatment Options
Your doctor can share details about your cancer and talk about your treatment options. They also can tell you how effective treatment may be, possible side effects, and how that treatment might affect your quality of life.
"Late-stage, or metastatic, NSCLC means that cancer cells have spread beyond an initial primary tumor in one of the lungs," says Jeffrey Ward, MD, a medical oncologist at Siteman Cancer Center in St. Louis. Your doctor may explain where the cancer has spread and recommend next steps, which may involve more testing and appointments with a specialist.
"It's incredibly important that you feel comfortable having an open and honest discussion with your medical oncologist about your treatment goals," Ward says. An oncologist is a doctor who specializes in cancer. 
Future Outlook
With late-stage NSCLC, a positive outcome is possible.
"There's been an incredible explosion of novel treatments for patients with advanced NSCLC in just the last few years," Ward says.
Immunotherapy, which helps your immune system control cancer, and targeted inhibitors, which are usually given as pills, may keep your cancer at bay for years, he says.
 The key is to know which of these treatments is your best option. Specialized testing will help your doctor choose what's best for you.
 "Unfortunately, these treatment approaches will not be successful for all patients, so it's critically important to have an honest discussion with your oncologist about what to expect," Ward says. 
"Metastatic NSCLC isn't a disease we consider curable. The goal of treatment is to prevent cancer from progressing and to control your symptoms."
Follow-Up Care
Your doctor will also talk with you about follow-up care. After your treatment, they'll watch for recurrence, which means your cancer has come back. With NSCLC, you may have a higher risk of having a second lung cancer.
Ask your doctor what your follow-up care will involve. Ask about future scans, blood tests, or other imaging tests. You may ask your doctor how likely the cancer is to return based on your medical history.
Life Goals and Priorities
It's important to consider your priorities and share them with your doctor. This will help them develop the right treatment plan for you.
"Is there a wedding, anniversary, or birth in the future that's most important for you to attend? Do you want to tick off some bucket list items?" says Ann Fish-Steagall, a registered nurse and senior vice president of patient services at the LUNGevity Foundation, a nonprofit organization for lung cancer patients.
"Is how long you live more important than anything else? Or is there a quality-of-life point that will be your line in the sand, such as immobility and pain?" she says. Your doctor will want to know these things as you move forward.
Finances and Responsibilities
Your doctor may help you plan for the future.
They can talk to you about important steps to take, like creating a living will and choosing someone to make medical decisions for you if you can't make them yourself.
They may have suggestions to help you balance your care with your other responsibilities. You may talk about what to do if you're someone else's caregiver, you have dependent children, or you have a business or partnership that needs to be tied up.
Support Services
Ask your doctor what types of support are available to help you through late-stage lung cancer.
They may share recommendations or referrals for mental health resources, support services for caregivers, or financial assistance resources.
Palliative Care
At some point, you may want to consider palliative care. 
Your palliative care team may include doctors, nurses, and social workers who specialize in palliative care. It may also include chaplains, counselors, nutritionists, pharmacists, and other caregivers.
You may find them in clinics, hospitals, and long-term care facilities. They may also come to your home.
Palliative care can help you with:
Anxiety
Appetite loss
Communication
Constipation
Depression
Fatigue
Nausea
Pain
Shortness of breath
Sleep problems
Ask your doctor about working with a palliative care team. 
When changes like loss of appetite, strength, and profound fatigue take over for a period of weeks, or if they're increasing rapidly, it may be time for help, Fish-Steagall says.
Hospice Care
"For many patients, despite our best efforts, a time will come when treatment that's meant to slow their disease and control symptoms is no longer working," says Ward.
At this point, your doctor may recommend hospice care.
Hospice care involves a team of doctors, nurses, social workers, home health aides, counselors, and other providers who help you feel better as the focus shifts from active cancer treatment to symptom control.
"Hospice is usually extended to the last 6 months of life," says Fish-Steagall. "Hospice typically requires that patients don't want resuscitative efforts and have planned for a peaceful death."
Talk to your doctor about hospice care. Ask what's available, if it may be right for you, and what to expect.
End-of-Life Changes
Your doctor may talk about end-of-life changes to expect and how to prepare for them.
For example, you may sleep more and take longer to wake up. You may become less able to care for yourself. "Usually, these are things a caregiver will want to be aware of," Fish-Steagall says.
Your doctor may tell you what to expect when treatment is unlikely to help.
"Once a patient is in a bed or chair for more than 50% of the day and needs help with dressing, going to the bathroom, or getting something to drink, it's less likely to be of benefit," says Fish-Steagall.
Show Sources
Photo Credit: SDI Productions / Getty Images
SOURCES:
Ann Fish-Steagall, registered nurse; senior vice president of patient services, LUNGevity Foundation.
Jeffrey Ward, MD, PhD, medical oncologist, Siteman Cancer Center at Barnes-Jewish Hospital, Washington University.
American Lung Association: "Supportive (Palliative) Care for Lung Cancer."
American Society of Clinical Oncology (ASCO): "Lung Cancer – Non-Small Cell: Follow-Up Care."