Feb. 14, 2023 -- Vaccination appears to reduce the heightened risk of developing type 2 diabetes after a COVID infection, according to a new study published in JAMA Network Open.
Early in the pandemic, people who recovered from a COVID infection faced a higher likelihood of developing diseases such as diabetes for the first time. This study confirmed those observations and found that the higher risk continued throughout the pandemic, even as new variants emerged.
"Our results verify that the risk of developing type 2 diabetes after a COVID-19 infection was not just an early observation but, in fact, a real risk that has, unfortunately, persisted through the Omicron era," lead author Alan Kwan, MD, a heart doctor with the Smidt Heart Institute at Cedars-Sinai, says in a statement.
Kwan notes that the trend is concerning because most people in the U.S. have become infected or will eventually become infected with COVID. At the same time, he and his co-authors found that the risk of developing diabetes was higher in unvaccinated people than in vaccinated people, which suggests that vaccination reduces the risk.
"This research study helps us understand — and better prepare for — the post-COVID era of cardiovascular risk," he says.
Kwan and colleagues analyzed medical records for nearly 24,000 adult patients who had at least one confirmed COVID infection and were treated in the Cedars-Sinai Health System in Los Angeles between March 2020 and June 2022. They looked for new cardiometabolic diagnoses (diabetes, high blood pressure, and high lipid levels such as cholesterol) that were reported before or after a patient's first COVID infection. 
The research team estimated the odds of one of these occurring 90 days after versus 90 days before an infection.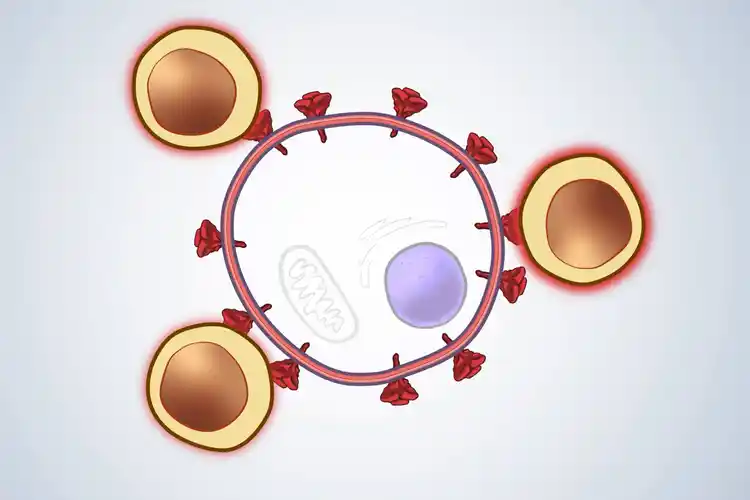 To account for disruptions in health care use during the pandemic, they compared their findings with the odds of another new diagnosis unrelated to the COVID visit, such as urinary tract infection or acid reflux. They also included factors such as age, sex, timing of infection (before or after the Omicron variant of COVID-19 appeared), and if the patient had received the COVID vaccine. 
Overall, the rates of new-onset diabetes, high blood pressure, and high lipid levels were higher in the 90 days after COVID infection than before. Diabetes had the highest odds for a post-infection diagnosis, followed by  high blood pressure. 
In additional analyses, the risk of developing new-onset type 2 diabetes after COVID infection remained elevated. 
The combined risk — for both vaccinated and unvaccinated patients — was 2.1%, with 70% occurring after COVID infection versus 30% before COVID exposure.
Among unvaccinated patients, the risk was 2.7%, with 74% occurring after a COVID infection versus 26% before being exposed to COVID. 
Among vaccinated patients, the risk was 1%, with 51% occurring after COVID infection versus 49% before COVID exposure.
"These results suggest that COVID-19 vaccination prior to infection may provide a protective effect against diabetes risk," Kwan says. "Although further studies are needed to validate this hypothesis, we remain steadfast in our belief that COVID-19 vaccination remains an important tool in protecting against COVID-19 and the still-uncertain risks that people may experience during the post-infection period."
The research team didn't find any differences in increased risk based on age, sex, or timing of infection (before or after Omicron). But several questions remain about other factors, such as the severity of COVID infection, the latest variants, and the number of vaccine doses. 
Additional research is also needed to understand how COVID affects the body and diabetes risk, the authors note. Ongoing inflammation, which is a hallmark of a COVID infection, may lead to insulin resistance, disruptions in metabolism, and the developing high blood pressure or diabetes. Due to damaged blood vessels and organs, these new developments also place people at higher risk for heart attacks and strokes.
"Although we don't yet know for certain, the trends and patterns that we see in the data suggest that COVID-19 infection could be acting in certain settings like a disease accelerator, amplifying risk for a diagnosis that individuals might have otherwise received later in life," senior author Susan Cheng, MD, professor of cardiology and director of cardiovascular population sciences at the Smidt Heart Institute, says in a statement.
"It could be that instead of being diagnosed with diabetes by age 65, a person with preexisting risk for diabetes might — after a COVID-19 infection — be more likely to develop diabetes by age 45 or 55," she says.