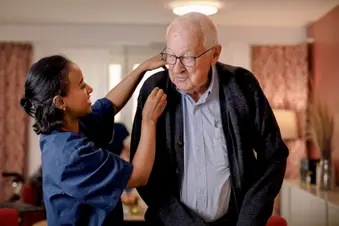 When you care for someone with Alzheimer's disease, you want to be sure their unique needs are met. When the time comes to look for outside help, there are many choices to consider. These include in-home care, adult day care, and assisted living outside the home.
Deciding what kind of Alzheimer's care is right for your loved one can be a journey. An expert team can help you find the way. It may include doctors and a geriatric care manager – usually a social worker or a nurse.
You, your loved one, and the team can figure out needs and coordinate care now and in the future. 
Alzheimer's Care at Home
Services are provided in the home – by you as the primary caregiver or with outside help. That's a big plus because your loved one remains under the roof they're familiar with. And it may be the most affordable option. 
First, you'll want to check the house to make sure it's safe. Some changes to consider include: 
Remove throw rugs and tripping hazards. 

Move cleaning supplies and other toxins to prevent accidental poisoning.

Put stickers on glass doors to make sure your loved one doesn't walk into them. 

Install deadbolts higher up on the door to keep your loved ones safe and inside the house.

Remove locks on bedrooms and other inside doors to prevent accidental lock-ins.

Consider removing guns from the home.
Take any other precautions you think will keep them (and anyone else living in the house) safe. 
Professional care providers can assist in several ways, including help with: 
Cooking, cleaning, and laundry 

Personal grooming like bathing, getting in and out of bed, and going to the toilet

Basic nursing care like giving medications, wound care, and using medical equipment 

Physical and occupational therapy 
Before you decide on a home care provider, consider these questions: 
Does what they are able to provide match what is needed? 

Can they give you references? 

Have they worked with people with Alzheimer's? 
It's a good idea to meet with a potential provider in your home. Ask a trusted friend to be there to give you a second opinion. 
Respite Care
Everyone needs a break from caregiving. Unexpected and expected things come up, like appointments, car emergencies, school plays, and the like. Sometimes, you need a little "you time," a day or two just to relax. Respite care comes in many forms: 
Family or friends may be able to pitch in when needed.

Volunteer or community services (ask your church or search online)

Paid caregivers
Alzheimer's Adult Day Care
These are centers that provide needed social connections and artistic outlets for people with Alzheimer's. They also give primary caregivers a break and provide a safe place for your loved one if you work outside the home. 
Tour some centers and ask questions: 
What times are you open? (Some operate 7-10 hours a day and provide transportation.) 

Are you open on weekends? 

Are meals provided? Can you accommodate a special diet, like gluten-free for example?

What will my loved one do all day? Are there opportunities for art, music, exercise, and socializing? 

Is staff able to give insulin shots or other medication? 

How will the staff handle it if my loved one gets anxious or cranky? 
Prepare for some pushback from your loved one. But if they agree, give it a try once or twice a week for a month before making a final decision. 
Alzheimer's Live-In Residential Care
Staying at home might not be the best choice for your loved one. Maybe they need more care or social connections. A residential community may be more preferable. As their condition moves into later stages, staying at home might not be an option at all. 
Retirement housing: This may be right for someone still in early-stage Alzheimer's who can live independently but may need help with transportation and opportunities for social activities. 
Assisted living: This is a good option that's halfway between independent living and nursing home care. Assisted living communities usually offer what retirement housing does plus meals, support services, and sometimes health care. Assisted living isn't federally regulated, so different states have different rules. Some facilities aren't meant for people with dementia, so make sure the ones you're considering are right for your loved one. 
Special care units: Some assisted living communities have special "memory care" units specifically for people with dementia. These floors or free-standing communities give more support for your loved one. For instance, on a non-memory care floor, mealtimes and menus are posted. It's up to residents to make their way to the dining room. In memory care, staff makes sure people actually go eat.
Activities are designed to enhance memory and brain function. Doors are normally locked and residents are kept track of so they don't wander off. 
Nursing homes: This option – you might hear it called "skilled nursing" – could be right for people who need round-the-clock care. On top of nutrition and medical care, nursing homes provide care planning and spiritual services. Look for one with special features for people with dementia. 
Nursing homes are federally regulated but licensed by your state. You can compare facilities by using the Medicare care and compare website. 
Life care communities: These offer independent living, memory care, and nursing home care all on one campus. When your loved one needs more care, they move to a different part of the community. Some require an entry fee plus a monthly payment. Others are paid just monthly. 
It's best to discuss care options with your loved one early, so you're not left guessing when it's time to make tough decisions. Take some time to investigate all the options in the area: 
Check online reviews and ask neighbors and friends who may have a loved one in a residential facility. 

Tour facilities, check menus, and talk to staff.

Ask about pet policies, if that's important to your loved one.

Use all your senses. Does the place look and smell clean? Ask to sample food. Does it taste good? Do the residents look well taken care of and engaged? 

Are you and your family welcome to visit regularly? 
Hospice Care
This is comfort care and support at the end of life. The medical team probably will let you know when it's time for hospice. If you have questions, ask for an appointment. 
Medicare Part A covers most hospice care.
The doctor and a hospice care director will need to certify that your loved one is believed to be in the last 6 months of life, if Alzheimer's runs its natural course. 

The terminally ill person (or the person with durable power of attorney) must agree to hospice care and won't seek care to treat the underlying illness. 
Your loved one can get hospice care at home, assisted living, the hospital, or a nursing home. Medicare coverage includes: 
Doctor and nursing care 

Medications to control symptoms and pain 

Medical equipment like a hospital bed for the residence

A home health aide

Grief counseling 
Affording Alzheimer's Care
A nonmedical home health aide can cost $30 or more an hour. A private room at a nursing home tops $115,000 a year. So Alzheimer's care comes at a cost.
Many insurance plans don't pay for long-term care. Medicare covers some home health care but not assisted living or long-term care. So, many families reach into their own pockets to pay. It's smart to consult a financial counselor to figure out what your family can afford. Ask about these options: 
Tapping into retirement funds (even before age 59½, if your loved one has early-onset Alzheimer's) 

Selling property, like stocks, bonds, and real estate 

Reverse mortgages 
Investigate whether your loved one qualifies for Medicaid, veterans' benefits, or other benefits in your state. 
One government resource that can help is Eldercare Locator, which is free online, or you can call 800-677-1116. 
Show Sources
Photo Credit: DigitalVision / Getty Images
SOURCES:
Alzheimer's Association: "Home Safety Checklist," "In-Home Care," "Adult Day Centers," "Long-term Care," "Medicare's hospice benefit for beneficiaries with Alzheimer's disease," "Planning for Care Costs," "Paying for Care." 
AARP: "Adult Day Care: What Family Caregivers Need to Know." 
Johns Hopkins Medicine: "Dementia Care: Keeping Loved Ones Safe and Happy at Home."
Mayo Clinic: "Alzheimer's and other dementias: Long-term care options." 
National Institute on Aging: "Paying for Long-Term Care."