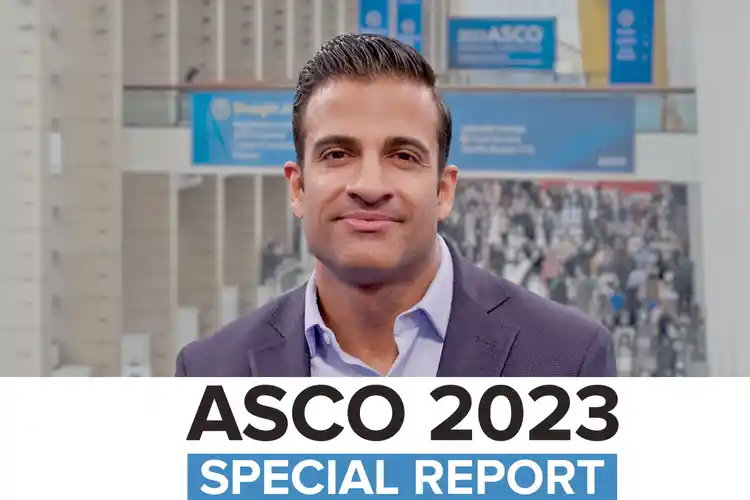 June 15, 2023 – A drug that targets specific genes that help cancer cells thrive, when combined with hormonal therapy, may help women with a specific kind of early-stage breast cancer, new research says. 
The targeted-therapy drug showed success for women with hormone-receptor positive/HER2-negative early-stage breast cancer, according to research presented at the 2023 American Society of Clinical Oncology (ASCO) Annual Meeting. The study showed that patients who received the drug ribociclib (Kisqali) along with standard hormone therapy had longer lengths of time without symptoms after their first cancer treatment, compared to those who only received hormone therapy. 
Also, adding the drug to hormone therapy reduced the risk of their cancer returning by 25%. Hormone receptor-positive/HER2-negative breast cancer makes up about 65% to 70% of breast cancer cases in the United States, making it the most common subtype.
"The goal of treatment of early breast cancer is curative, with the hope that patients receiving curative therapy will not have recurrences," said Dennis Slamon, MD, director of clinical and translational research at the UCLA Comprehensive Cancer Center, who presented the findings at the meeting. "But we know that even with stage II disease, one-third of those patients recur, and at stage III disease, more than half recur even as late as 2 or 3 decades later."
Ribociclib is what's known as a CDK4/6 inhibitor, a drug designed to stop the growth of cancer cells. The FDA has approved it to treat HR-positive, HER2-negative advanced or metastatic breast cancer in premenopausal women along with another drug, called an aromatase inhibitor, that is used to lower estrogen levels, or along with another drug called fulvestrant in postmenopausal women.
The researchers randomly assigned about 5,000 people with stage IIA, IIB, or III HR-positive, HER2-negative breast cancer, who were at risk for their cancer returning, to be treated with ribociclib with hormonal therapy (2,549 patients) or hormonal therapy alone (2,552 patients).
Over time, cancer returned for 189 patients in the ribociclib group (7.4% of patients), compared to 237 using hormonal therapy alone (9.2% of patients).
The patients were followed for about 34 months, with 20% completing 3 years of treatment with ribociclib, and 57% completing 2 years of treatment.
Cancer remission rates at 3 years were about 90% for patients receiving combination therapy, compared to just over 87% for those treated with only hormone therapy. The benefits seen in the ribociclib group were generally consistent across other patient subgroups. 
Ribociclib also showed better outcomes in overall survival and length of time without any signs or symptoms of cancer in the long term.
"Patients with [this type of cancer] now have a new treatment option," said Sylvia Adams, MD, a medical oncologist and director of the Breast Cancer Center at New York University Langone Perlmutter Cancer Center. "Adding … ribociclib to endocrine therapy after surgery can decrease risk of recurrence and improve survival."
Adams, who was not involved in the study, said there is another CDK4/6 inhibitor, abemaciclib, that is FDA-approved for use along with hormonal therapy. "Now we will have a second option, once ribociclib is approved for this indication, and can decide with patients which one of these two drugs to use based on their side effect profiles and/or treatment duration," she said.
Slamon explained that for overall survival, the "trend in the right direction," but a longer follow-up is needed to see if ribociclib will make a difference.