Daily Miracles: A Look Inside the King Hussein Cancer Center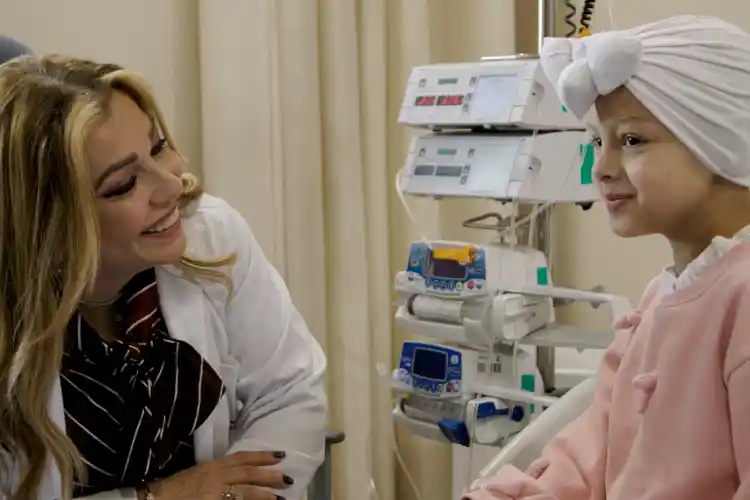 Published On Mar 14, 2023
Video Transcript
RAWAD RIHANI: [NON-ENGLISH SPEECH]
ZAIN
[NON-ENGLISH SPEECH]
JOHN WHYTE
No kisses, no hugs. As a bone marrow transplant patient, Zain knows that germs are bad, and that can impact how she interacts with others. Luckily for her, she's a patient at one of the premier cancer centers in the world, the King Hussein Cancer Center in Amman, Jordan. That has allowed her to get on a path to resuming her life and relationships. I recently had the opportunity to visit the center and learn about how they were handling the fight against cancer.
HIKMAT ABDEL-RAZEQ
As a CMO of a major cancer center, I want to balance the three pyramids of cancer care. We need the best clinical care for our patient. We need to excel at training and education. The third pyramid is research. Clinical care education by itself wouldn't do much for a cancer hospital. You still need to focus on research.
JOHN WHYTE
Research, training, and patient care are the cornerstone of a successful treatment center. This was particularly evident when I visited the Cell Therapy and Applied Genomics Department in their comprehensive Bone Marrow Transplantation Program.
RAWAD RIHANI
We started with a small unit catering for only a small proportion of patients, and now, we take pride that the unit has expanded. We have state of the art facility, and we perform all types of transplant.
[NON-ENGLISH SPEECH]
ZAIN
[NON-ENGLISH SPEECH]
RAWAD RIHANI: [NON-ENGLISH SPEECH]
So when meeting a family whose child was diagnosed recently with cancer, first of all, we tell them that they're in the right place, that King Hussein Cancer Center has enough experience, and facilities, and means to treat their child and that the childhood cancer, the majority of them are curable.
[NON-ENGLISH SPEECH]
SPEAKER
[NON-ENGLISH SPEECH]
RAWAD RIHANI
Being a witness of people coming in with despair at the time of diagnosis, and later on, seeing people getting cured, going back to school, their hair is growing back, their body image has improved. A smile is put on their faces, and the families are back together. I think, for me, it's daily miracles that we see and daily gifts.
JOHN WHYTE
Daily miracles and daily gifts. Seeing the positive impact on patients lives is what many of us find so rewarding about the field of medicine, but where do you start? Education and training are the backbone of the King Hussein Cancer Center and contribute to building and developing the experiences and skills needed to combat cancer. But before that can happen, something more fundamental needed to be addressed.
HIKMAT ABDEL-RAZEQ
The stigmata of cancer, it still exists in the mind of Jordanians. The cancer word is still a taboo. For example, this cancer center used to be called Al Amal or The Hope, and when we started our work here, that name was changed to the King Hussein Cancer Center.
We use the name cancer. We wanted this really to change the mindset. Cancer does exist. We have to deal with it.
TAHER ABU HEJLEH
Being trained to deal with cancer in the United States, I came from the culture of the patient needs to know the exact diagnosis. When I came back to King Hussein Cancer Center, it was different in terms of how you communicate cancer and cancer diagnoses with patients.
JOHN WHYTE
Not only are these physicians excellent communicators. Their overarching goal is improving cancer care across the region.
HIKMAT ABDEL-RAZEQ
We invested a lot in creating one of the best education and training programs. This hospital is run by our own trainees.
TAHER ABU HEJLEH
With time, we have been changing the culture. We teach our doctors in training to be very upfront about a cancer diagnosis with their patients. This has been a culture change by itself.
JOHN WHYTE
Altering patients perspectives on cancer has the power to affect systemic change. When people don't want to hear about cancer, they don't get screened for cancer, and that can have dire consequences.
HIKMAT ABDEL-RAZEQ: Despite tremendous effort today, we still diagnose the huge percentage of patients in advanced stage diseases. For example, for lung cancer, 3/4 of what we see is a stage four, where you cannot cure nobody. That's just because of the smoking. 60% of Jordanian do smoke. Despite the availability of screening and early detection for some programs, we still have a problem. We've done a lot, but not enough so far.
JULIE RIHANI
When I was first diagnosed, my treatment plan was to have the surgery first. So my doctor told me that we have to remove the right breast, and then you have the option to move both or one. When I was going to do the surgery, I was, you know, do what you need to do. Take it out, fine, be aggressive with the treatment was my approach to it.
But just not knowing how you're going to feel afterwards, I mean, there's no breast tissue here. It's just muscle. With my children, I'm able to hug them on my left side, so I can feel them.
Over here, it's just like, I don't feel anything. It's like putting a book between you and hugging somebody. You won't feel anything. You feel pressure, but you don't feel the sensation of that person. So I'm very glad now that I only did one. I had the option to do just one.
HIKMAT ABDEL-RAZEQ: When I started here at KHCC, we used to see more than 50% of breast cancer cases in stage four. Due to the tremendous effort being done by the Jordan Breast Cancer Program and early detection and screening, now, we cut down that to 20% or lower. So there is the effort, but that's not enough.
JOHN WHYTE
Cancer research provides the foundation for developing effective strategies for cancer prevention, early detection, diagnosis and treatment, as well as improving the quality of life for cancer patients and survivors.
MAYSA AL HUSSAINI
There might be some differences in the genetic background, in the environmental factors, in exposure to smoking, unfortunately, which is so prevalent here in Jordan. So our tumors might not really be just replica of what we see in the Western countries and for which the standard of care is being established. I'm very proud of the fact that we're becoming, like, a center of excellence, rendering a diagnosis that everybody would trust.
So when we started, actually, we had to send many of our cases for second opinion abroad. Now, over the years, and because of the concordance between what we diagnose the patient with, our pathology reports, and the final pathology reports that came from the consultation, people started to trust us. And what happened is the opposite. We became the center of excellence rendering the diagnosis for many of consultation cases, not only in Jordan, but in the region.
JOHN WHYTE
The King Hussein Cancer Center has paved the way for excellence in cancer care in the region by not only providing comprehensive cancer care, but also, emphasizing research, as well as education and collaboration. These efforts have had a significant impact on cancer treatment and set an example for institutions everywhere to follow.
MAYSA AL HUSSAINI
I would like to share with you a personal story. I was diagnosed myself with a breast carcinoma, 18 months ago. I had no question, I am going to receive my treatment here at King Hussein Cancer Center, because I know of the standards of care. I received chemotherapy and targeted therapy before surgery, and then I did my surgery. And it's complete cured, no evidence of tumor anywhere.