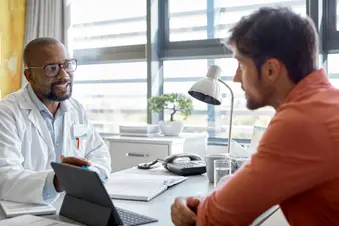 Having unprotected sex puts you at risk for human immunodeficiency virus, or HIV, the virus that causes AIDS. Pre-exposure prophylaxis (PrEP) is medication that blocks the virus from making copies of itself after you've been exposed. Using PrEP the right way could lower your risk of getting HIV from sex by as much as 99%.
It could be worth taking PrEP if:
Your partner is HIV positive.
You have multiple sex partners.
You don't use condoms when you have sex.
You've had a sexually transmitted infection (STI).
You are an injection drug user.
You have other reasons to think you are at risk for HIV.
Today you have options when it comes to taking PrEP. The medicine comes as two different pills and an injection. It's important to talk to your doctor about whether you should go on PrEP, and which of the three medication types is best for you.
Types of PrEP
Pills
Truvada and Descovy are pills. They each contain two medicines, emtricitabine and tenofovir, that block the virus from making copies of itself.
Truvada is for people who are at risk of getting HIV through sex or injection drug use. 
Descovy is for people who are at risk of getting HIV through sex. However, it isn't recommended for anyone who was assigned female at birth and who has sex through their vagina. It isn't recommended for injection drug users.
You can take the pills in one of two ways:
Daily PrEP. Taking the pills every day protects you continuously. This option may be best if you have sex two or more times a week or if your sex life is unpredictable. But you will need to remember to take your medicine every day for it to work.
PrEP 2-1-1. This on-demand dosing routine protects only when you use it. PrEP 2-1-1 is a cheaper option for gay and bisexual men who have sex once a week or less often. It offers protection against HIV when you have anal sex without a condom. 
With this dosing schedule, you take: 
2 pills 2 to 24 hours before you have sex
1 pill 24 hours after the first dose
1 pill 24 hours after the second dose
For the PrEP 2-1-1 method to work, you need to know in advance when you're going to have sex. And you have to pay attention to the dosing schedule to make sure you don't miss any pills.
Injections
Apretude is an injection of the medicine cabotegravir. It blocks a protein that HIV uses to copy itself inside your cells. Apretude is for people who are at risk of getting HIV through sex. 
The first two shots are spaced one month apart. After that you get an injection once every 2 months. The medicine releases slowly into your body so its effects last longer.
Which Type of PrEP Should I Choose?
The answer to that question depends on your preferences. The best medicine for you is the one you'll take. 
Do you hate needles? A pill like Truvada or Descovy will let you avoid the needle stick. 
Do you have trouble remembering to take a pill every day? Apretude might be the better choice. 
Also think about how the medicine might affect you. All three medicines are considered safe, but they can cause side effects like diarrhea, nausea, headache, tiredness, and belly pain. On top of those side effects, Truvada sometimes damages the bones or kidneys. Descovy might be a better choice if you are at risk for osteoporosis or you have kidney disease risks such as high blood pressure or diabetes.
All three PrEP medicines are for people who are HIV-negative. You will need to have an HIV test before your doctor prescribes PrEP, and then once every 3 months while you're on the pills. With Apretude, you'll get tested once every 2 months, before each shot. 
The doctor who prescribes PrEP can help you choose the best of the three options based on your needs. 
Can I Switch Types?
If you start on one type of PrEP and you don't like it, you can change to another. For example, you might want to switch to injections if you find that pills are too hard to remember. Or you may need to take pills for a short time if you're traveling and you can't get to your doctor's office for the injection. 
How to Pay for PrEP
Once you've picked a PrEP type, you need to find out if you can afford it. A one-month supply of Truvada or Descovy costs around $2,000. Add in $15,000 a year for the lab tests and doctor visits you'll need to get your prescription. Generic versions of PrEP pills are available and less expensive. They cost about $60 a month. 
Apretude is $3,700 per shot, or more than $22,000 a year. There is no generic form of the injection.
With health insurance you won't pay nearly that much, or possibly anything. The Affordable Care Act requires most private insurance plans to cover the full cost of PrEP medications, plus lab tests and clinic visits, although not all of them do. PrEP is also covered under Medicare, Medicaid, and the Veterans Administration (VA). 
When you get your prescription, ask your doctor's office or health insurance plan whether you have a copay. If so, find out how much you will have to pay out of pocket.
If you don't have insurance or you can't afford your copay, a PrEP navigator at your local clinic can point you to resources to help cover the cost. These are a few of the programs that make PrEP drugs more affordable:
Copay assistance programs from Gilead and ViiVConnect, companies that make PrEP
Ready, Set, PrEP, a program of the U.S. Department of Health & Human Services
State PrEP assistance programs
The Co-Pay Relief program from the Patient Advocate Foundation

Pan Foundation 
Show Sources
Photo Credit: Morsa Images / Getty Images
SOURCES:
AETC Pacific: "Quick Clinical Guide: HIV PrEP Pre-Exposure Prophylaxis."
CDC: "About PrEP," "On-Demand PrEP," "Paying for PrEP," "PrEP Effectiveness."
FDA: "Highlights of Prescribing Information: Apretude," "Highlights of Prescribing Information: Descovy," "Highlights of Prescribing Information: Truvada."
HIV.gov: "Integrase Strand Transfer Inhibitor (INSTI)," "Nucleoside Reverse Transcriptase Inhibitor (NRTI)," "Pre-Exposure Prophylaxis."
Human Rights Campaign: "Is PrEP Right for Me?"
Infectious Diseases and Therapy: "Patient-Focused Selection of PrEP Medication for Individuals at Risk for HIV: A Narrative Review."
KHN: "HIV Preventive Care is Supposed to Be Free in the US. So, Why Are Some Patients Still Paying?"
NASTAD: "Long-Acting Injectable PrEP Is Here: Frequently Asked Questions (FAQs) for Implementation."
New York State Department of Health: "HIV Pre-exposure Prophylaxis (PrEP): Individualized HIV Prevention: Frequently Asked Questions — Updated July 2022."
San Francisco AIDS Foundation: "PrEP Facts: How much does PrEP cost?" "PrEP Facts: What are the Ways to Take PrEP?" 
World Health Organization: "HIV."