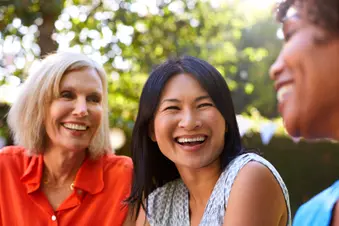 IgA nephropathy is hard to predict. But there's one thing experts know. People with strong emotional and social support systems tend do better in the long run. And it's best to live your life to the fullest no matter how kidney disease affects you. 
"Whether it's skiing or knitting or going to football games as a group, it's important to maintain as much of your regular life as you can," says Susan Rubman, PhD, a medical psychologist with Yale Medicine. "That's what allows us to feel like we're whole people rather than a person with an illness." 
Keep your doctor in the loop about daily challenges. Let them know if you feel like depression or anxiety are closing you off from the outside world. Along with your help from your medical team, you can take steps to stay connected. 
Meet People Through Peer Support for IgA Nephropathy
Most people are diagnosed with IgA nephropathy in their 20s and 30s. And you may need to think about things a little differently than other people your age. But even if you're older, life with chronic kidney disease can set you apart from your friends and family. 
"It can be isolating if you're experiencing symptoms or limitations that folks just don't understand," Rubman says.
For example, you might be on a low-sodium diet, have to limit your fluid intake, or need long-term dialysis. You may worry about needing a kidney transplant one day, or maybe you've already had one. 
You may feel more at ease when you talk to folks faced with similar health issues. That's called peer support, and studies show it can benefit people with all kinds of health conditions. 
There's more than one way to find people who share your condition or a similar one. One place to start is your doctor's office. Ask if you can talk to a patient educator or patient advocate. 
Rubman's clinic offers meetings with "ambassadors." Those are other folks with firsthand knowledge of life with chronic kidney disease, including those on dialysis or who've had a transplant. 
"People who've lived that experience have tremendous credibility," Rubman says. "Even sometimes more than the best-meaning professionals." 
Emily Duggan, PhD, is a neuropsychologist and assistant professor with Johns Hopkins School of Medicine. Duggan suggests meeting people who live in your area. They can give you tips on what life is like with chronic kidney disease and what resources are available in your community. "That's a wealth of knowledge that even your doctors or nurses might not have," she says. 
To find these folks, search online for "kidney support groups near me." You might be surprised at the choices that pop up. You can also look for in-person or virtual support groups through the following: 
IgA Nephropathy Foundation 
National Kidney Foundation
American Association of Kidney Patients
Facebook groups or other social media sites
The National Kidney Foundation offers a mentoring program called NKF Peers. You can chat by phone with someone who has kidney disease or become a mentor yourself. Visit the National Kidney Foundation Website for more information. 
Stay Engaged in Other Ways 
Not everyone can socialize the same way. And that's OK. There are lots of ways to spend time with people. That might include: 
Make meals together. Let your spouse, partner, or other family members know about your dietary needs. Even better, have them eat with you. "If you follow a specific nutrition plan, it's helpful if everybody is on board and you're not having to do your own thing," Duggan says. 
Exercise with other people. It might be easier to stay active when you have someone to do it with. That's a good thing because physical movement is a key part of kidney disease treatment. Another great benefit: Studies show your mind and mood both get a boost when you exercise socially.
Volunteer. People who do things for others tend to have better physical and mental health. Research has also found that volunteering may ease depression, boost your self-esteem, and give you a better outlook on life. You seem to get the most benefit after you've volunteered for a long time. 
Let Others Know About Your IgA Nephropathy Treatment Plan
It's natural to want to take care of yourself. You may even want to isolate your loved ones from your illness. But IgA nephropathy is a condition you'll have for a long time. And it's important that you're willing to ask for help along the way.
Chances are your friends and family are ready and willing to pitch in. 
"When people really love one another, one of the biggest things they get happiness from is being able to support someone they care about in their time of need," Duggan says. "You don't need to take that responsibility away from someone."
Your emotional health goes up and your odds of depression and anxiety go down when you have caring people in your life. But social support is good in practical ways. For instance, you may need help with your meds, getting a ride to dialysis, or remembering all the complex info your doctor tells you. 
Later on, caregivers and social supports can be even more critical. "Because that's a vital piece of the transplant process," Rubman says.
Take Care of Your Mental Health 
Tell your doctor if you're overwhelmed or find it hard to be around others. They can refer you to a mental health professional who works with people with lifelong diseases. 
A therapist can help you learn to manage your fears and worries about being sick. They'll also help you take a closer look at how your illness affects the important things in your life. 
"And for a lot of people, that is their relationships," Duggan says. "It's their family, friends, co-workers, that ability to participate in the world and have those meaningful interactions." 
Show Sources
Photo Credit: Getty Images
SOURCES: 
Susan Rubman, PhD, CBSM, DBSM, medical psychologist with Yale Medicine; assistant professor of clinical psychiatry, Yale School of Medicine. 
Emily Duggan, PhD, assistant professor in the division of medical psychology, department of psychiatry and behavioral sciences, Johns Hopkins University School of Medicine. 
National Kidney Foundation: "Benefits of Peer Support," "Peers."
PLoS One: "The Role of Personality and Social Support in Health-Relate Quality of Life in Chronic Kidney Disease Patients." 
Frontiers in Medicine: "Social Isolation is Associated With Rapid Kidney Function Decline and the Development of Chronic Kidney Diseases in Middle-Aged and Elderly Adults: Findings From the China Health and Retirement Longitudinal Study (CHARLS)." 
IGA Nephropathy Foundation: "IGA Nephropathy Foundation Peer Support Resources." 
American Association of Kidney Patients: "Support Groups." 
Kidney International Reports: "Identifying Information Needs of Patients With IgA Nephropathy Using an Innovative Social Media-stepped Analytical Approach." 
BMC Public Health: "Volunteering and health benefits in general adults: cumulative effects and forms."