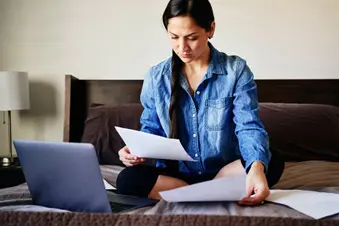 By Jill Pollander, vice president of patient services, National Organization for Rare Disorders (NORD), as told to Kara Mayer Robinson  
People living with myasthenia gravis (MG) and their families have average out-of-pocket expenses of more than $15,000 per year, according to a recent Economic Burden of Myasthenia Gravis survey. 
Since it's a neuromuscular disorder that affects everyone in different ways, your needs and financial considerations may be different from someone else's. 
For example, if your eye muscles are affected by MG, you may need support for your vision, like glasses or transportation. If your face, jaw, or throat muscles are affected, you may need speech therapy, communication support, and nutrition services. 
Your biggest expenses will likely involve health insurance premiums, prescription costs, infusion costs, durable medical equipment, and travel expenses to see MG specialists and care providers. You may also have caregiving expenses and lost wages from missed work.
Health Insurance and MG
Health insurance can help you manage MG and may give you better access to care and treatment. It can help you stay on track with treatment and function better so that you have a better quality of life and miss less school and work days. 
Your insurance plan may cover things like:
Doctor visits

Specialist exams

Lab tests

Diagnostic tests

Durable medical equipment

Supportive therapies (physical, occupational, and speech therapy)

Prescription costs 
Your out-of-pocket expenses and coverage depend on your individual insurance plan. 
When it comes to health insurance and MG, it's important to know if you have: 
A deductible, which is an out-of-pocket amount you must pay before your coverage fully kicks in.

Doctors who are in your insurance plan's network. If so, you may have significantly lower out-of-pocket costs for office visits.

A copay – a fixed fee – for medical visits, services, and treatments.

To pay coinsurance, or a percentage of the cost of a covered service, treatment, or prescription.

An out-of-pocket maximum, which is the most you have to pay for covered services in 1 year.

Different levels of prescription drug coverage.
Understanding Your Coverage for MG
Since every plan is different, it's important to take the time to read your health insurance plan and ask questions to learn more about what's covered. 
You may want to ask:
What's my deductible?

Is there a separate deductible for prescriptions?

What are the prescription tiers? Which tier are the MG meds I'll be taking?

Is there a copay or coinsurance cost for specialty meds? If so, how much is it?

What's the out-of-pocket maximum for the policy? Is it an individual or family max?

For prescribed infusions, is the medication and infusion covered? Are they covered at an infusion site and for home infusion? Are they covered as durable medical equipment or as a prescription?

Are supportive therapies like physical therapy, occupational therapy, speech therapy, and behavioral health covered?

Are non-traditional therapies like acupuncture covered?

Is durable medical equipment covered? Are repairs covered?

Does my plan have a copay accumulator or maximizer program?
If your plan has a copay accumulator or maximizer program, it means any deductibles, copay, and coinsurance costs paid on your behalf don't count toward your deductible or out-of-pocket maximum. So if you get financial assistance from a drug manufacturer, foundation, or charity, the payments don't go toward lowering your deductible, nor are they tallied as part of your out-of-pocket maximum.
Financial Support for Medical Expenses
There are resources to help you with MG expenses like health care premiums, medical visits, and prescriptions. They include: 
Patient assistance programs. These offer financial assistance to get care and treatment if you meet certain eligibility requirements. You may be eligible based on your income, residency, health insurance, or other conditions. 
MG advocacy and support groups. These help you find potential financial assistance sources for MG care and treatment. You can find national groups like Myasthenia Gravis Foundation of America, Muscular Dystrophy Association, and Myasthenia Gravis Association, as well as local groups. 
Foundation support. You may find support through national organizations like National Organization for Rare Disorders (NORD) and The Assistance Fund (TAF). NORD, an independent patient advocacy organization, assists people with access to needed medical care, treatments, and support services.
Manufacturer patient assistance program. Some drug manufacturers provide financial assistance or offer financial assistance listings to help with the cost of their medication.
Discount prescription providers. Discounters like GoodRx, NeedyMeds, CostPlus Drug Company, and SingleCare sell prescriptions at a reduced cost. You have to pay the out-of-pocket cost and it doesn't count toward health insurance deductibles or out-of-pocket maximums. Do the math to see whether it makes financial sense. 
Also, financial assistance in the form of copay assistance is only available if you have health insurance.
Financial Support for Other Expenses
You may also find financial support programs for critical, non-medical needs like shelter, utilities, and food. 
Some MG foundations, like NORD, have medical assistance programs for services that aren't covered by insurance, like yoga classes or travel costs to see a specialist. 
Try these resources for travel assistance:
Angel Flight

Mercy Medical Angels

PALS Sky Hope

PAN Foundation

Wings of Hope
In many states, those in need can dial 211. This is a free call that offers access to local community services. It's available in multiple languages. 
211 may have:
Housing, utility, food, and employment assistance

Referrals to physical and mental health resources

Suicide and crisis interventions
You also might qualify for household financial assistance, which includes things like your mortgage, rent, and utilities. Some states and local community organizations provide rental assistance. You may find emergency relief for expenses. Contact your management company or mortgage holder to learn more.
Tips for Managing MG Expenses
Try these tips to plan for and manage the financial aspects of MG. 
Contact your health care provider, hospital, or health care institution to ask for a discount or to arrange for a payment plan. Many hospitals offer financial assistance programs.

If you have limited access to health care, reach out to your

 state social service agency

or local health center for assistance.

Look into a

 consumer assistance program

(CAP). Many states have CAPs that help consumers with health insurance problems.

Find free or low-cost health care at the

 National Association of Free and Charitable Clinics

(NAFC).
Show Sources
Photo Credit: RichLegg / Getty Images
SOURCES:
Jill Pollander, RN, MSN, National Organization for Rare Disorders (NORD).
Neurology Live: "Substantial Economic Burden Is Frequent in Myasthenia Gravis, Primarily Driven by Direct Costs."