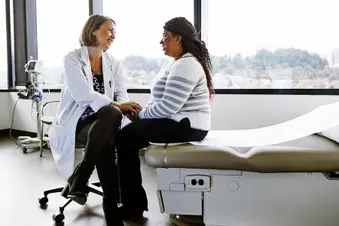 There are lots of things you can't control about metastatic triple-negative breast cancer (mTNBC). But there's also a lot you do have power over. Choices about treatment, forms of support, and more will come up. Feel free to speak up and ask questions. You have a say in what you want. Here are some things to consider.
It's Your Journey
There's no doubt about it: mTNBC is challenging for anyone. But when you're Black or Latina, it may be even more of an uphill battle. You're more likely to get TNBC. And your odds of a good outcome may be lower for a lot of complicated reasons. 
The chances your care team will look like you are slim. You may feel like they don't understand you. This – among other reasons – is why advocating for yourself is important. You're more likely to feel good about your treatment when you're involved. You're also more likely to get care that's in line with your wishes and values. This helps you feel heard.
What Does It Mean to Advocate for Myself?
Cancer advocates are people who work to help better the lives of people with cancer. They might offer emotional support. They may help spread information and awareness. Advocates might also push for more research to improve treatment. While others can advocate for you, they can only do so much.
When you advocate for yourself, you think through your own wishes. You ask the questions you need to ask. You get the information you need to make proactive decisions you feel good about. In turn, you get the support and care that's most meaningful to you. 
To do this, you have to know yourself and what you want. You have to share your desires with everyone involved in your care. This includes your family, friends, doctors, and anyone else on your care team. Advocating for yourself doesn't mean going it alone. By communicating with others, you gain strength through your connections.
How Can I Learn to Advocate for Myself?
Advocating for yourself comes more easily for some people than it does for others. If it's harder for you, you can take steps to learn. 
A good place to start is just realizing that you have choices. Nobody can make decisions about your treatment but you. Your doctors will have recommendations. They know a lot. But what you decide to do is ultimately up to you. These tips can help:
Arm yourself with the information you need. Your doctors are great sources. But you can also find good information online. Make sure it's coming from reputable organizations such as the American Cancer Society. 
Consider the pros and cons. For example, when your doctor suggests a certain treatment, ask about side effects and what happens if it doesn't work. Do any risks outweigh the benefits?
Get a second opinion. You don't have to go with everything the doctor says. If you have doubts or just want to get another doctor's perspective before moving forward, you can do that.
Make choices that fit your priorities. How aggressive do you want your treatment to be? Are you interested in clinical trials? 
Communicating Effectively With Your Care Team
When you share your thoughts and questions, it helps your care team get to know you as a person. You build common ground. And when your doctors understand your needs and concerns, it's easier for them to help with any challenges you have. 
You might not feel like you can share all this with your doctors because they're short on time. Writing things down helps you make the most of your time. Look for someone on the team who'll listen. Ask for their help if you feel like your primary cancer doctor isn't getting it or doesn't have the time. Perhaps there's a nurse, social worker, or someone else on the team you can relate to more easily. 
Don't hesitate to find another doctor, especially if you don't think your doctor is the right fit.
Where Can I Get Support?
Being your own best advocate doesn't mean you don't need support from other people. Being honest and specific with your family and friends about your needs is another way to advocate for yourself. There's strength in letting some things go and allowing others to help.
By taking steps to connect with and help others, you'll find support for yourself. You'll gain the strength you need through your bonds with others in your life, including those who may also have mTNBC. 
Show Sources
Photo Credit: The Good Brigade / Getty Images
SOURCES:
Journal of Clinical Oncology: "Critical Shortage of African American Medical Oncologists in the United States."
JCO Oncology Practice: "2022 Snapshot: State of the Oncology Workforce in America."
Penn Medicine: "Black Women Face Three-Fold Increased Risk of Triple Negative Breast Cancers."
Breastcancer.org: "Triple-Negative Breast Cancer Deadlier for Black Women, Partially Due to Lower Surgery, Chemotherapy Rates."
Cancer Epidemiology, Biomarkers & Prevention: "Risk Factors for Triple-Negative Breast Cancer among Latina Women."
American Society of Clinical Oncology: "Being a Cancer Advocate."
ANS Advances in Nursing Science: "A Conceptual Framework of Self-advocacy in Women With Cancer."