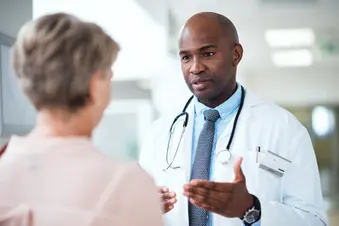 Mantle cell lymphoma is a rare form of non-Hodgkin lymphoma. Only about one in 20 non-Hodgkin lymphomas are the mantle cell type. In this disease, tumor cells first develop in the "mantle zone" of your lymph nodes. This is the outer ring of small lymphocytes, or immune cells, around the center of a lymph node. But you don't usually learn you have it until much later. After you get a diagnosis, your doctor will talk to you about staging, treatment, and what you can expect with your condition.
Doctors use staging to see how much the cancer has spread and where. They may need various tests to determine this, like:
A blood test called a complete blood cell count
Tests to collect and examine bone marrow called bone marrow aspiration and biopsy
Imaging studies, such as

a CT, MRI, or positron emission tomography (PET) scan

Studies that look at the levels of specific proteins in your blood
How Do Doctors Decide on a Treatment Plan?
Your overall treatment plan will depend on a few different factors including:
The stage of your disease
Your age
Your overall health
Certain doctors may also use the Mantle Cell International Prognostic Index (MIPI) to build your therapy plan. This method is based on four factors at the time of your diagnosis. They include:
Your age
Your ability to do everyday activities
Levels of an enzyme in your blood called lactate dehydrogenase (LDH)
The number of white blood cells in your blood
Your health care team will then determine if you're in a low-, intermediate-, or high-risk category. After your doctor evaluates your health and the extent of your disease, they'll decide on a treatment.
What Are the Different Types of Treatment?
Some people may have only a small amount of disease that's slow growing. They might not have symptoms yet. For these people, "active surveillance," or "watchful waiting," might be a good option. This care option involves no drug therapy, stem cell transplants, or radiation therapy. Instead, your medical team will carefully observe your health through routine checkups that may include physical exams, laboratory tests, and imaging tests. If you develop symptoms related to mantle cell lymphoma or your disease progresses, your doctor will start treatment.
While early detection is possible, doctors usually diagnose mantle cell lymphoma in later stages once it has spread throughout your body. Most people with this disease will need treatment. If that's the case for you, your care plan might include:
Rituximab. Usually, doctors use rituximab (Rituxan) paired with other drugs. This drug attacks a specific protein on mantle cell lymphoma cells called CD20. Experts have found that people who get chemotherapy and rituximab respond to treatment better than those who just get chemotherapy alone.
R-CHOP-based chemotherapy. This is an abbreviation for a combination of chemotherapy drugs that doctors use to treat non-Hodgkin lymphoma and mantle cell lymphoma. It includes the drugs rituximab, cyclophosphamide, doxorubicin hydrochloride (hydroxydaunorubicin), vincristine sulfate (Oncovin), and prednisone. Most doctors use this form of chemotherapy.
R-hyper-CVAD. Some doctors suggest this more intense form of chemotherapy. It's effective and might get a better response than R-CHOP, but it can be very toxic. Usually, doctors reserve this type of therapy for healthier (and typically younger) people.
Bendamustine (Belrapzo, Bendeka, Treanda) and rituximab (B+R) combination. For older, fit people who don't have other significant illnesses and aren't eligible for stem cell transplantation, a combination of bendamustine and rituximab (B+R) might be a good alternative to the standard R-CHOP treatment.
Less intense treatment options may be a better idea for older people who are less fit (or who have other health conditions). The options may include:
A chemotherapy pill called chlorambucil (Leukeran)
A combination of low-dose bendamustine and rituximab (B+R)
The chemotherapy pill chlorambucil with rituximab
A drug combination called R-CVP (rituximab, cyclophosphamide, vincristine, and prednisone)
A drug combination called R-CBP (rituximab, cyclophosphamide, bortezomib (Velcade) and prednisone)
Depending on your specific treatment plan, you may get your medication through an IV, in a pill, or (for more aggressive disease) directly into the fluid in your spinal canal. This is called intrathecal therapy (IT).
A type of radiation therapy called Involved Site Radiation Therapy (ISRT) may also be a treatment option. It is radiation that is aimed only at the involved lymph nodes and any area surrounding them where the cancer has spread. 
Other Forms of Treatment
Some people don't get better after just chemotherapy alone. A stem cell transplant, along with other treatments, may improve your response to treatment and keep you in remission longer.
People with mantle cell lymphoma can relapse. That's when the disease comes back after remission. Others may have refractory disease, which is when it doesn't respond to treatment at first. For these cases, some of the following treatment options might help:
Bortezomib (Velcade), a chemotherapy medicine that comes through an IV or an injection under the skin
Lenalidomide (Revlimid), a chemo pill
BTK inhibitors

acalabrutinib (Calquence),

ibrutinib (Imbruvica),

pirtobrutinib (Jaypirca), or zanubrutinib (Brukinsa)

Lenalidomide

and

rituximab

Bortezomib

and/or

lenalidomide

Alternative chemotherapy treatments that include

bendamustine,

gemcitabine, or fludarabine, depending on how sick you are
Allogeneic stem cell transplant, which means it takes stem cells from another person
Experts continue to study new treatments for mantle cell lymphoma. Studies show that as treatment has advanced, survival rates have gone up.
Follow-Up Care for Mantle Cell Lymphoma
After your treatment, your doctor will want you to come in for appointments every few months. If you stay in remission, eventually you may only need to return for appointments once a year.
During checkups, your health care team will ask how you've been feeling, if you have any concerns, and if you've noticed any symptoms or side effects. Your doctor may also have you do a blood test.
If you do have any new symptoms, you may need additional tests like:
X-rays
CT scans
Ultrasound scans
PET scans
MRI scans
If you notice any new symptoms or have any worries between appointments, let your doctor know right away. Don't wait until the next checkup.
Show Sources
Photo Credit: shapecharge / Getty Images
SOURCES:
Leukemia and Lymphoma Society: "Mantle Cell Lymphoma Facts."
Lymphoma Research Foundation: "Understanding Mantle Cell Lymphoma."
Frontiers in Oncology: "Survival Trends in Patients Under Age 65 Years With Mantle Cell Lymphoma, 1995–2016: A SEER-Based Analysis."
Cancer Research UK: "Follow up."