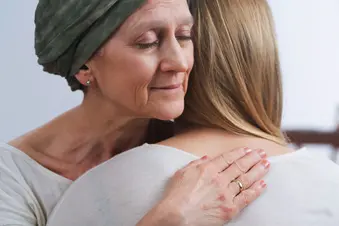 Most people with chronic lymphocytic leukemia (CLL) get diagnosed before this cancer reaches its advanced stages. In fact, it might take several months or even years to get there.  When the disease moves into the later stages, CLL cells crowd out the healthy cells in the bone marrow, which could lead to problems such as anemia, low platelets, and an enlarged liver and spleen.
"Typically, a patient could feel fatigue, fever, chills, enlargement of lymph nodes," says Wei Ding, MBBS, PhD, an assistant professor of oncology at the Mayo Clinic in Rochester, MN.
Larry Saltzman, MD, is a retired family doctor in Sacramento, CA, who has CLL. When his cancer turned to an advanced stage, he lost weight, had night sweats, and felt weak. He also dealt with emotional setbacks.
"Most people need someone to talk to. I'm a physician. I thought I knew everything, but this whole process is not easy, not for me," he says.
That's understandable, as it can be a stressful and exhausting situation, Ding says. But you don't have to go it alone.
Treatment Options for Advanced-Stage CLL
You may still benefit from treatment. There are single drugs or combination therapies that your doctor may recommend. You might have to try a few different medicines or join a clinical trial to find what works best for you, says Gwen Nichols, MD, chief medical officer for the Leukemia & Lymphoma Society.
After several relapses, various treatment plans, and two clinical trial runs, Saltzman and his doctor found a combination drug therapy that's kept his cancer at bay.
Tell Your Doctor What's Going On
Your doctor should be your "go-to" when you have advanced CLL. But you need to find the right one.
"I would advise someone to see a CLL specialist. That's important," Ding says. "And if you have any doubts, go to a CLL center to get a second opinion."
A hematologist-oncologist is a doctor who's trained to diagnose and treat blood cancers such as CLL. More than 12,000 doctors provide this type of care every year in the United States, according to the American Society of Clinical Oncology.
Talk with your medical team about your treatment goals, your concerns, and how you're feeling. It's good to be open about it when you're not doing so well physically or emotionally. Also, speak up if you want to explore a different therapy, look for a clinical trial, or stop treatment altogether. This helps your doctor know what's best for you.
"That's part of a physician's job, to figure out what our patients need," Ding says.
Be sure to tell your doctor about any new symptoms you have. "As a partner, your doctor is counting on you to report these changes," Nichols says. "Do not feel that you have to wait until your next appointment to report a significant change. You can call the office and let someone from the treatment team guide you."
Get Support
You'll probably feel better if you talk about your emotions with someone else.
Who you talk to is up to you. You might just want to talk to a family member or friend. Or someone from your community, or a counselor.
There are also support groups, where you can talk to other people dealing with the same diagnosis. "Some prefer in-person support groups, others, online groups for CLL patients or discussion boards where they can join a CLL forum," Nichols says.
Several nonprofit organizations, such as the American Cancer Society, Cancer Care, CLL Society, and Leukemia & Lymphoma Society, provide ways for people with CLL to connect with others.
Living Well with Advanced-Stage CLL
It helps to learn as much as you can about the disease, and try to keep a positive outlook when you can. At the same time, let yourself feel all your emotions. These may vary from person to person and even day to day. You could feel anger, sadness, fear, shock, or disbelief. You might also have times when you have a deeper gratitude for your everyday life and the people in it. Mindfulness practices like meditation or yoga could help lower stress levels. If you're part of a faith community or have other meaningful connections, those are great resources, too.
Healthy lifestyle habits might also make you feel more in control. Diet and exercise can often help with some CLL symptoms and side effects of treatment, such as fatigue and weight changes, and help you feel better, Nichols says.
Since his diagnosis, Saltzman has become a patient advocate and is now the executive research director of the Leukemia & Lymphoma Society. He's also run six marathons -- two during the later stages of CLL -- and doesn't plan to slow down any time soon. Of course, not everyone with advanced-stage CLL is able to run marathons. But your possibilities might be greater than you may think.
Show Sources
SOURCES:
Gwen Nichols, MD, chief medical officer, Leukemia & Lymphoma Society.
Wei Ding, MBBS, PhD, assistant professor of oncology, Mayo Clinic.
Larry Saltzman, MD, patient advocate; executive research director, Leukemia & Lymphoma Society.
UCLA: "What does a hematologist-oncologist do? A day in the life of Dr. Gary Schiller."
American Society of Clinical Oncology: "Facts & Figures: Diversity in Oncology," "Dealing With Cancer Recurrence."