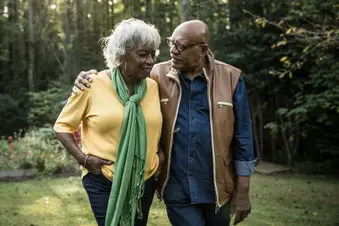 Mantle cell lymphoma is a rare, aggressive, and incurable type of cancer that affects lymphocytes -- white blood cells that live in your lymphatic system. Often diagnosed at a late stage, mantle cell lymphoma can be difficult to treat. But advanced treatment options can help you keep the condition under control. In some cases, the disease may go into remission.
Remission, Relapse, and Refractory Disease
In remission, all signs and symptoms of cancer in your body have disappeared or greatly decreased. But remission may not last forever. Cancer can lurk around and make a comeback after a disease-free period. This is called a relapse.
For some people, the cancer never goes away completely. This is called partial remission. If this is the case for you, you'll need to keep the disease at bay with chemo, radiation, and other recommended therapies.
In some cases, people may not respond well to treatment or the effects of treatment don't last long. This is called refractory disease.
If the cancer does come back after a period of remission, your doctor may recommend other treatment options to manage the condition and relieve symptoms.
Remission After Mantle Cell Lymphoma: What to Expect
The chance of a relapse with mantle cell lymphoma is fairly high. To delay or avoid a relapse, it's important to stay on top of your follow-up care. Depending on your post-treatment cancer stage, your age, and overall health, doctors may recommend a combination of medical checks, scans, tests, and medications to keep you in remission and keep the cancer at bay.
Maintenance therapy. If you're in full or partial remission from mantle cell lymphoma, you may go on maintenance therapy. You'll continue to get some of the same treatment you got after your initial diagnosis but at a lower dose. This helps prevent tumor cells from returning or growing any larger.
The duration and dosage of medications differ by type.
Follow-up care. After your treatment, to help keep you in remission, you'll need individualized therapy and a care plan. This will depend on several factors like:
The type of treatment you had to begin with
How well you reacted to different treatments
Your age
Your overall health
You will have regular doctor visits to monitor for relapse, cancer growth, and treatment side effects. Sometimes, side effects do not show up for years after you finish treatment.
In the first year of remission, you may need to go to the doctor quite often. After that, the visits might become less frequent depending on your overall health. Usually, follow-up appointments run every 2 months during the first year, every 3 months during the second year, and every 6 months after that.
Tests and scans. In your follow-up visits, your doctor will ask questions about your symptoms and run tests, scans, and bloodwork to keep a close eye on your remission and cancer staging.
Doctors order imaging tests like PET or CT scans to check the size, location, and staging of any remaining tumors you may have. These scans also help detect new tumors early.
Your doctor will also routinely order blood work to see if your blood count is normal and your cells look healthy. If mantle cell lymphoma spreads to the bone marrow, it can cause anemia, neutropenia, or thrombocytopenia. These can affect blood cell counts and your blood's ability to clot. 
Chemotherapy can affect your blood count, too.
Your Survivor Care Plan
If you're in full or partial remission from mantle cell lymphoma, you'll need a survivor care plan for long-term management of your condition. To prepare for survivor care, you should:
Talk to your cancer care team. This consists of several health care experts, including oncologists, radiologists, primary care doctors, nurses, social workers, therapists, and occupational therapists.
Schedule your care. Come up with a complete schedule for exams, tests, and bloodwork. This can help you stay on top of any possible changes or a relapse.
Know the red flags. Ask your care team about any symptoms or side effects that you need to watch out for. This can help you know when to call the doctor in case of changes or an emergency.
Plan for downtime. Cancer treatments like chemotherapy may drain your energy, so allow for some downtime.
Keep records. You should keep copies of your medical history, health insurance documents and bills. If you need help keeping records and staying on top of bills, ask a caregiver or family member.
Get emotional help and support. As you learn to live in remission, you can get much-needed support from a peer support group, loved ones, or from a professional like a therapist, psychiatrist, or a counselor.
What if My Lymphoma Comes Back?
While most people respond well to the first round of treatment and enter full or partial remission, many relapse or stop responding to treatments over time. When this happens, your doctor will discuss treatment options based on cancer location, size, spread, your previous treatment, and medical history.
The FDA has approved numerous medications for treatment of relapsed or refractory mantle cell lymphoma. They include:
Acalabrutinib (Calquence)
Bortezomib (Velcade)
Brexucabtagene Autoleucel (Tecartus)
Ibrutinib (Imbruvica)
Lenalidomide (Revlimid) with or without rituximab
Zanubrutinib (Brukinsa)
Bendamustine (Treanda)
Combination chemotherapy with or without rituximab
Stem Cell Transplant
If your mantle cell lymphoma has come back after your previous treatments, a stem cell transplant may be a good treatment option for you. There are two types of transplants:
Allogeneic in which you receive stem cells from another person.
Autologous in which your own stem cells are part of the treatment. This is better suited to someone who is otherwise healthy, younger, and able to tolerate this transplant after a high dose of chemotherapy.
While there's no known cure for mantle cell lymphoma,  healthy diet and lifestyle habits can give you the energy and strength you need to get through treatment. A healthy lifestyle may also lower your risk of relapse or disease progression.
Show Sources
Photo Credit: MoMo Productions / Getty Images
SOURCES:
Lymphoma Research Foundation: "Understanding Mantle Cell Lymphoma," "Mantle Cell Lymphoma: Long-term Survivorship," "Mantle Cell Lymphoma: Relapsed/Refractory," "Understanding Mantle Cell Lymphoma: Relapsed/Refractory."
Leukemia and Lymphoma Society: "Mantle cell Lymphoma Facts."
American Cancer Society: "Living a Non-Hodgkin Lymphoma Survivor."
UpToDate: "Initial treatment of mantle cell lymphoma."