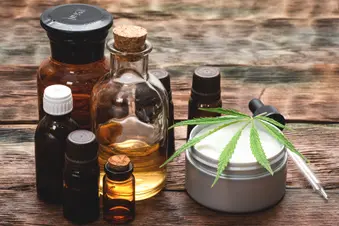 You've likely heard about the various ways cannabidiol, often referred to as CBD, may help soothe the symptoms of arthritis and chronic pain, as well as address mental health conditions like anxiety, addiction, and posttraumatic stress disorder. CBD, according to the CDC, is a compound found in marijuana. But it's not considered impairing and it won't make you high.
The science regarding CBD is still new, and many of its uses are not approved by the FDA. Still, you likely have seen several kinds of CBD products for sale at pharmacies and even at grocery stores. Since CBD comes in various forms – oils, capsules, gummies, sprays, and more – how do you know which is the best choice?
What Are Different CBD Forms and Their Advantages and Disadvantages?
Oils 
Oils are among the most popular and common delivery methods of CBD. Some studies show that CBD oil is effective for easing pain and depression. It is also shown to help with addiction, as well as insomnia, though some research suggests it doesn't. CBD oil is generally considered safe.
The use of CBD oil and other products isn't regulated by the FDA. Also, although a product claims to be CBD, that isn't always the case. CBD oil can have other ingredients that may cause negative effects like dizziness, headaches, nausea, vomiting, palpitations, mental confusion, and agitation. 
CBD oil also can interact with medications, possibly causing common side effects like fatigue, diarrhea, a decrease in appetite, and weight loss. And CBD may cause you to have higher liver enzymes. If you have certain eye issues, you may see pressure increase because of the use of CBD oil. Talk with your doctor before taking CBD oil to figure out whether it is right for you. 
Tinctures
Sometimes, tinctures are used interchangeably with CBD oil, but they are actually different. Tinctures are made by soaking cannabis in a type of alcohol, while CBD oil is generally suspended in a carrier, like coconut or olive oil. 
CBD tinctures are usually taken orally by placing a few drops under the tongue. One advantage of CBD tinctures is that they are easily absorbed and fast-acting, so you will likely feel the effect more quickly than with other products. Since you take tinctures with a dropper, you can likely measure the amount that you are taking with relative ease. Tinctures have a long shelf life too. 
Since tinctures are absorbed quickly, they could cause common side effects like dizziness, dry mouth, and fatigue. Also, some CBD products, including tinctures, are laced with tetrahydrocannabinol (THC), the psychoactive ingredient found in marijuana that produces a high. Depending on how much is in it, results from a drug test may show up as positive. It is important to choose a tincture that is specifically labeled as THC-free. But be aware that even with the labeling, there is no guarantee that trace amounts may not be present. 
Topicals
Topical treatments include creams and ointments with CBD in them. They can give targeted relief for the affected area on the skin. There is evidence that topicals help with skin issues like eczema, psoriasis, serious itching, and inflammatory conditions. Since they are creams, they can be easily applied multiple times a day. Very few negative side effects are linked to topical CBD. 
In terms of disadvantages, there is little research on topical CBD and its effectiveness, and many creams and lotions can be more expensive than other CBD products.
Capsules 
One of the key advantages of taking a CBD capsule is that it is quick and easy, and you avoid any concerns about the taste. Because it is in pill form, you will avoid the mess that can come with other CBD products like oil. And the dosing is more precise. Studies show that up to 1,500 milligrams can be well-tolerated by most people. CBD capsules are more likely to be found in health and nutrition stores.
You likely won't feel an effect right away if you take a capsule, since it has to hit your stomach before it is released. Since you're taking a capsule, it isn't targeted and will go to all parts of your body. It is slow-acting, taking about 1-2 hours to take effect. 
Gummies
One of the advantages of gummies is you can take them without calling attention to yourself. They are small and discreet, and many have fruit flavors that can mask the taste of CBD. You will be able to be clear about the dosage by counting how many gummies you take.
Some cons may include the speed that the CBD in gummies takes effect, compared to other methods. Usually, response time is anywhere from 30 to 60 minutes. And some products may be mislabeled and contain the wrong dosage of CBD, which could lead to people taking more or less than what they need. There is also the risk of trace amounts of THC in gummies. Some gummies also contain sugars and sweeteners that may not be recommended if you have certain dietary restrictions.
Sprays
A CBD spray comes in three forms: nasal, oral, and topical. Oral sprays are shown as the fastest-acting since CBD is absorbed through the mucous membrane. Sprays are easy to use, and the dosing can be measured more accurately. Since the sprays are easy to take with you, they can be used fairly often during the day. Sprays are a good alternative to inhaling or smoking CBD, especially if you have certain medical conditions. 
A study showed CBD spray was well-tolerated and patients benefited from less pain and better sleep. 
Lozenges
A lozenge is a handy option if you want to be discreet about CBD usage. Lozenges come pre-dosed, so it's easy to keep track of how much you are taking. Since a lozenge is dissolved in your mouth, its release is slow and the effect on your body can be longer-lasting, compared to a gummy. 
Lozenges aren't always fast-acting, so if you're looking for quick relief, you may want to consider other CBD products. Lozenges are often combined with other additives and sugars that you may want to avoid because of dietary restrictions. As with any CBD product, there may be low-quality lozenges on the shelf that may not have much benefit, or they may be tainted with other ingredients, such as THC. 
Which Form Works Best for You?
There may not be one form of CBD that fits all. People react differently with various forms of CBD, and contacting a doctor may help you find out what works best. You have to consider your particular body chemistry, the condition that is being treated, and the speed of the delivery method.
Show Sources
Photo Credit: undefined undefined / Getty Images
SOURCES:
CDC: "CBD: What You Need to Know," "Increases in Availability of Cannabis Products Containing Delta-8 THC and Reported Cases of Adverse Events."
Cedars-Sinai: "What You Need to Know Before You Try." 
Pain: "Attenuation of early phase inflammation by cannabidiol prevents pain and nerve damage in rat osteoarthritis."
Molecular Neurobiology: "Cannabidiol Induces Rapid and Sustained Antidepressant-Like Effects Through Increased BDNF Signaling and Synaptogenesis in the Prefrontal Cortex."
Harvard Health Publishing: "Cannabidiol (CBD): What we know and what we don't."
World Health Organization: "Cannabidiol: Critical Review Report." 
Cleveland Clinic: "CBD Oil – Are the Benefits Claimed Too Good to Be True?"
U.S. Army Public Health Report: "Health Effects of Vape Oil Containing Unknown Substances." 
Cannabis and Cannabinoid Research: "An Update on Safety and Side Effects of Cannabidiol: A Review of Clinical Data and Relevant Animal Studies."
Epilepsy Research: "Long-term safety and efficacy of cannabidiol in children and adults with treatment resistant Lennox-Gastaut syndrome or Dravet syndrome: Expanded access program results."
Investigative and Ophthalmology Visual Science: "Δ9-Tetrahydrocannabinol and Cannabidiol Differentially Regulate Intraocular Pressure."
Clinical, Cosmetic and Investigational Dermatology: "Therapeutic Potential of Cannabidiol (CBD) for Skin Health and Disorders."
American Academy of Dermatology Association: "Public, researchers demonstrate growing interest in cannabis treatment." 
Mayo Clinic: "What are the benefits of CBD – And is it safe to use?"
American Academy of Ophthalmology: "CBD Oil May Worsen Glaucoma"
International Journal of Drug Policy: "Smoking, Vaping, Eating: Is Legalization Impacting the Way People Use Cannabis?" 
European Journal of Pain: "A double-blind, randomized, placebo-controlled, parallel group study of THC/CBD spray in peripheral neuropathic pain treatment."
Project CBD: "What Is the Best Way to Take CBD?"
Substance Abuse and Mental Health Services Administration Advisory: "Cannabidiol (CBD) – Potential Harms, Side Effects, and Unknowns."