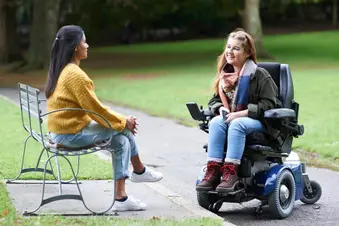 If you live with a pre-teen or teen, you know how much they value their freedom. The same goes for adolescents diagnosed with Type 3 spinal muscular atrophy (SMA3).
Kids with SMA3 might have trouble walking, running, or going up and down stairs. And it's normal to want to help out as much as you can. But you can boost your child's self-esteem by giving them more independence.
As a parent or caregiver, here's how you can help.
At Home
Come up with a list of chores that fit your child's abilities. Let them decide when and how certain things get done. These duties might include making a grocery list, helping out with dinner, or picking out their school clothes for the next day.
Often, teenagers aren't quick to open up about their problems. But ask your child if there's a way to make your home safer and more SMA3-friendly. You might be able to make some changes yourself. But it's best to consult with a building professional for bigger jobs.
Wireless tech and "smart" tools can be a big help. These devices let your child control all kinds of things through their laptop or smartphone, including:
Lights
Heat or air-conditioning
Door locks or cameras
Music and TVs
Certain kitchen appliances
Taking Medication
Kids and adults with SMA3 need ongoing medical care. You can help your child learn how they can take part in their health care routine.
But you'll need to ask your doctor or a medical professional to weigh in on how your child can become more independent when it comes to their treatment. They'll let you know what's safe for them to do without extra help.
For example, risdiplam (Evrysdi) is a liquid medicine approved for SMA. You keep it at home in the fridge. It's given once daily after a meal and has to be taken at the same time every day. A pre-teen or teen might be able to take this drug by themselves.
At School
SMA3 shouldn't affect your child's ability to learn. But certain physical limits might make things harder. Ask your child what they need to get to and from classes. Some kids with SMA find it easier to learn in a homeschool setting.
And make sure you have an Individualized Education Program (IEP) or 504 Plan in place. These guarantee a set of standards that a school has to follow to adapt to your child's learning needs.
Once your child is ready for college, here are some questions to think about:
Should they live at home or on campus?
Can the school make helpful changes in and out of class?
Who lives nearby who can help in an emergency?
Are there online classes?
Can your child see an SMA specialist on or near campus?
Traveling and Getting Around
Explore different mobility aids with your child. These devices can help your child get safely from one place to another by themselves.
Assistive devices that'll help your child move around include:
Adaptive bikes
Leg and muscle braces
Wheelchairs 
Walkers
Standers
People with disabilities have equal access to public transportation. That means your child should be able to take the bus, subway, or train on their own, even if they use a wheelchair. But make sure to go with them on their first few trips.  
Teens with SMA3 may be able to get a driver's license. You can adapt a car or van to fit your child's needs. Contact the Association for Driver Rehabilitation Specialists (ADED) to find a specialist who can help.
Adaptive vehicles might include:
Hand controls for speeding up and slowing down
Tools to assist with steering
Touch pads for turning the car on or shifting
Remote door openers
Doors wide enough for a wheelchair
If your child drives on their own, make sure they have an emergency kit with extra medical supplies.
Exercise and Sports
Pre-teens and teens with SMA3 can still be active. In fact, exercise can help build strength and boost mobility. Swimming might be a good choice. But ask your child's physical or occupational therapist what kinds of physical activities are safe.
You can also look for recreational sports in your area. Some programs are designed for kids with physical limits. You may hear these called adapted or adaptive sports. Many are played in a wheelchair or with other adaptive equipment. Your child can participate even if they don't use a walking aid all the time.
Check with your child's school or local recreation department to see what's available.
Mental Health Care
People with SMA3 can live full lives, especially with lots of support from friends and family. But pay close attention to your child's emotional needs. Children or teens with SMA3 might get bullied at school. Or they might feel they stand out or are misunderstood.
Find a school counselor or child psychologist. Ask your doctor for a referral to someone who works with kids who have conditions like SMA. And let your child know their mental health deserves just as much focus as their physical health.
Encourage your pre-teen or teen to join a peer support group. It's good for them to have a space where they can complain, ask questions, or simply joke around with others who know exactly what they're going through.
Ask your child's doctor or social worker if there are groups in your area. National nonprofit groups are another good way to find like-minded folks. Visit curesma.org for more information.
Show Sources
SOURCES:
Photo Credit: Dougal Waters / Getty Images
Genetic and Rare Diseases Information Center (NIH): "Spinal muscular atrophy type 3."
Orphanet Journal of Rare Diseases: "'Getting ready for the adult world': how adults with spinal muscular atrophy perceive and experience healthcare, transition and well-being," "'I have SMA, SMA doesn't have me': a qualitative snapshot into the challenges, successes, and quality of life of adolescents and young adults with SMA."
CureSMA.org: "Infants and Children," "New Support Program For Teens & Adults With SMA," "At School," "Teens and Adults," "Local Support."
The Muscular Dystrophy Association: "Home Smart Home."
Evrysdi: "Prescribing Information."
KidsHealth.org: "Assistive Devices: Walking and Mobility (Slideshow)," "Spinal Muscular Atrophy: Steven's Story." 
U.S. Access Board: "About ADAAG for Transportation Vehicles."
Christopher & Dana Reeve Foundation: "Cars and driving."
Muscular Dystrophy UK: "Care: For parents and families."
American Association of Adapted Sports Programs: "Off the Sidelines – Into the game," "Transforming School Athletic Paradigms." 
Complex Child: "All About Standers."
NYU Langone Health: "Mobility Aids & Orthotic Devices for Muscular Dystrophy."