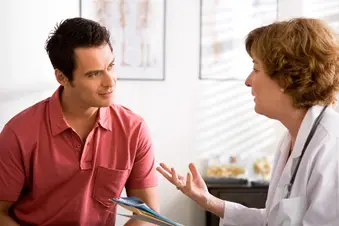 If you've been recently diagnosed with depression, also known as major depressive disorder, you may be overwhelmed with questions. What's the next step? What treatments are right for you? What if they don't work well?
These are all valid questions. When you first meet with your mental health specialist such as a psychiatrist or licensed therapist, they'll  go over your diagnosis and treatment plan. After they've covered the basics, a good provider will also make time during the appointment to go over any important questions or concerns you may have. 
This will help them work with you to come up with a treatment plan that not only meets your health care goals but also reflects your values and needs. Research also shows that those who are actively involved in their health care tend to do better. 
Questions to Ask at Your Major Depressive Disorder Appointment
Don't hesitate to speak your mind. The more you ask, the more you can learn about what's going on in your body. It'll also likely lower any stress, nerves, or confusion you might have about your diagnosis. 
With so much information to take in at each appointment, it's easy to get distracted and forget to ask the questions that are on your mind. To simplify, try to write them down on a piece of paper or on your phone and bring it with you. 
Questions you should ask include:
What's causing the depression?
Many things can trigger depression, and major depression can vary from person to person. For example, an imbalance in brain chemicals, stressful events in life, a physical injury, or genes can play a role, too. 
Your doctor will run a few tests and ask you to fill out questionnaires. This will help them narrow down the type of depression you have and the possible cause. 
How long will it take for the medications to work?
Based on your diagnosis, your doctor may prescribe antidepressants and other medications. Feel free to ask your doctor how long it will take to see the results. This will help you monitor the effect it has on you. If you don't notice any changes, your doctor may need to switch your drugs or increase the dosage.
If you need therapy, ask how many sessions you'll need. This will help you plan your schedule around it and set realistic expectations. 
What are the possible side effects?
While prescription drugs may be effective at controlling your symptoms, some may cause side effects. Ask your doctor what to watch out for. If the medications interrupt your day-to-day routine at work or home, your doctor may need to adjust your dosage or find one that causes fewer side effects. 
Are there alternative treatment options?
There are many types of antidepressants available. If the medications you're taking don't work well or they cause too many side effects, ask your doctor if you're able to try other treatments. 
If you haven't tried therapy in combination with your medications, see if that's an option. Ask about the different benefits and risks for each type. This might help you figure out the right plan for you. 
Who is on the health care team?
It's possible to have multiple health care providers on your team. For example, you may have been referred to your psychiatrist through your primary care doctor. Your psychiatrist might further refer you to a counselor or a therapist for therapy sessions. If you're seeing additional specialists for other health problems, they'll need to know your treatment plan, too. 
With multiple experts involved, check with your doctor if they're able to coordinate your care with everyone involved. 
Your care team might also include your close family or friends who can advocate for your needs if you're unable to. Also, ask your doctor if they have admission privileges to the hospital of your choice. This can be helpful if you need hospital care. Coordinating your care among all parties involved will help everybody stay on the same page and avoid confusion.
What kind of lifestyle changes do I need to make?
Besides medications and therapy, healthy habits can boost your mood and improve your symptoms, too. If you smoke cigarettes or drink alcoholic beverages, your doctor might ask you to cut down or quit. If you need help, your doctor or therapist can refer you to an outpatient program or support group to help you make those changes.
Research shows that regular exercise, good sleep, and a balanced healthy diet can boost feel-good hormones in your body, ease stress, and lower depressive symptoms. 
How can I get in touch with you during an emergency?
Depression can be draining. And if you have severe symptoms such as suicidal thoughts, or thoughts of hurting yourself or anybody else, get help as soon as possible. In case of an emergency or after business hours, ask your doctor or therapist what the best way to get in touch with them is. It could be through text, call, or email.
You can also check if there's an "on-call" staff member or a backup contact, especially if your provider is on vacation or you're unable to reach them. 
You can also ask your doctor for additional resources such as advocacy organizations and support groups. This will help you connect with others who might have similar issues, learn more about your condition, and manage your overall health better. 
A good relationship with your doctor or therapist is a two-way street. You'll need to have open, honest communication with them, and they, in turn, should guide you with their expert knowledge. It will help you address your problems effectively and improve your odds of a good outcome. 
Show Sources
Photo Credit: Monica Rodriguez / Getty Images
SOURCES:
Mayo Clinic: "Depression (major depressive disorder)."
Winchester Hospital: "Lifestyle Changes to Manage Depression."
National Alliance on Mental Illness: "How to Prepare for Your Psychiatric Appointment."
Mental Health America: "Questions to Ask a Provider."
Harvard Health Publishing: "What Causes Depression?"