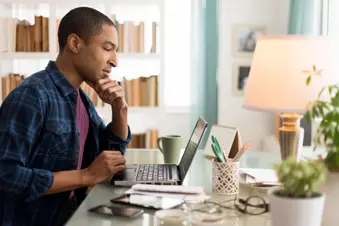 If you have been diagnosed with major depressive disorder, you'll want to get treatment as soon as possible. To get the care you need, it's important you find a specialist that fits your needs. Focusing on what's important to you in a specialist can help narrow down your search.
What Types of Specialists Treat Major Depressive Disorder?
First, you'll want to learn about what kind of specialist you need to look for. Your primary care doctor can prescribe medication for your depression. But you'll benefit even more from someone with a deeper focus on the condition. Many people with major depressive disorder also see a psychiatrist or a psychologist to treat their symptoms. These two specialists provide different services:
Psychiatrists. These doctors can diagnose, treat, and prevent symptoms of major depressive disorder. They're medical doctors who focus on the mental and physical parts of your condition. 
They might use psychotherapy, medications, electroconvulsive therapy, or psychosocial methods to treat you.
You might visit this specialist in many different places, such as:
A private practice

A clinic

A general hospital or psychiatric hospital

University medical centers

Rehabilitation centers

Nursing homes
Psychologists. While these specialists are similar to psychiatrists, they didn't go to medical school. They most likely have an advanced degree in clinical psychology and have a lot of training. Psychologists will treat your major depressive disorder with psychotherapy.
They won't be able to prescribe you medicines like a psychiatrist would.
These experts can treat you in:
A medical center

A university or school

A hospital

An independent practice

A business or nonprofit
How Can You Find the Right Doctor for Your Major Depressive Disorder?
Follow these steps to get in contact with an expert that's a proper fit for you:
Do your research. When you search for a psychologist or psychiatrist, you'll want to make sure that they offer a form of treatment you're comfortable with. You can always call ahead and ask about which treatment options a specific specialist offers.
If you want medical treatment, a psychiatrist may be better for you. But if you want talk therapy, a psychologist can be a good fit.
Make sure they focus on your condition. It's important to look for an expert that has a lot of experience with major depressive disorder. You may have found a good expert, but their focus could be in another area. Look for someone who will give you the maximum benefits from treatment.
Look for someone who you feel comfortable with. You might prefer an expert who you can relate more to. If this is the case, take it into consideration as you look for your psychiatrist or psychologist. You might prefer:
Someone who identifies as the same gender as you

Someone of a similar cultural background as you

Someone of the same race as you

A person who is part of the LGBTQ+ community

A person who is closer in age to you or older than you
It's OK to be picky. You should feel comfortable with your doctor. If these things are important to you, find someone who fits your needs. If you're at ease, you'll develop a better relationship and have more successful treatment.
Find an expert who you can afford. Psychiatry and psychology can be expensive. But if you do your research, you can find an expert that fits your financial needs. If you have insurance, call your provider to see what doctors they work with. Your insurance company might also have a list online.
You can also check to see what's covered if you have Medicare or Medicaid.
If you don't have insurance, there are some financial aid programs that you can look into. The American Counseling Association offers government funded resources to help pay for your treatment.
If you're still in school, you can also benefit from counseling services, which are oftentimes free. Your workplace may also offer an employee assistance program (EAP) that helps with mental health care.
Ask around. Ask your doctor for a list of experts that they suggest for major depressive disorder. They can give you a referral to someone they're connected to. 
You can also ask friends and family if they know of any good psychiatrists or psychologists.
The National Alliance on Mental Illness (NAMI) can also provide you with some contacts. Contact NAMI online or call to ask about experts in your area. You can also reach out to groups that have directories of mental health providers. These include the American Psychological Association, the American Psychiatric Association, the American Medical Association, and the Association for Behavioral and Cognitive Therapies.
Show Sources
Photo Credit: JGI / Tom Grill / Getty Images
SOURCES:
Mayo Clinic: "Depression (Major Depressive Disorder)," "Mental Health Providers: Tips on Finding One."
American Psychiatric Association: "What is Psychiatry?"
American Psychological Association: "Careers in Psychology."
American Counseling Association: "Government Affairs."