How to use Tremfya Syringe
Read the Medication Guide and Instructions for Use provided by your pharmacist before you start using guselkumab and each time you get a refill. If you have any questions, ask your doctor or pharmacist.
Before treatment with this medication, your doctor will test you for tuberculosis (TB). Your doctor should also monitor you for symptoms of TB during and after treatment with this drug. If needed, treatment for tuberculosis or other infections should be given before receiving this medication.
This medication is given by injection under your skin as directed by your doctor. You may receive your first dose in the doctor's office. After the first dose, another dose is usually given 4 weeks later, followed by doses every 8 weeks. The injection is given in the upper arms, thighs, or abdomen (at least 2 inches from your belly button). Follow your doctor's instructions carefully.
If you are using this medication at home, learn all preparation and usage instructions from your health care professional and the product instructions. Wash your hands before using this medication. Remove the medication from the refrigerator 30 minutes before you inject it to allow it to reach room temperature. Do not warm up this medication any other way such as by heating in the microwave, placing in hot water, or leaving it in direct sunlight. Do not shake the medication. The medication should be colorless to light yellow. It may contain small white or clear particles. Before using, check this product visually for cloudiness, large particles, or discoloration. If you see any of these things, do not use the liquid. Before injecting each dose, clean the injection site with rubbing alcohol. Change the injection site each time to lessen injury under the skin. Do not inject into skin that is tender, bruised, red, hard, thick, scaly, or affected by psoriasis. To lessen bruising, do not rub the injection site after a shot. Learn how to store and discard medical supplies safely.
Use this medication regularly to get the most benefit from it. It may help to mark your calendar with a reminder.
Tell your doctor if your condition does not get better or if it gets worse.
Side Effects
Bruising, redness, itching, pain, or swelling at the injection site may occur. If any of these effects last or get worse, tell your doctor or pharmacist promptly.
Remember that this medication has been prescribed because your doctor has judged that the benefit to you is greater than the risk of side effects. Many people using this medication do not have serious side effects.
This medication may lower your ability to fight infections. This may make you more likely to get a serious (rarely fatal) infection or make any infection you have worse. Tell your doctor right away if you have any signs of infection (such as sore throat that doesn't go away, fever, chills, cough).
A very serious allergic reaction to this drug is rare. However, get medical help right away if you notice any symptoms of a serious allergic reaction, including: rash, itching/swelling (especially of the face/tongue/throat), severe dizziness, trouble breathing.
This is not a complete list of possible side effects. If you notice other effects not listed above, contact your doctor or pharmacist.
In the US - Call your doctor for medical advice about side effects. You may report side effects to FDA at 1-800-FDA-1088 or at www.fda.gov/medwatch.
In Canada - Call your doctor for medical advice about side effects. You may report side effects to Health Canada at 1-866-234-2345.
Precautions
Before using guselkumab, tell your doctor or pharmacist if you are allergic to it; or if you have any other allergies. This product may contain inactive ingredients, which can cause allergic reactions or other problems. Talk to your pharmacist for more details.
Before using this medication, tell your doctor or pharmacist your medical history, especially of: current/recent/returning infection (such as tuberculosis, herpes).
Guselkumab can make you more likely to get infections or may make current infections worse. Stay away from anyone who has an infection that may easily spread (such as chickenpox, COVID-19, measles, flu). Talk to your doctor if you have been exposed to an infection or for more details.
Tell your health care professional that you are using guselkumab before having any immunizations/vaccinations. Avoid contact with people who have recently received live vaccines (such as flu vaccine inhaled through the nose).
Before having surgery, tell your doctor or dentist about all the products you use (including prescription drugs, nonprescription drugs, and herbal products).
During pregnancy, this medication should be used only when clearly needed. Discuss the risks and benefits with your doctor.
It is unknown if this medication passes into breast milk. Consult your doctor before breast-feeding.
Interactions
Drug interactions may change how your medications work or increase your risk for serious side effects. This document does not contain all possible drug interactions. Keep a list of all the products you use (including prescription/nonprescription drugs and herbal products) and share it with your doctor and pharmacist. Do not start, stop, or change the dosage of any medicines without your doctor's approval.
Does Tremfya Syringe interact with other drugs you are taking?
Enter your medication into the WebMD interaction checker
Images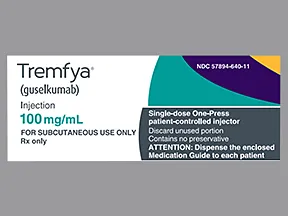 Tremfya 100 mg/mL subcutaneous auto-injector
Color: colorless
Shape:
Imprint:
This medicine is a colorless, clear, syringe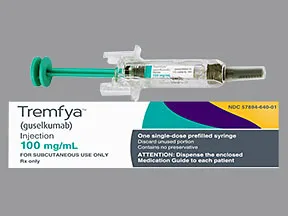 Tremfya 100 mg/mL subcutaneous syringe
Color: colorless
Shape:
Imprint:
This medicine is a colorless, clear, syringe
Find other drugs that treat your condition