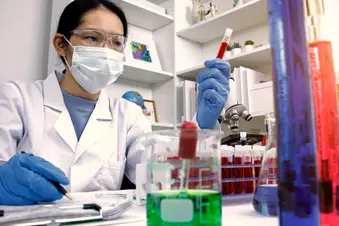 New medications are brightening the outlook for people with heart failure. But before any drug reaches your pharmacy or medicine cabinet, it gets tested in clinical trials to make sure that it's safe and it works. 
If you are Black or Hispanic, you might be surprised to learn that many heart failure drugs were tested on people who didn't look anything like you. Even though Black and Hispanic Americans have higher rates of heart failure than white Americans, they often aren't included in clinical trials that study heart failure medications. 
Out of 414 heart failure studies published between 2000 and 2020, fewer than 1 in 5 participants were people of color. Less than 2 in 5 studies even reported the race and ethnicity of their participants, making the real numbers hard to know. 
Without good representation in studies, doctors have no way of knowing how well the drugs they prescribe will work in their Black and Hispanic patients or if the medicines might cause unexpected side effects. The study that led to FDA approval of heart failure drug vericiguat (Verquvo) was made up of less than 5% Black people.
Experts say there's a real need to increase enrollment of people of color in heart disease clinical trials to make these study populations better reflect  people living with heart disease in the United States today.
Why Does Clinical Trial Diversity Matter?
"Up until now we've used an approach of sameness, assuming that all patients represent the same model," says Clyde Yancy, MD, vice dean of diversity and inclusion and chief of the Division of Cardiology at Northwestern University Feinberg School of Medicine. 
In reality, people of different races and ethnicities don't always respond in the same way to heart failure medicines. 
For example, ACE inhibitors may not lower blood pressure as well in Black people as they do in white people. The drug combo of isosorbide dinitrate and hydralazine (BiDil) lowers the risk of death in Black people with a certain kind of heart failure, but not as much in people of other races. Differences in treatment response could stem from factors like unique biology, income, or access to health care.
What's Behind the Lack of Diversity?
Researchers point to a few reasons why fewer minorities enroll in clinical trials. For example, members of minority groups more often lack the following resources:
H

ealth insurance to cover study costs like blood tests or imaging scans

C

hildcare to cover the extra time some clinical trials require

T

ransportation to get to the study site

H

ealth literacy or 

English proficiency to

understand the study description
"There are logistical reasons, which are real challenges for some communities," says Martin Mendoza, PhD, director of health equity for All of Us at the National Institutes of Health, a research program that is gathering health information from a diverse group of people across the country. "A lot of times, these trials are at major academic medical centers. But many underrepresented people get their health care from local clinics or local doctors."
Mistrust is also a big barrier to participation, and there is good reason for it. History is filled with examples of people of color being treated poorly by the medical community. One famous example is the Tuskegee Syphilis Study, which studied Black men with syphilis from the 1930s to the early 1970s without getting their consent or treating them. 
That betrayal is still fresh in the minds of Black people. "Descendants of the Tuskegee experiment are alive today," says Yancy. "It wasn't that long ago."
"Communities don't want to feel like they're being used," Mendoza adds. "They want to know that their contribution is going to be valued."
How Do We Make Heart Failure Studies More Diverse?
Three groups have the power to make this happen: the government, researchers, and people with heart failure.
The National Institutes of Health (NIH) has been working at the government level to increase diversity in clinical trials. In 2017, the agency adopted a new policy and guidelines that require any studies it funds to include minorities and to provide data on study participants' race and ethnicity. 
In 2022, the FDA released new guidance that called researchers to enroll more people from under-represented racial and ethnic groups into clinical trials. "The U.S. population has become increasingly diverse," FDA commissioner Robert Califf, MD, said in a news release. "Ensuring meaningful representation of racial and ethnic minorities in clinical trials for regulated medical products is fundamental to public health." 
Pharma companies and universities that conduct studies can improve diversity by connecting with communities of color. "Understand the community and what they value, so they see [the research] as a good thing and not some experiment that is using them as guinea pigs," says Patrice Desvigne-Nickens, MD, a medical officer within the Division of Cardiovascular Science's Heart Failure and Arrhythmias Branch at the National Heart, Lung, and Blood Institute, part of the NIH. 
Researchers could reach out to people in the community -- local pharmacists, doctors, or church leaders. "These folks have standing. They have trust in the community. That helps to build a bridge between the sponsor and the potential participants," Mendoza says.
Researchers could go one step further by conducting their studies in the community and hiring local health workers to staff it. 
These are a few other ways for researchers to increase diversity in their studies:
Hire study coordinators of the same race and ethnicity as the people they want to recruitand train them to provide culturally respectful care.

Pay 

study volunteers in order

to reduce financial barriers to participation.

Make study hours flexible and include virtual visits so that people don't have to take time off from work or 

pay for

childcare to participate.

Write the study information clearly and in several languages.
What You Can Do
You can also play a part in improving clinical trial diversity by joining a study. Your participation will help ensure that everyone in your community benefits equally from new heart failure treatments. "Only by participating can we make certain that the next time there's a breakthrough blockbuster discovery, that it's applicable to everybody," Yancy says.
To learn more about clinical trials and find one that fits you, visit ClinicalTrials.gov or ask your doctor. "I would encourage patients to talk with their cardiologist," Desvigne-Nickens says. "Not every patient is near an active clinical trial, but when there is an opportunity, it is to their advantage to participate."
Improving diversity in clinical trials isn't easy, and it won't happen overnight. But there are signs that research is moving in the right direction, as heart failure studies slowly start to include more people of color.
"I see more opportunities to move forward and achieve greater diversity than ever before," Yancy says.
Show Sources
Photo Credit: Rapeepong Puttakumwong / Getty Images
SOURCES:
American College of Cardiology: "Latest Evidence on Racial Inequities and Biases in Advanced Heart Failure."
American Journal of Preventive Cardiology: "Improving the enrollment of women and racially/ethnically diverse populations in cardiovascular clinical trials: An ASPC practice statement."
CDC: "The Syphilis Study at Tuskegee Timeline."
Circulation: Heart Failure: "Factors Associated with Racial and Ethnic Diversity Among Heart Failure Trial Participants: A Systematic Bibliometric Review."
Clyde Yancy, MD, vice dean of Diversity & Inclusion; chief of the Division of Cardiology, Northwestern University, Feinberg School of Medicine.
FDA: "FDA Takes Important Steps to Increase Racial and Ethnic Diversity in Clinical Trials."
JAMA Cardiology: "Enrollment of Older Patients, Women, and Racial and Ethnic Minorities in Contemporary Heart Failure Clinical Trials," "Improving Enrollment of Underrepresented Racial and Ethnic Populations in Heart Failure Trials: A Call to Action from the Heart Failure Collaboratory."
Journal of the American Heart Association: "Recruitment of Black Adults into Cardiovascular Disease Trials."
Martin Mendoza, PhD, director of health equity, All of Us research program, National Institutes of Health.
Patrice Desvigne-Nickens, MD, medical officer, Division of Cardiovascular Science's Heart Failure and Arrhythmias Branch, National Heart, Lung, and Blood Institute.
National Institutes of Health: "NIH Policy and Guidelines on the Inclusion of Women and Minorities as Subjects in Clinical Research."