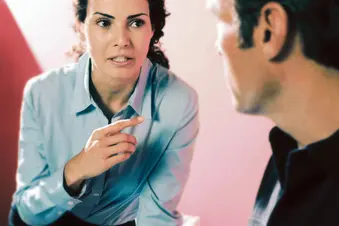 Long days at work can seem even longer if you have an inflammatory bowel disease such as ulcerative colitis (UC) or Crohn's disease. Symptoms like diarrhea, belly pain, gas, and rectal bleeding may strike with little warning.
No matter what type of work you do, UC flare-ups can be embarrassing. They may affect your ability to do your job, too. People with UC miss more days of work due to illness than the general population.
What steps can you take to manage your UC at work? Here are some tips to help you handle symptoms and surprises, laws that require workplace accommodations so you can do your job, and ways to manage stress.
Do You Have to Tell Your Boss?
Your employer isn't allowed to ask if you have UC or any other health condition. But during a job interview, they can ask if you're physically able to do the work your role requires. And if you feel like you have to explain frequent trips to the restroom or lots of sick days, you may choose to disclose your diagnosis.
The Americans with Disabilities Act (ADA) requires your employer to make reasonable changes (also called accommodations) so you can do your job while you have a health condition. These could include flexible work hours or moving your desk closer to the bathroom. If you make requests under the ADA, you'll have to tell your employer why you need them.
UC could cause you to need more time off than your job's vacation or sick leave benefits allow. The Family and Medical Leave Act (FMLA) is a law that lets workers in private-sector businesses of 50 employees or more to take up to 12 weeks off work in 1 year for a serious health condition. Time off is unpaid, but your job is protected. You do have to tell your employer why you need this time off under FMLA and provide a letter from your doctor.
Should You Tell Co-Workers?
Again, you're not required to do so. But if co-workers notice that you feel ill sometimes or turn down free pizza, it may be a relief to tell them that you have UC and explain how it affects you. Talking about your UC could make your work relationships stronger.
Here are a few tips to help you start the conversation:
Write down what you want to say about UC. Scribbling down a few thoughts and facts can guide your chat with your co-workers or boss.
Be as open as you'd like to be. Your colleagues may have questions about UC or how it affects you at work. If you feel comfortable, answer them and let them know what's happening to you.
Tell them how they can help. At work, you're part of a team. Let your co-workers know about the support or flexibility you need and what makes work more stressful for you.
Prepare for Symptoms, or Prevent Them
It's a fact of life: UC can flare up when you're at work. To prepare for accidents or help prevent flares, you can:
Keep an extra set of underwear and clothes in your desk or locker in case you need to change after an accident.
Stash moist wipes in your desk. The toilet paper in your workplace bathroom could irritate your bottom.
Take walk breaks instead of coffee breaks. Exercise can boost your immune system and ease stress. Avoid caffeine, which often triggers diarrhea.
UC can dehydrate you. Keep a bottle of water at your workstation and sip throughout the day.
Keep healthy snacks at work. Vending machines don't offer a good selection of healthy treats. With UC, it's a good idea to eat frequently during the day.
Manage Workplace Stress
Stress doesn't cause UC, but it could make your symptoms worse.
Work can be stressful even if you don't have UC. These things can help you de-stress and restore emotional balance:
Yoga or tai chi
Guided imagery, a practice where you focus on words, images, or music that makes you feel more positive
Breathing techniques, which can help you relax
Listening to your favorite music
Put Your Health First
If you need to shift your work hours because UC tires you out by the afternoon, let your employer know. Take breaks when you need them so you don't feel overwhelmed.
You know your body. Speak up if you need help or some changes to your work situation so you can get the job done. Make sure you have enough energy to do your work and enjoy your life, too.
Social Security Benefits
If your IBD makes it difficult or impossible to work, you may qualify for Social Security benefits from the government in the form of financial help. You will need appropriate medical documentation to show disability. "Appropriate" means that the diagnosis and evaluation of your illness is done in a medically acceptable way. This might include imaging studies like x-rays, sonography, CAT scans, MRIs, or radionuclide scans. It could also include reports of pathology, surgery, endoscopy, and other procedures and reports from your doctor that show the seriousness and duration of your IBD symptoms.
It's important to show that the evaluations apply to the span of time for which you seek benefits. You can call the Social Security Administration (SSA) at 1-800-772-1213 to start the process over the phone, or visit the SSA website to start an online application.
Show Sources
SOURCES:
Cleveland Clinic: "How to Cope With Your IBD at Work."
British Medical Journal Open: "Adapting to ulcerative colitis to try to live a 'normal' life: a qualitative study of patients' experiences in the Midlands region of England."
Gastroenterology: "Patients With Ulcerative Colitis Miss More Days of Work Than the General Population, Even Following Colectomy."
Crohn's and Colitis Foundation: "Employment and Inflammatory Bowel Disease," "Managing Flares and Other IBD Symptoms."
Gut It Out Foundation: "How to Manage Your IBD at Work."
BWH Crohn's and Colitis Center: "Telling Others About Your IBD."
Johns Hopkins Medicine: "5 Foods to Avoid If You Have IBS."
National Health Service: "Diet, Lifestyle and Medicines: Irritable Bowel Syndrome (IBS)."
DisabilityBenefitsCenter.org: "Can I Work With Colitis?"
U.S. Social Security Administration: "Disability Evaluation Under Social Security, 5.00 Digestive System - Adult."