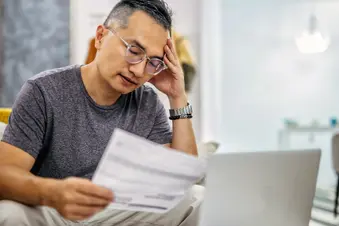 B-cell therapy (sometimes called B-cell depletion) often works well to keep multiple sclerosis (MS) from getting worse. But these treatments can also be expensive. Fortunately, health insurance usually covers at least part of the cost for many people. Various nonprofits and drug companies also offer programs that can help you pay for B-cell therapy. 
These high-tech medications work by targeting your B cells, white blood cells that are part of your immune system. When you have MS, these cells are involved in the progression of the disease. B-cell therapies used for MS include:
Another B-cell therapy, rituximab, isn't FDA-approved to treat MS but is sometimes used off-label for this purpose.
How Much Does B Cell Therapy Cost?
B-cell therapy medications are a type of drug called monoclonal antibodies. These drugs are complicated and costly to manufacture. Like other disease-modifying medications for MS, they carry a high price tag. (Disease-modifying drugs focus on stopping the progression of MS rather than relieving symptoms.)
How much you'll pay out of pocket for B-cell therapy depends on several things, including:
What health insurance you have and what your plan covers

Which drug your doctor prescribes and in what dosage

Whether you can use a discount or financial support program. 
Insurance covers most MS treatments, but copays, coinsurance, and deductibles can add up. Some insurance plans may require pre-approval for B-cell therapy. (If your plan doesn't cover your B-cell therapy, you and your doctor can file an appeal with your insurance company.)
The wholesale price of ofatumumab (without insurance, rebates, or discounts) is $83,000 a year, but it's unlikely you'd pay that full amount. You take this drug as an injection from a prefilled autoinjector pen. You usually get it once weekly for the first 3 weeks, then once a month after that. You or a caregiver can do the injections once your doctor shows you how. 
The list price of ocrelizumab is $68,000 a year, but again, most people don't pay that much. You get this drug as an IV infusion at your doctor's office. You generally get the first 2 doses once every 2 weeks, then once every 6 months. 
Because the FDA hasn't approved rituximab for MS, it may be less likely to be covered by insurance. You get it through an IV at a doctor's office. There's not an established regimen for this drug for MS, but in studies, people have gotten an infusion every 6 months. One study found that the mean annual cost of this drug for MS would be about $5,400.
How Can You Get Help Paying for B-Cell Therapy?
If your doctor prescribes B-cell therapy and you're insured, first contact your insurer to figure out how much you'll need to pay out of pocket. Whether you have private insurance, Medicare, or Medicaid, it may cover the majority of your costs. If you have private insurance, some drug manufacturers provide help with copay charges. 
If you're having trouble affording the therapy, ask your doctor about ways to lower your treatment costs. 
Some of your options include:
Drug company patient assistance programs (PAPs). Drug manufacturers offer these programs to provide free or lower-cost treatment to people who can't pay for their medications. Most major drug companies offer PAPs. The Multiple Sclerosis Society website has a list of relevant patient assistance programs.
Each drug company is different, but in most cases you must meet certain criteria to use these programs. Most PAPs require that you:
Meet income requirements

Are uninsured or underinsured

Are a U.S. citizen or a legal resident
Keep in mind that people on Medicare may not be eligible for drug company funding. And any help they provide doesn't count toward your out-of-pocket costs.  
If your income is slightly over the limit for a PAP, you might still be in luck. Some companies let you send an appeal letter to explain why you need extra help. You can also send a medical necessity form from your doctor that explains your financial situation. 
Some companies also offer rebates, coupons, or savings cards. They might also have trial offers that can help you access treatments for free or lower prices.
Nonprofit programs. Some nonprofit organizations also offer programs to help you pay for MS treatments. These programs aren't tied to a particular brand of medication. For MS, you can contact the following nonprofits to ask for help:
Good Days, which helps people on Medicare and military personnel

The Assistance Fund, which offers help with out-of-pocket costs for medications that are covered by insurance 

The Healthwell Foundation, which can assist with out-of-pocket charges when you're on Medicare

The Patient Access Network (PAN) Foundation, which also helps people with Medicare pay out-of-pocket costs
Funding levels for these programs tend to change over time, so you may need to keep checking back to see if a particular program is taking new applicants. 
Show Sources
Photo Credit: South_agency / Getty Images
SOURCES:
Cold Spring Harbor Perspectives in Medicine: "B-Cell Therapies in Multiple Sclerosis."
British Medical Journal: "Monoclonal Antibodies: Magic Bullets With a Hefty Price Tag."
National Multiple Sclerosis Society: "Cost of Multiple Sclerosis, "FDA Approves Kesimpta® (ofatumumab), Similar to Ocrevus®, for Relapsing MS," "Guide to Prescription Financial Assistance."
Kesimptahcp.com: "Alongside KESIMPTA for your patients."
Genentech: "Frequently Asked Questions," "The Genentech Oncology Co-pay Assistance Program."
Medline Plus: Ofatumumab Injection (Multiple Sclerosis)," "Ocrelizumab Injection."
Ocrevus.com: "OCREVUS Pricing and Financial Support."
Multiple Sclerosis and Related Disorders: "Rituximab in the treatment of multiple sclerosis in the Hospital District of Southwest Finland."
BMC Health Services Research: "Cost-effectiveness analysis of rituximab versus natalizumab in patients with relapsing remitting multiple sclerosis."
Parent to Parent of Georgia: "Healthcare.