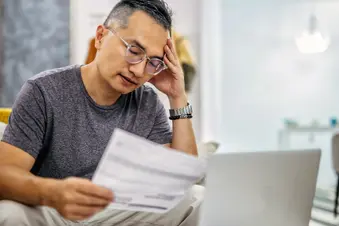 By Lisa Lundy, multiple sclerosis case manager, as told to Keri Wiginton 
It's normal to worry about the cost of multiple sclerosis (MS) treatment. You may wonder how you'll predict anything about an unpredictable disease. While you don't want to get yourself in a panic, you do want to prepare for what may come. 
But first, take a breath. Try not to think about your financial future for a moment. Center yourself by knowing that help is out there. Many people have been down this road before. 
When you're ready to set up a plan, keep an open mind. The support you need may not come from one source. 
Where to Look for Financial Help 
The cost of MS treatment is different for everyone. But you'll likely need ongoing medication and follow-up MRIs.
If you get treatment at an MS-focused center, a case manager like me can help problem-solve your money issues or medical needs. But someone should be able to guide you no matter where you get your care. That might include your doctor, a social worker, nurse educator, or a patient navigator.  
The National Multiple Sclerosis Society can also be a big help; I tap them a lot. You'll find financial planning services and other resources on their website. And they offer lots of ways to get in touch with an MS navigator – a good choice if your hospital network isn't much help.
When it comes to MRIs, most insurance providers cover part or all of the cost. But you can get extra help if you don't have coverage or can't afford what your plan doesn't pay. One way is through the Multiple Sclerosis Association of America's MRI Access Program.
You'll also find support through the Multiple Sclerosis Foundation. For example, they may help you pay for rides to the doctor, medical bills, physical therapy, or assistive devices. 
 
Check With Your Health Insurer Often
Many plans split medication into drug tiers. In most cases, your out-of-pocket costs go up with each tier.
The tricky part is knowing what tier your drug is in at any given moment. Insurance plans change their "preferred" coverage all the time. And they may not warn you when they do. So you'll want to check with them before you get your treatment or pick up a prescription.
What if your insurance provider won't pay for the drug your doctor says you need? The first thing you should do is find out why. Most of the time, this can be worked out with an appeal from your doctor.
If your insurance denies your medication again, you can tell the company that makes your drug. They may give you your medication for free. If that doesn't work, your doctor may need to prescribe something else. But that's one of the good things in today's world. There are many MS drugs that work well.
It's important to know that if you've lost your health insurance, you can still get treatment. There are things we can do to get your care covered. But you may need someone to help you find programs to get you back on track. 
 
Copay Assistance for Multiple Sclerosis Drugs
Your health insurance may approve your MS medication, but there's often a copay. That's what you pay on top of what your health plan covers. It might be hundreds of dollars.
Many drugmakers offer copay assistance for people with private insurance. That's coverage offered through your job or that you buy yourself. But this extra help may not apply if you have a government plan like Medicare or Medicaid.
No matter what kind of insurance you have, there are ways to get copay assistance. And if you don't have any coverage, most companies offer something called a free drug program. If you want to know more, the National Multiple Sclerosis Society has a lot of good info on how to pay for prescriptions. 
 
Adaptive Equipment Covered by Insurance
Let's say you need a wheelchair, a Hoyer lift, or a hospital bed. These kinds of major medical devices are generally covered. You'll just need your doctor to fill out a form that explains why you need them.
Insurance may not pay all the costs of some assistive devices. For example, things like walkers aren't always fully covered. And providers often consider fully electric hospital beds a luxury for the caregiver. But you should always check with your plan to see what your out-of-pocket costs will be.
If someone asks me about home modifications, I direct them to the National Multiple Sclerosis Society. They have different agents in each state. And they're phenomenal if you need help getting your home assessed for modifications or actually getting the changes you need. They may also be able to help you pay for these changes. 
 
Consider Short- and Long-Term Care Coverage
MS is a very weird animal. It doesn't affect everyone the same way. There will be plenty of people who may not feel that different from someone without MS. Maybe you get a little more fatigued, or you can't walk as far. But you may never need to pay for lots of extra care.
With that said, long-term care insurance can be a good investment if you ever need in-home care.
And it's probably not a bad idea for anyone in the working world to think about short- and long-term disability insurance. Anything can happen to anyone, really. But I'm always grateful and glad to hear when people with MS can rely on these kinds of backups.
 
Multiple Sclerosis and Your Employer
If you have relapsing-remitting MS (RRMS), you may only need to see your doctor once or twice a year. And you may choose to take a vacation day from work, and your boss won't need to know it's for MS.
But there are times where I think you should absolutely talk to your human resources department. For example, you may need time off for regular treatments. Or maybe you've had RRMS long enough that you know when your symptoms are likely to flare and keep you from work.
Your job can adapt to your needs without knowing your MS status. Your doctor can say that you have an ongoing medical issue, and you'll need to be out for certain appointments or during times of relapse.
While you don't have to tell your employer exactly what you have, you want to make sure you're covered. 
 
Grow Your Support Network
Reach out to people who are going through the same thing as you. You may be at different stages in your MS journey. But having that support and learning from what they've done – their mistakes and their triumphs – is one of the best things you can do. 
You can find support through the National Multiple Sclerosis Society or even through your own hospital. 
I offer something called a resource meeting. It gives people with MS a chance to get into a group and talk about the things they need. I may be able to help right away or need to get back to them later. But they don't just talk to me. They share their stories with each other. And these talks can bring up a lot of resources as well. 
Lisa Lundy is the multiple sclerosis clinic case manager for the Andrew C. Carlos Multiple Sclerosis Institute at the Shepherd Center in Atlanta. She assists with financial and medical needs, including disability issues and starting multiple sclerosis medication. 
Show Sources
Photo Credits:
Header Image: South_agency / Getty Images
Inset Image: Lisa Lundy
SOURCES:
Lisa Lundy, multiple sclerosis clinic case manager, Andrew C. Carlos Multiple Sclerosis Institute, Shepherd Center, Atlanta.
National Multiple Sclerosis Society: "Financial Planning," "Ask an MS Navigator," "Guide to Prescription Financial Assistance."
Multiple Sclerosis Association of America: "MRI Access Program."
Multiple Sclerosis Foundation: "Grants & Programs."