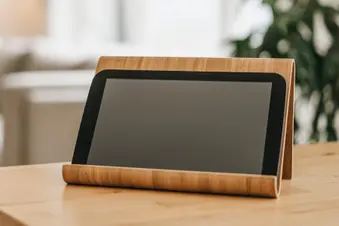 By Michael Ogg, as told to Hallie Levine
I was diagnosed with multiple sclerosis (MS) in 1996. My condition has left me a quadriplegic. I'm unable to move any muscles below my neck. But I can still speak, and my mind is as sharp as a tack. There's no doubt that if it weren't for advances in technology, I wouldn't be able to live my life as I do at the moment. It's allowed me to live independently and to lead a full, rich, productive life.
Thankfully, technology has always seemed to advance just when I've needed it most. Apple announced the first iPad in January 2010. I was in the hospital at the time and was increasingly frustrated using my laptop. With limited use of one arm, it was becoming more and more difficult to navigate my computer. Then, a friend of mine showed up at the hospital with a brand new iPad. It was so much easier for me to use since I just needed one finger to type over the screen.
As my disease has evolved and progressed, so have the tools I use. Here's a look at what makes my life with MS easier.
Wheelchair joystick. A few years ago, I began to find it too difficult to type directly on my iPad. Once again, advances in technology came through to help me. I discovered that there were wheelchair joysticks that could do more than help me get around. I ended up with one that had Bluetooth embedded in the handle. This allowed me to control my iPad simply by moving the stick left and right, up and down. I could once again navigate my screen and type. 
Permobil Sip & Puff System. Unfortunately, as my multiple sclerosis progressed, I lost dexterity in my arms. I now spend most of my time in my bed. I take a sip of air into a wand (just like sipping into a straw), and that sends a signal via my Bluetooth to my iPad's keyboard. I can then use the device to type. I found it complicated at first, but that's the remarkable thing about us humans: our brains can adapt and learn very quickly. I now work fairly quickly on my iPad, and I use this technology to communicate with people via email. It's given me a much greater ability to interact with the world. 
Smart technology. I've been using it for the last 18 years, way before people thought it was cool. I originally started with light switches, but as the technology advanced, I branched out to my TV, music systems, and heating. Things that allow me to maintain a comfortable living environment. It gives me peace of mind, for example, that I can lock my back door from my bedroom.
I've tried different technologies over the years, and right now I've settled on Z-Wave. I like it because it just requires one app on my iPad to use. It's more energy efficient than Wi-Fi. It also operates on a lower frequency, which means that it has a longer range and works more effectively throughout the house. Thankfully, there are so many different smart technology options on the market now that people with MS can play around a bit to find the one that they like best.
My bathroom monorail. I'm not joking. I have a ceiling lift in my bedroom that whisks me to my bathroom. My human personal care aids lift me into it, press a button, and I'm scooted straight into my shower. I still need help washing myself, of course, but it does give me a little more independence, which I appreciate. 
My collar microphone. Many people with MS require assistive technology to help them speak. My diaphragm muscles are weak, which makes it hard for me to speak up. It's very hard for people to hear and understand me. I also have slurred speech, thanks to the damage MS has done to different parts of my brain. Thankfully, I have a microphone that helps. It clips right onto my T-shirt and amplifies everything I say. It makes it much easier for my personal care assistants to hear me, especially when I'm in bed, since it's just a few inches from my mouth. 
My feeding pump. I have dysphagia, or trouble swallowing. It's fairly frequent in people who have advanced MS due to damage of muscles that control the ability to chew and swallow. If I eat or drink something, there's always the risk that I'll choke. As a result, I have a feeding pump that delivers formula directly into my stomach. Thankfully, it's small and lightweight enough that it can go anywhere I do. It's also very easy to use. Sadly, it has taken away the joy of eating for me, but I still do allow myself the luxury of drinking my morning coffee. There's got to be some risk in life!
Telemedicine. It's difficult for me to get to doctors' offices. While I still prefer in-person appointments as much as possible, telemedicine for routine matters -- getting a question answered or doing a medication check -- has made my life a lot easier. It's also been a good option when I haven't wanted to venture out due to high rates of viruses like COVID-19 or flu in my area.
There are downsides to using all this technology, of course. The general rule of thumb is that everything more complicated than a brick will break at some point. But the good news is this technology is accessible enough that anyone can use it, not just self-described technology geeks like me. I know plenty of people with MS who previously had no clue how to program anything, who have mastered all this technology with ease. A good example of that is my mom. She didn't have MS, but she died 4 years ago at the age of 93. During the last years of her life, she learned the benefits of technology such as being able to read the newspaper on her iPad in different languages. I like to think that if she could learn, anyone can. 
Show Sources
Photo Credit: Westend61 / Getty Images
SOURCE: 
Michael Ogg, 68, multiple sclerosis advocate, Princeton Junction, NJ.