Setting Up Your Cat's Playground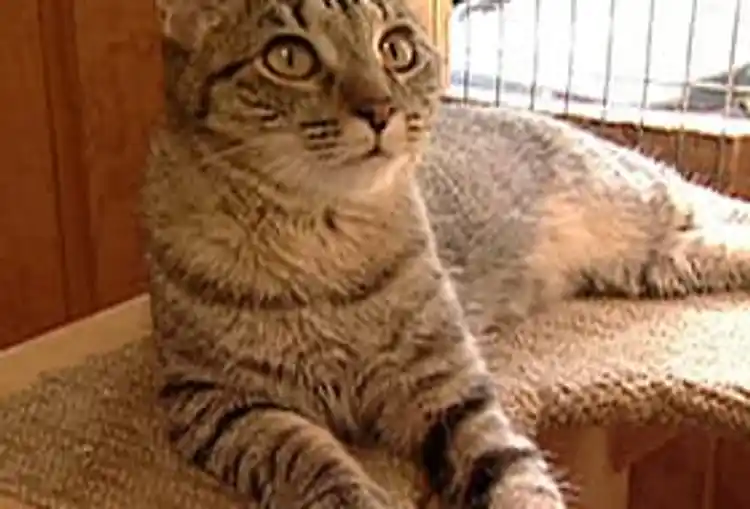 Video Transcript
Deborah Smith Callahan
Close the door here, make sure no kitties get out.
Narrator
Petfinder founder Betsy Banks Saul is touring a cat enrichment facility created by Deborah Smith Callahan.
Deborah Smith Callahan
In this stall for example you can see we have different things for them to climb up on, places they can go inside and feel safe.
Narrator
Built inside an old barn, every inch is designed to provide maximum physical and mental stimulation for its feline inhabitants.
Deborah Smith Callahan
We like to have a number of scratching posts, scratching strategies and we like to have toys. We like to rotate toys. Cats will get bored if you leave the same toys out all the time. So we keep a jar where the variety of toys in here, they are marinating in catnip.
Narrator
This amazing playground in Alpharetta, Georgia is actually a rescue facility for abused and abandoned cats. The interior was created by Deborah with eighteen thousand dollars of her own money.
Deborah Smith Callahan
This is not a very big area. Yet, these cats are constantly in motion and playing with their toys and jumping up on the beams, looking out the window at the bird-feeder.
: birds chirping
Narrator
But you can replicate this rich environment at home for much less, while still using proven techniques—such as providing your cat a window with a view.
Betsy Banks Saul
And some recent research suggests that not only would they like to have a view, they would like to have a view of a bush. The greatest amount of time that the cat spent doing any one thing was staring at a bush. Staring at shrubbery. I think that hope springs eternal that a bird or something is going to scurry out of the bush, but that's what cats do. That's how they make their living in the wild, and providing that mental stimulation in the home is great.
Narrator
Mimicking wild behavior when playing with toys is another great way to mentally stimulate your cat, especially if done just before a meal.
Deborah Smith Callahan
For example, this is very bird like. As you can see, this kitty has just killed this bird. A good hunter. Exactly.
Narrator
And of course every cat likes a good mouse. Let your kitty stalk it first, just as she would in the great outdoors.
Betsy Banks Saul
Letting them use their mind will wear them out twice as much as just doing a physical behavior.
Narrator
Like kids, cats often like inexpensive homemade toys. Good news for the pocketbook.
Deborah Smith Callahan
So we have cut little cardboard holes in the box and then we probably have six ping pong balls in there. Again, this is about giving your cat something to have to think about. Exactly.
Betsy Banks Saul
One of the coolest cat toys that I have ever seen that was homemade is plastic cup and a see-through cup with treats at the bottom. And this can engage your cat for a long time, and it's really great. The problem is, is if you have a cat with just the right size head, they might get this cup stuck on their head. Make sure it's supervised. Pick the cups up and don't risk having your cat get frightened. And that goes for any cat toy really
Narrator
What else might you need to stimulate your cat?
Betsy Banks Saul
The single most important enrichment thing you can do for a cat is have a 2nd cat. Young kittens, the training experts recommend you adopt them two at a time, because they are lonely. Just like the rest of us, they want to be with somebody.
Narrator
For WebMD, I'm Sandee LaMotte