Physical Therapy and Dogs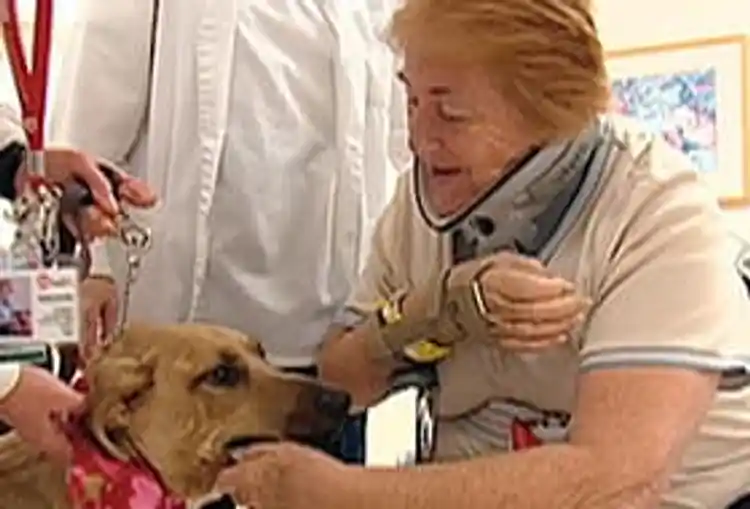 Video Transcript
Narrator
Stroke victim George Menne is working hard to get his balance back and improve the strength in his damaged left side.
: Ball hitting wall. Laughing.
Narrator
Thankfully, he doesn't have to do it alone.
George Menne
It's a lot more fun to work with the dogs.
: Dog running/sliding on floor.
George Menne
If they can do what they can do—run and catch that ball—it gives you a little bit more of a challenge that you're going to be able to do something to keep up with them.
Narrator
Marlene Shaff agrees. She's recovering from back surgery.
Marlene Shaff
You kind of forget about yourself when you're working with the dogs and that's a good thing.
Narrator
Happy Tails volunteers and their dogs visit the Physical Therapy unit at Georgia's Wellstar Kennestone Hospital once a week.
Laura Demo-Anderson
You can cite studies that look at blood pressure and how that lowers the blood pressure, serotonin levels are increased, because of being, interacting with the animals.
Narrator
Physical therapists creatively plan around the special abilities of their canine helpers.
: Getting that arm up there.
Narrator
Chase is especially good at catching a ball. Perhaps too good! Therapists use him to work on balance and endurance. Jesse is calm and steady. Perfect for improving walking technique. And 13-year-old Dakota loves to do his part to improve damaged fine motor skills.
Cathy Mayer
The goal is to get as many on him as we can.
: I don't know if these are any easier. I'll give you some of these too.
Laura Demo-Anderson
I think that they're more motivated and when you're more motivated you're apt to do more and probably try a little bit more. Some of the fear may be erased and they see that they can actually do it.
: Squeeze that brush tight. Stop and rest for a minute. You ok? I'm Ok.
Narrator
Four-legged motivation works so well the therapy staff keeps inviting Happy Tails back. This is their 12th year as physical therapy assistants, and there are no plans to stop.
Laura Demo-Anderson
The patients love it. We see results, and anything we can do to bring a smile to their face, we'll do it.
Narrator
For WebMD, I'm Sandee LaMotte.