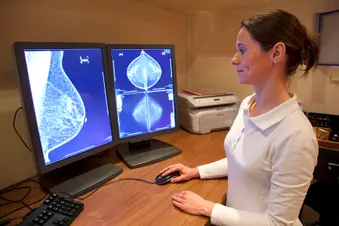 A cancer diagnosis affects everyone differently. It may take a little time to adjust to the news. You might deny your illness at first. Or you could feel strong sadness, anger, or worry. But a sense of hope might come over you, too, once you accept the diagnosis. All these feelings are normal.
You may also wonder what comes next. Here's what you need to know.
Learn More
Gather lots of info about your specific kind of cancer. Ask your doctor what stage your disease is in.
Early-stage breast cancer hasn't spread past your breast or auxiliary lymph nodes -- the ones near your armpit. Most people diagnosed with breast cancer in the U.S. are still in the early stages. That includes the following:
Stage 0 (ductal carcinoma in situ). This kind of cancer affects your milk ducts.
Stage I-II. You have small or large tumors in your breasts and lymph nodes.
Stage IIIa. You may have larger tumors or cancer in many lymph nodes.
The stage of your breast cancer determines the kind of treatment you'll need. Most people get a mix of surgery and radiation therapy. You may go through chemotherapy or take other drugs before or after your surgery.
Ask your doctor to go over the side effects and recovery time for each treatment. Write down your questions before each of your visits. Record what your doctor says or take a friend or family member with you. It can be hard to process everything by yourself.   
Talk to Others
A cancer diagnosis is personal. It's your choice who you open up to. Think about how much detail you want to give them. Early on, you want to share your illness with the following people:
Spouse or partner
Members of your household
Close friends
Some co-workers
You may need to let your supervisor or someone from human resources know you're sick. They'll help you figure out how to take time off if you need it.
Get Your Support Team Together
No one should go through cancer alone. And social support can boost your quality of life after diagnosis and during treatment.
You might choose to lean on your spouse or partner. Maybe a good friend becomes your rock. Or you might feel more comfortable around other people who have cancer. Ask your doctor about local or national support groups you can join.
Here are some other people you might want to add to your network:
Spiritual advisor
Co-workers
Social worker
Therapist
Make a Plan
Cancer doesn't have to stop you from doing the things you love. And it's a good idea to stick with your daily routine if you can. Talk to your doctor about how treatment and recovery can fit into your schedule.
Here are some questions you might want to ask:
Can I still go to work?
Can I plan chemo around the weekend?
Do I need to cancel my vacation?
Is it OK to travel for the holidays?
What kind of exercise is safe?
Do I need to change my diet?
Once you're in treatment -- and maybe during recovery -- you may need help with everyday things. Ask your loved ones to pitch in. It might help to make a list of your specific needs. That way friends and family can choose different ways to help out.
Here are some areas where you might need help: 
Chores around the house
Grocery shopping
Walking your dog
Taking kids to school
Meal prep
Helping kids with afterschool activities
Consider a Second Opinion
You might feel the urge to start treatment right away. But usually, people with early-stage breast cancer have a little time to take everything in. In fact, you might not be sure about your diagnosis or care plan. It's OK to ask another doctor what they think before you make any decisions.
Get a referral to a breast cancer specialist. They might agree with your first doctor. But sometimes they can give you other options to think about. Check with your health insurance provider to make sure the visit is covered. Ask your doctor to send over all the medical records the new doctor will need.  
A breast cancer diagnosis can change your life. It'll also affect those around you. But there are ways you and your loved ones can prepare for what's ahead.
Show Sources
Photo Credit: PicturePartners / Getty Images
SOURCES:
National Cancer Institute: "Feelings of Cancer," "Early-stage breast cancer," "Keep Up with Your Daily Routine," "Going Back to Work," "Changes for the Family."
Susan G. Komen: "The Who, What, Where, When and Sometimes, Why," "Social Support."
American Cancer Society: "Treatment of Breast Cancer by Stage," "Telling Others About Your Cancer."
Cleveland Clinic: "How to Handle a Cancer Diagnosis."
Psycho-Oncology: "Social support and health-related quality of life in women with breast cancer: a longitudinal study."
PLOS One: "Availability, accessibility, and impact of social support on breast cancer treatment among breast cancer patients in Kumasi, Ghana: A qualitative study."
Breastcancer.org: "Fitting Breast Cancer Treatment into Your Schedule," "Getting a Second Opinion," "Deciding Where to Go for a Second Opinion."