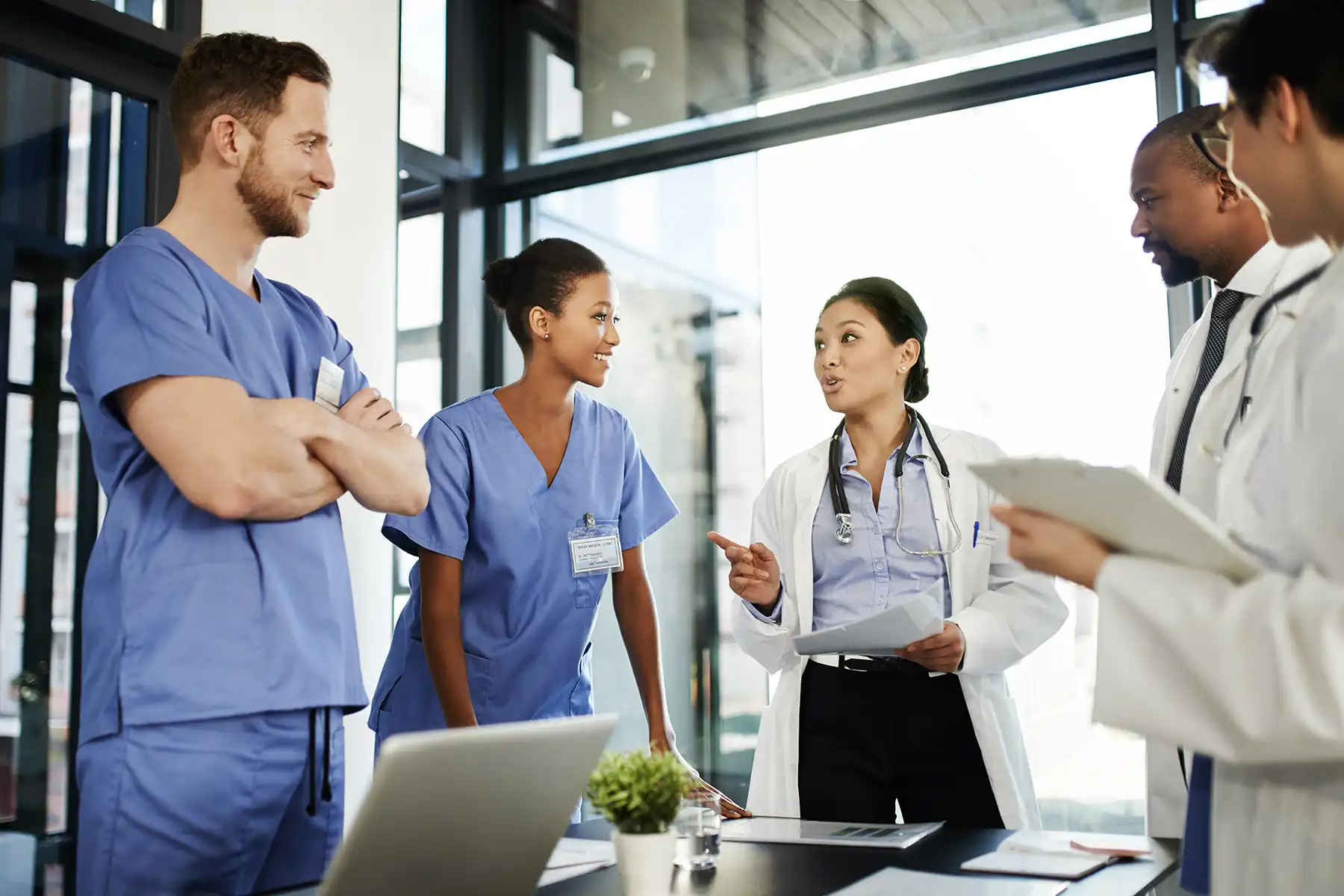 One of the first things you need to do after a breast cancer diagnosis is build your health care team. These are the people who'll treat your cancer and do their best to keep you healthy. But with so many options, it can be tough to choose. Here are some things to think about.
Who's on Your Team?
You'll need several doctors. They include:
A breast cancer surgeon. It's best to choose one who specializes in breast cancer, rather than someone who treats several different kinds of cancer. Some good questions to ask are:
Have you done a fellowship in breast cancer?
How many cases of breast surgery do you see each week or in a year?
What medical societies do you belong to?
Are you involved in any breast cancer research?
Do you offer patients the opportunity to participate in clinical trials?
A radiation oncologist. This is a doctor specially trained to do radiation treatment for people with cancer. Many focus on certain types, like breast cancer.  If you have early-stage breast cancer, you'll need radiation, especially if you had surgery to save your breast (a lumpectomy or partial lumpectomy). Your radiation oncologist can explain why you need radiation, for how long, and what to expect, including side effects.
A medical oncologist. They treat your breast cancer using chemotherapy or other options, such as targeted therapy or immunotherapy. They can tell you:
If your cancer cells contain hormone receptors
If your cancer cells have large amounts of the HER2 protein
How fast your cancer is growing
Whether you should get genetic testing on your tumor, and if you do, what those results mean
What other tests you need to find out if your cancer has spread
Treatment options for your breast cancer, including a timeline, benefits and risks, and potential side effects
Any clinical trials you're eligible for
Your overall outlook
Lifestyle changes to make during treatment
A plastic surgeon. They can reconstruct, or rebuild, your breast if you have a mastectomy. That's when your breast is removed. Ideally, you want a plastic surgeon who specializes in breast reconstruction. It's OK to ask for before and after photos, along with patient testimonials.
Fertility specialist. If you think you may want kids, you should consider meeting with a fertility specialist before you begin treatment. That's because some treatments can temporarily or permanently affect your ability to have children. They may recommend freezing your eggs or embryo. Be sure to talk to your doctor about their suggestions before you start. Questions to ask include:
How often do you work with women with breast cancer?
What are my fertility preserving options, and how well do they work?
Will these treatments be covered by insurance? How much should I expect to pay out of pocket?
Nurse navigator. These are nurses who specialize in helping patients in their treatment experience. They can help you with transportation and child-care issues. They can also offer emotional support and help you manage side effects.
Picking a Hospital or Treatment Center
If you're not sure where to start, ask the doctor who diagnosed you. One good question is, "If you or a family member had this type of cancer, where would you go for treatment?" Other things to consider are:
Does your hospital have experience treating your type of cancer? Larger hospitals may have more experience and offer more services for cancer patients. They may also have access to clinical trials you can participate in.
Is the hospital CoC certified? This means it meets certain standards of the Commission on Cancer (CoC), a program of the American College of Surgeons (ACoS). There are more than 1,500 accredited cancer centers across the U.S.
Is it an NCI-Designated Cancer Center? That means it works with the National Cancer Institute and is committed to delivering quality care and cutting-edge cancer treatments to patients.
Do the doctors communicate with you well? Do they take time to explain things to you and listen to all of your concerns. Ask yourself if you'd feel comfortable sticking with them over the long term.
Will your case be reviewed by the hospital's tumor board? This means that all the different specialists discussed above meet to review your case and make treatment recommendations. This can help determine the best possible cancer treatment and care plan for you.
When to Get a Second Opinion
Even if you feel good about the people you've chosen to help treat your cancer, it's a good idea to get a second opinion. This is especially true if you live in an area with few options for medical care or you have a rare form of breast cancer. In these cases, you may want to go to a breast cancer specialist at a large, well-known cancer center. Things to keep in mind:
Go to a different hospital or medical center. This means a fresh set of eyes on your cancer. Doctors at the same place often have the same ideas about treatment.
Check your health insurance plan. Some will cover certain types of second opinions, like treatment, but not pathology to look at biopsy results. If you're worried about out-of-pocket costs, stick with doctors who are a part of your health plan.
Consider a virtual consultation. Major medical centers like the Cleveland Clinic and Johns Hopkins now offer online second-opinion services. A specialist reviews all your results and sends treatment recommendations to your current team. But this isn't always covered by insurance.
Show Sources
Photo Credit: E+ / Getty Images
SOURCES:
BreastCancer.org: "Five Things to Look for When Finding the Right Doctors for Your Breast Cancer Treatment," "Finding a Qualified Plastic Surgeon," "Deciding Where to Go for a Second Opinion."
American Cancer Society: "Treatment of Breast Cancer Stages I-III," "Choosing a Doctor and a Hospital."
American Society of Clinical Oncology: "Breast Cancer: Questions to Ask the Health Care Team," "Fertility Concerns and Preservation for Women," "What Is a Tumor Board? An Expert Q&A."
University of Pittsburgh Medical Center: "Breast Cancer Nurse Navigation."