How to Style a Wig During Cancer Treatment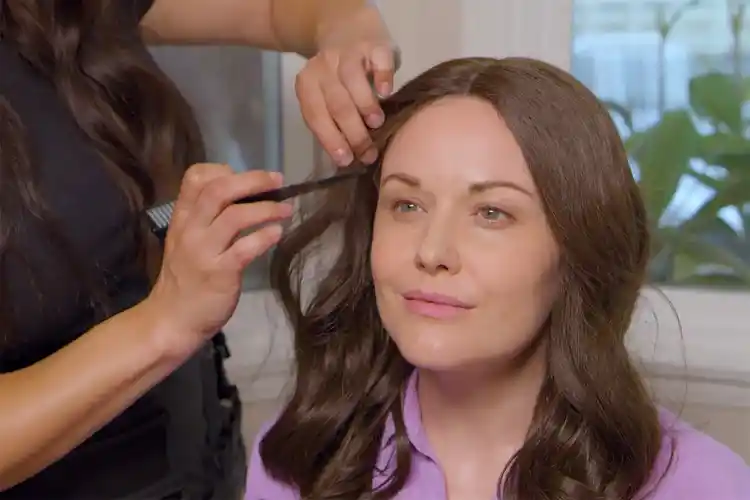 Video Transcript
SPEAKER
During cancer treatment, wearing a wig can get some normality back into your life. In addition, a wig may prevent people from asking probing questions about your appearance and diagnosis. Whether you have complete, or just some hair loss, a wig is a great way to give you this sense of comfort. Using the following tips and tricks will allow you to get the most out of wearing a wig.
Try to choose a wig with a lace front or lace part. This mimics the way hair grows naturally. A silicone part or a hard front wig with bangs are other options. If you have a wig with a hard front, you can add a headband or scarf to hide the hairline. If you have eyelash or eyebrow hair loss, a wig with bangs is a great option.
Choose a style that feels the most comfortable. Additionally, choosing a wig with a few different hair colors blended together or with highlights is recommended, because it will give you a more natural appearance.
If you have some hair, use a wig with clips or use a wig cap to hold your hair. To apply the cap, gather your hair in a low bun and pull the cap on from front to back. Tuck in any loose hairs using a pointed comb.
If you are experiencing full hair loss, use a wig cap or a wig band, preferably one with a silicone or velvet grip. This will help secure the wig all day long. For extra hold, use wig tape to secure the wig even more firmly.
Many wigs have fasteners inside them to tighten and loosen the wig for a snug, but not tight, fit. Once adjusted, if your wig is still too tight, cut a small slit or two at the base of the neck to open it up for more room. For a lace front wig, clip the wig hair back then cut the lace a 1/4 inch from the hairline.
To apply the wig, place the front at your forehead using your fingers to hold the hairline, then flip or pull down and back and adjust. Start with the hairline a little bit low and slowly work it up your forehead. While the wig is on your head, you can cut some hair along the hairline, to make it look more blended.
Tweezing the hair part helps to give the wig a softer look as well. For a more natural look, use a liquid concealer to color the lace to match your skin tone. The wig's hair part can be concealed as well.
Depending on the wig, you can use styling products and heat tools. Read the wig instructions to determine what is recommended. Some synthetic wig hair can be styled many times and some can only be set once with heat. Texturizing spray is recommended to help make a shiny wig appear more natural. Comb hair gently and add your final touches.
Store your wig on a mannequin head and secure it with pins. Human hair wigs can be left with rollers in for volume or to create wavy or curly styles. Have a dedicated place to store your wig and treat it like real hair. Wash when needed and allow to dry on a ventilated wig stand. Enjoy your new look.