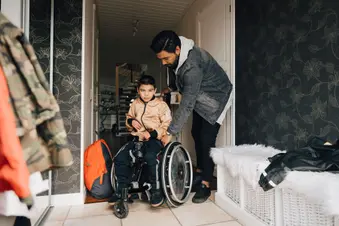 By Anthony Wu, as told to Lisa Fields
When our 3-year-old son, Eugene, was 2 weeks old, he was diagnosed with Pompe disease. My wife, Jung, and I found out this important information because we live in New York City, and Pompe disease is included among New York state's newborn screening tests. We had never heard of the condition before.
At the doctor's office, we were told not to Google Pompe disease because everything we could read about it online was very bad. They told us that there have been helpful medical developments, so the prognosis is better than what articles would suggest, especially when someone is identified through newborn screening. It was very tough, because we did read everything we could on Google.
Newborn Screening
Newborn screening is a lifesaver. If you don't have it, you'll never know there's a problem until a pain point presents itself. Once it does, you'll have no idea that it's Pompe, a rare disease that very few doctors know about.
We've met people who have older kids with Pompe. Some had to see 20 or 30 doctors before finding the diagnosis. With newborn screening, if you already you know you're targeting Pompe, you can find help much more easily.
Early Treatment
Our son has infantile Pompe disease, so he had some issues early on. He was a floppy baby before he started treatment. He was behind on all the milestones. He had a weaker heart, but not an enlarged heart. They were always running tests to make sure that he wasn't getting worse.
After a few months, he started enzyme replacement therapy. Eugene had port surgery so he could get the medication without being stabbed with a needle all the time; he needs it every other week. It gave him a lot more energy. He was still behind with his milestones, but it helped him progress from being incredibly delayed to just being delayed.
Some people with Pompe develop antibody resistance, which makes the enzyme therapy less effective. This happened to Eugene a year and a half ago. He needed immunotherapy for 6 months. Now, the enzyme therapy is effective again.
Work-Life Challenges
Going to doctor appointments, caring for Eugene, and also working is very stressful. There's a lot of fatigue, because certain things need to be done. We also have to make sure that we're performing at our jobs to support him. It's mentally tough and logistically taxing. But you have to deal with it to make sure that he's in the best position to be healthy.
It's hard to balance work with Eugene's full-day infusions every 2 weeks. In some families, one parent quits their job or works part-time. My wife takes Eugene to the hospital most of the time. She's amazing at figuring out how to balance that responsibility with work.
Maintaining His Health
Eugene's diet is very strict: Higher protein, very high vegetable, almost no processed sugar, low-carb. We're insanely strict about this, but it's easy because he doesn't go to school yet. It might be a challenge when kids offer him sweets. We'll have to teach him to say no, which could be very hard.
Every few months, Eugene sees the doctor for health checks. They run standard tests, including one to see if there's enlargement of the heart. There are urine tests, muscle tests, and a lot of physical therapy tests to see where his delays are.
More tests could be done. But after a while, you have to wonder: Should we throw so many tests at him, or should we wait and see? Pompe can hit any muscle: arms, legs, respiratory, your hearing, and your heart. It's very hard monitoring every muscle. We were told that it's more important to watch the milestones.
We just want Eugene to have as normal a life as he can: friends, a social life, and learning. We haven't figured out school yet, because he's so young. He might miss school a fair amount. We don't know.
The Challenges of Not Knowing
Part of the Pompe process is that you just never know. We're always monitoring, and the drug slows the process of muscle degradation. But you never know when or where it's happening until a muscle starts weakening.
The tough part for the parent of a young child is that they don't speak well. Eugene is 3, so he's not able to describe things. He'll say something like, "My back is ouch-y." We don't know what to do with that, but it's a significant improvement from when he was 2, when he said one or two words.
Our hope is that if and when something more severe does happen, he'll be older and actually be able to describe, "I have a pain. It is this severe, in this location in my body."
Feeling Alone
It's hard when you tell someone, "We have Pompe," and they don't have an emotional response, because no one knows what it is.
If you replace "Pompe" with a more common disease, people have appropriate reactions, because they know how severe it is. There aren't many people to talk to about this.
Family Time
When Eugene's not going to the hospital, it's just everyday normal life, learning and helping him communicate faster. We don't know how much he's aware that he's sick. He won't be able to understand for a while. Whenever possible, we make sure that he's happy, because that's more important. We want to protect him from feeling down.
We try to take him out as much as possible, to have him see as many things as possible. Anything that involves a lot of physical activity, we want to do that now because his condition is progressive. Going to parks, going to museums, things that involve a lot of walking -- he'll get tired, but he can do them.
Every month that he's healthy is something that we cherish. You never know when we'll have to deal with more things. We appreciate the family time we get with him in his current state.
Show Sources
Photo Credit: Getty Images / Maskot
SOURCES:
Anthony Wu, New York.
New York State Department of Health, Wadsworth Center: "Screened disorders."