What is Considered a Fever in Toddlers?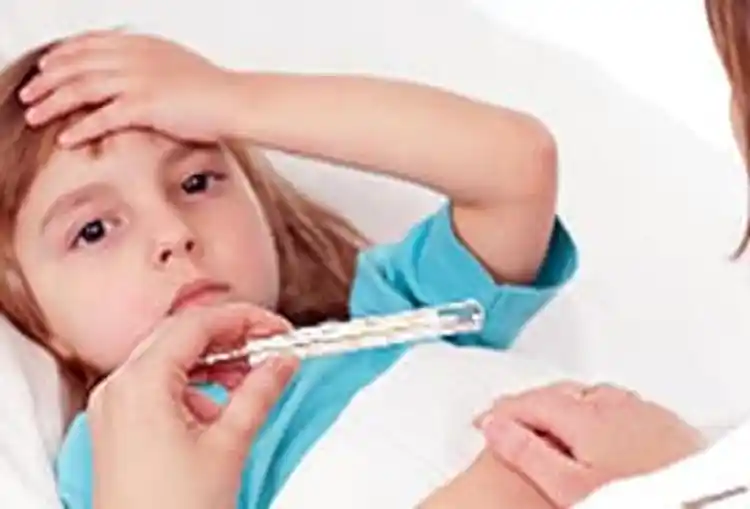 Video Transcript
Joy Brown
This question comes from a concerned parent who asks, "What is considered a fever for toddlers and when should parents be concerned?"
Dr. Bhargava
Okay, well a fever is always the same temperature, its 100.4, but with toddlers you may not be doing the rectal temperature and if you're doing an axillary temperature, which means under the arm, you do need to add a degree to that temperature to make it comparable to a rectal temperature.
Joy Brown
And is it okay to give a toddler an over-the-counter med for a fever at that point?
Dr. Bhargava
It is okay, but remember, if the child looks really sick or you are really worried about the child, it's really important to call the pediatrician or at least the pediatric nurse to talk about it and make sure that the child is okay.
Joy Brown
You know actually had heard that sometimes giving an over-the-counter med for the fever, it can abate symptoms and then you actually cannot see a problem, is that true?
Dr. Bhargava
Yes, yes absolutely. It can actually mask the fever and that's why generally the toddlers who are vaccinated, you can probably let them have a fever if they look well, they are a little happy, active, eating, drinking their normal selves, you can have the fever for 24 hours, probably without seeing a pediatrician. Because 90 plus percent are viral infections.
Dr. Bhargava (cont.)
However, if the child is not looking well, the fever is not coming down in any circumstance, those are all reasons to go in to see your pediatrician.
Joy Brown
So behavior, behavior, behavior?
Dr. Bhargava
Behavior is really, really important.
Joy Brown
In fact, I have read somewhere; I can't remember it's been a while that fever can also actually be a good sign that immune system is working?
Dr. Bhargava
Yes. Pediatricians have always felt there's not a necessity for over-the-counter medications to stop the fever. It's really--and I'm going to be really frank about this-- It's really treating the parent in that, it's giving them something to do and making the child look better for a temporary period of time. The acetaminophen or Ibuprofen is not helping infection go away and fevers are just a symptom of the immune system fighting the infection.
Dr. Bhargava (cont.)
So, I feel and most pediatricians feel that really there is no need for that and that's what I always advise. But if you feel that the child needs rest or just doesn't look that great and you want to do something about it then go ahead and use the acetaminophen or Ibuprofen.
Joy Brown
It's really a new way to look at it I had never thought of. I really thought we were giving them these over-the-counter meds to help get the fever down, but maybe not so?
Dr. Bhargava
Well, it will get the fever down, but it's not helping --, the way I describe it to my patients is, if you have a stack of dishes in your sink. If you throw a towel over it, the dishes are still there. So that's throwing a towel over it, so you can't see the problem anymore, but what's really going to get rid of those dishes is the immune system washing those dishes and putting them away and that's when the sink will be cleared. Does that make sense?
Joy Brown
Perfect, perfect. What about a toddler with a headache?
Dr. Bhargava
Toddler with a headache, children should not have headaches.
Joy Brown
So, one of the things I was wondering if you were going to say that.
Dr. Bhargava
Yeah, they really shouldn't. I don't like children to have headaches.
Joy Brown
So a headache can be a sign of a serious problem?
Dr. Bhargava
It can and all headaches should be seen by pediatricians.