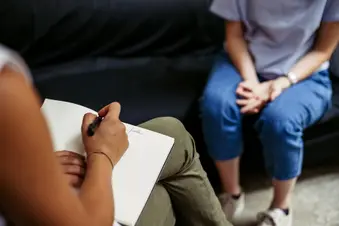 A variety of health care professionals treat depression, which is good because so many people deal with it at some point in their lives. You can receive care from your primary care doctor, a psychiatrist, a psychologist, or other type of professional. As you line up treatment, it's a good idea to know what types of professional may suit you best. 
Some health care professionals only handle making a diagnosis or managing medication. Others solely provide psychotherapy (or talk therapy). Some do it all. You may have to see more than one health care professional to treat your depression, or you may find everything you need at a single clinic. 
What Types of Professionals Provide Psychotherapy?
Though they have different degrees and titles, there are a lot of types of professionals that treat depression. 
Common specialists that diagnose and treat depression include:
Psychologists
Doctor of philosophy (PhD) or doctor of psychology (PsyD)
They can use clinical information and psychological evaluations to diagnose you. Psychologists typically offer multiple kinds of psychotherapy, though some specialize in one (like cognitive behavioral therapy, or CBT). 
In most locations, they do not prescribe medication. The American Psychological Association wants to change it so qualified psychologists can give people prescription medicines -- something we could see more of in the future.
Counselors, Clinicians, Therapists
Master's degree (MS or MA)
After they finish their master's degrees, they can diagnose you and provide therapy, but can't give you medication. Some use the same forms of therapy as psychologists. They may have titles like licensed professional counselor (LPC), licensed marriage and family therapist (LMFT), or licensed clinical alcohol & drug abuse counselor (LCADAC). 
Clinical Social Workers
Master's degree in social work (MSW)
They complete a master's degree and can diagnose and treat depression, but they cannot prescribe medication. Social workers use different forms of therapy just like psychologists and therapists. Different types of clinical social workers include licensed independent social worker (LICSW), licensed clinical social worker (LCSW), and academy of certified social worker (ACSW). 
Peer specialists, pastors, and social workers can provide some level of support as well – but not medication. They may be able to connect you with resources and manage your care team if it involves multiple professionals. 
Which Health Care Professional Can Prescribe Medication?
Some people treat depression with medication, some use therapy or counseling, and others use both -- that tends to provide better outcomes. 
Ideally, the health care professional that gives you medication would monitor it so you'd see them on an ongoing basis. They should also know if you are using therapy in addition to medication to treat depression.
These professionals can give you medication, but not all provide psychotherapy:
Psychiatrists
Doctor of medicine (MD) or doctor of osteopathic medicine (DO)
These medical doctors can do it all -- diagnose, prescribe medication, and provide counseling (though most don't offer therapy). 
Psychiatric or Mental Health Nurse Practitioners
Master of science (MS) or doctor of philosophy (PhD) 
Like psychiatrists, they can diagnose depression and may provide therapy for it. In some states, they are under the oversight of a psychiatrist.
Primary Care Doctors
Doctor of medicine (MD) or doctor of osteopathic medicine (DO)
The same doctor that can give you a yearly physical can prescribe medication. They do not provide psychotherapy. Some people get medication from their primary care doctors and seek talk therapy from another type of counselor.
Family Nurse Practitioners 
Master of science (MS) or doctor of philosophy (PhD) in nursing
Just like a primary care doctor, these professionals can prescribe medication. But they aren't trained to provide psychotherapy counseling.
Psychiatric Pharmacists
Doctor of pharmacy (PharmD)
These are pharmacists who specialize in mental health care medication, or pharmacotherapy. They have in-depth knowledge of how medication(s) affect you and can be great if you've had a hard time on a previous medication. 
Where Do Depression Health Care Providers Work?
The type of professional you see may work in a hospital, clinic, private practice, school, religious venue, or other place. Some provide care in person, virtually, or both.
Some people get depression treatment in clinics that house multiple types of professionals in one convenient spot. You may have to see separate specialists, or you may need to only see one depending on your situation.
Do I Have to Do Therapy in Person?
Thanks to video conferencing platforms, many professionals offer online counseling. Some therapists can give you self-guided therapy curriculums and programs to follow that let you work independently. You can also try group therapy to treat depression. 
Some people need to be hospitalized briefly for severe depression. You can seek inpatient care if you are having immediate thoughts of self-harm. Ask your health care professional what they think may be best for you.
What If I Don't Like My Depression Care Provider?
It's important to have a good fit with the person you choose to treat your depression. Try to give it a little time to see if the relationship can work. If the sessions aren't meeting your expectations, or if there are financial reasons, it's OK to try another provider. 
If you try to switch to another health care professional, the existing one may refer you to someone else -- especially if you haven't reached your goals for therapy. In doing that, they're trying to make sure you receive care, which is what matters most. 
Why Is Treating Depression So Important?
Depression isn't just a mental health issue. It's also a medical illness that can severely impact your life. In some cases, other medical conditions have similar symptoms as depression. Or your depression symptoms may present like physical symptoms while the cause is solely depression. Get an accurate diagnosis so you can be sure what causes it and how to best treat it. 
It can be treated in a few different ways: With medication, psychotherapy, or with both. Other types of treatments also exist, like brain stimulation. The care you receive can depend on the type of professional(s) you see.
Depression is pretty common. It affects about 1 in 15 adults per year. For some people it's temporary, while others deal with it longer. It may develop after a major life change or if you have a chronic illness. Others have it due to genetic reasons.
Show Sources
Photo Credit: lorenzoantonucci / Getty Images
SOURCES:
American Psychiatric Association: "What is Depression?"
Indian Journal of Psychiatry: "Understanding Masked Depression."
National Institute on Mental Health: "Depression."
Clinical Science Insights: "Stressful Life Events and Major Depression."
Cleveland Clinic: "Chronic Illness and Depression."
Stanford Medicine: "Major Depression and Genetics."
National Alliance on Mental Illness: "Types of Mental Health Professionals."
Monitor on Psychology: "Iowa Psychologists Can Now Prescribe."
Anxiety and Depression Association of America: "Treatment & Management."
Mental Health America: "Types of Mental Health Professionals."
Mayo Clinic: "Depression (Major Depressive Disorder)."
Society for the Advancement of Psychotherapy: "6 Strategies for Ethical Termination of Psychotherapy."
American Psychological Association: "Deal With Clients You Don't Like."