Uses
This medication is used to treat head lice, tiny insects that infest and irritate your scalp. Head lice lay small white eggs (nits) at the roots of hair close to the scalp, especially on the hairline at the back of the neck and behind the ears. This medication is also used to treat scabies. Scabies is caused by tiny insects called mites that infest and irritate your skin. Spinosad works by paralyzing and killing lice/mites and their eggs.This medication should not be used on infants younger than 6 months due to the increased risk for serious side effects.
How to use Natroba Suspension, Topical
Read the Patient Information Leaflet and Patient Instructions for Use if available from your pharmacist before you start using spinosad and each time you get a refill. If you have any questions, ask your doctor or pharmacist.
This medication is for external use only. Shake the bottle well just before using.
For lice treatment: Apply this medication to scalp hair and scalp only. Use this medication when your hair is dry. Do not wet your hair before applying. Cover your face and eyes with a towel and keep your eyes closed tightly while applying this medication and during the time it remains on your scalp and hair. Avoid getting spinosad in your eyes. If the medication gets in or near the eye, flush with plenty of water right away. Since you should keep your eyes closed during application, you may need to have another person help you apply this medication. Children will need an adult to apply this medication for them.
Completely cover the scalp with spinosad first, and then apply outward toward the ends of the hair. If you do not use enough spinosad, some lice may escape treatment. It is important to use enough medication to cover your entire scalp and scalp hair. Leave the medication on your hair for 10 minutes. Use a timer or clock and start timing after you have completely covered your hair and scalp with medication. After 10 minutes, rinse thoroughly with warm water. You or anyone who helps you apply this medication should wash hands after application. You may shampoo your hair any time after treatment.
After treatment with this medication, you may use a fine-tooth comb or a special comb for removing treated lice and nits. However, combing is not required. If you see live lice 7 days or more after treatment, a second treatment should be given. Do not repeat treatment more than once unless otherwise directed by your doctor.
To avoid giving lice to another person or getting them again, wash all head wear, clothing, bed linens, and towels with hot water, then dry in a dryer at high setting for at least 20 minutes. Personal articles such as pillows or stuffed animals that cannot be washed should be dry cleaned, sealed in a plastic bag for at least 2 weeks, or sprayed with a disinfectant that kills lice. Brushes or combs should be soaked in hot water for at least 10 minutes. Furniture and floors should be thoroughly vacuumed.
For scabies treatment: Apply enough to completely cover your body from your neck to the soles of your feet. Make sure you apply to folds of skin, between fingers and toes, and under your finger and toe nails. If you are balding, also apply to the scalp, hairline, temples, and forehead. If you accidentally get this medication in your eyes, flush with plenty of water right away. Children will need an adult to apply this medication for them. Wash your hands after applying this medication to someone else. Allow this medication to soak into skin and dry for a full 10 minutes before getting dressed. Use a timer or clock and start timing after you have completely covered your body with spinosad. Wait at least 6 hours before showering or bathing.
To help prevent spread of scabies from one person to another, get household members checked by their health care professional. Avoid direct body-to-body contact with anyone who has scabies. Do not share clothing, towels, bedding, or linens with anyone else. Wash any bedding, clothing, and towels that you have used any time during the 3 days before treatment by washing in hot water and drying in a hot dryer, or by sealing in a plastic bag for at least 72 hours.
Tell your doctor if your condition lasts or gets worse.
Side Effects
Skin or eye irritation/redness may occur. If any of these effects last or get worse, tell your doctor or pharmacist promptly.
Remember that this medication has been prescribed because your doctor has judged that the benefit to you is greater than the risk of side effects. Many people using this medication do not have serious side effects.
A very serious allergic reaction to this drug is rare. However, get medical help right away if you notice any symptoms of a serious allergic reaction, including: rash, itching/swelling (especially of the face/tongue/throat), severe dizziness, trouble breathing.
This is not a complete list of possible side effects. If you notice other effects not listed above, contact your doctor or pharmacist.
In the US -
In the US - Call your doctor for medical advice about side effects. You may report side effects to FDA at 1-800-FDA-1088 or at www.fda.gov/medwatch.
In Canada - Call your doctor for medical advice about side effects. You may report side effects to Health Canada at 1-866-234-2345.
Precautions
Before using spinosad, tell your doctor or pharmacist if you are allergic to it; or if you have any other allergies. This product may contain inactive ingredients, which can cause allergic reactions or other problems. Talk to your pharmacist for more details.
Before using this medication, tell your doctor or pharmacist your medical history, especially of: skin conditions or sensitivities.
Constant or forceful scratching of the skin/scalp may lead to a bacterial skin infection. Tell your doctor right away if you develop worsening redness or pus.
Before having surgery, tell your doctor or dentist about all the products you use (including prescription drugs, nonprescription drugs, and herbal products).
Tell your doctor if you are pregnant before using this medication.
Spinosad does not pass into breast milk. However, it is unknown if an inactive ingredient in this medication, benzyl alcohol, may pass into breast milk and harm a nursing infant. Consult your doctor before breast-feeding.
Interactions
Drug interactions may change how your medications work or increase your risk for serious side effects. This document does not contain all possible drug interactions. Keep a list of all the products you use (including prescription/nonprescription drugs and herbal products) and share it with your doctor and pharmacist. Do not start, stop, or change the dosage of any medicines without your doctor's approval.
Does Natroba Suspension, Topical interact with other drugs you are taking?
Enter your medication into the WebMD interaction checker
Overdose
This medicine may be harmful if swallowed. If someone has overdosed and has serious symptoms such as passing out or trouble breathing, call 911. Otherwise, call a poison control center right away. US residents can call their local poison control center at 1-800-222-1222. Canada residents can call a provincial poison control center.
Do not share this medication with another person unless directed to do so by your doctor.
People who are in close contact with the infected person, such as members of the same household, should also be checked. Be sure to talk with your doctor about treatment for close contacts.
Store at room temperature. Keep all medications away from children and pets.
Do not flush medications down the toilet or pour them into a drain unless instructed to do so. Properly discard this product when it is expired or no longer needed. Consult your pharmacist or local waste disposal company.
Images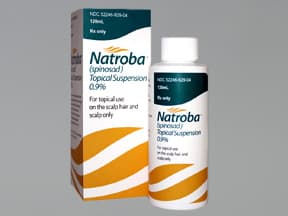 Natroba 0.9 % topical suspension
Color: light orange
Shape:
Imprint:
This medicine is a light orange, suspension
Free RX Coupon
Save up to
80%

on your prescriptions.
Available coupons
Save up to 80% on your prescription with WebMDRx
Drug Survey
Are you currently using Natroba Suspension, Topical?
This survey is being conducted by the WebMD marketing sciences department.
Selected from data included with permission and copyrighted by First Databank, Inc. This copyrighted material has been downloaded from a licensed data provider and is not for distribution, except as may be authorized by the applicable terms of use.
CONDITIONS OF USE: The information in this database is intended to supplement, not substitute for, the expertise and judgment of healthcare professionals. The information is not intended to cover all possible uses, directions, precautions, drug interactions or adverse effects, nor should it be construed to indicate that use of a particular drug is safe, appropriate or effective for you or anyone else. A healthcare professional should be consulted before taking any drug, changing any diet or commencing or discontinuing any course of treatment.