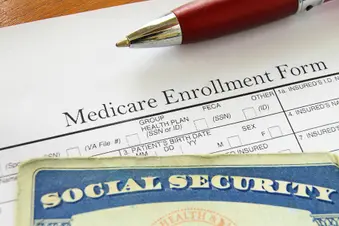 Your risk of getting atrial fibrillation (AFib) goes up as you age. It's also becoming more common. The CDC predicts over 12 million Americans will have it by the year 2030. 
AFib treatment can be costly. A study found it can increase your annual medical costs by more than 70%. But Medicare and Medicaid cover many meds and treatments you need to treat AFib. You may want to find out what you'll pay out of pocket as you manage your condition. 
Medicaid is a program in your state that uses federal and state tax money to help with your medical costs if you have low income or lack other resources. Requirements can vary from state to state. Medicare is a federal health insurance program that helps with your medical costs if you're 65 or older, or if you're younger but have certain disabilities. 
AFib Care
To diagnose your AFib, your doctor may need to give you tests such as:
Electrocardiogram (EKG)
Blood tests
Holter monitors/event monitors to record your heart activity over time
Echocardiogram
Stress test
Chest X-ray
Treatment for your condition may include:
Doctor visits
Medications that control heart rate and prevent stroke, such as beta-blockers, calcium channel blockers, digoxin, anti-arrhythmic medications, or blood thinners
Cardioversion therapy (done with either drugs or electrodes)
Procedures for severe symptoms such as cardiac ablation. Sometimes this can involve open-heart surgery.
 
What Do Medicare and Medicaid Cover?
Almost all treatments for AFib are covered by Medicare and Medicaid. But you might still have costs for copays and other fees. Here's a closer look: 
If you have Medicare, your coverage will depend, in part, on which part of Medicare you've signed up for. 
Part A is hospital insurance and covers your:
Hospital stays

Medications and procedures you have during your stay

Skilled nursing or inpatient rehabilitation facility stays
Part B is medical insurance and covers your:
Services from doctors and other health care providers

Outpatient care

Home health care

Medical equipment such as wheelchairs, walkers, or hospital beds 

Preventive services such as screenings and wellness visits
Part C is also called Medicare Advantage. A private insurance company provides both Part A and Part B benefits and may also offer you a Part D (prescription drug) benefit. Medicare Advantage enrollees need to use the insurance company's provider network to receive covered services.
Part D is drug coverage and covers the cost of your prescription drugs.
If you have Medicaid only, benefit details vary from state to state, but all state Medicaid programs cover doctor visits, hospital care, prescription drugs, home health care, and nursing care.
If you are eligible for Medicaid in addition to Medicare (dual eligibility), in general, Medicaid covers your:
Medicare Part B monthly premiums

Share of Medicare costs such as deductibles, coinsurance, and copayments

Part A premiums (for some people with low income)
You'll also get a service called Extra Help for your drug costs. And Medicaid may pay for some drugs and services that Medicare doesn't cover. But to qualify for Medicaid, you have to meet your state's rules.
Specific Coverages
Communication with your doctor is key, as they may have to certify that your AFib treatments are medically necessary for your plan to approve their costs. Here are some parts of AFib treatment that are usually covered:
Cardiologist visits to check the status of your AFib. You'll be responsible for copays for these doctor visits.
Diagnostic tests such as EKG and Holter monitors
Cardiovascular behavioral therapy that helps lower your risk of cardiovascular disease
AFib meds such as beta-blockers, calcium channel blockers, antiarrhythmic agents, and blood thinners
Cardioversion 
Catheter and surgical ablation and pacemaker procedures 
What You'll Pay
Your out-of-pocket costs for some AFib-related procedures and treatments will depend on where they're done and other things. 
You can call ahead and get more information about what you're responsible for with these tips:
Visit Medicare's price lookup page to see what the average cost for your procedure is in different settings. 

Ask your doctor, surgeon, or other health care provider how much the surgery or procedure will cost. Don't forget the price of any care and services you'll need after the procedure is over. 

If you have a procedure or hospital stay coming up, see if you've already met your deductible for Medicare Parts A or B. You can find this by looking at your last "Medicare Summary Notice." You're responsible for paying any deductible amounts before Medicare will start to pay. After Medicare starts to pay, you might still have copays for some of your care.

Call the hospital or facility and ask them for a predicted cost for the specific procedure you're having.

If you're in a Medicare Advantage plan, check with the plan to make sure you're choosing an in-network doctor and hospital and to make sure you don't need prior authorization before getting procedures or treatments.
Show Sources
Photo Credit: zimmytws/Getty Images
SOURCES: 
American Heart Association: "Who is at Risk for Atrial Fibrillation (AF or AFib)?"
CDC: "Atrial Fibrillation."
Mayo Clinic: "Atrial Fibrillation."
Medicare.gov: "Parts of Medicare," "Medicaid," "Learning What Medicare Covers & Your Costs."
U.S. Department of Health and Human Services: "Intensive Behavioral Therapy for Cardiovascular Disease."
Centers for Medicare and Medicaid Services: "Atrial Fibrillation Disparities in Medicare Fee-For-Service Beneficiaries."
Heart Rhythm Society: "Catheter Ablation Shown to be Cost-Effective for Patients in Need of Treatment for Irregular Heart Beats."