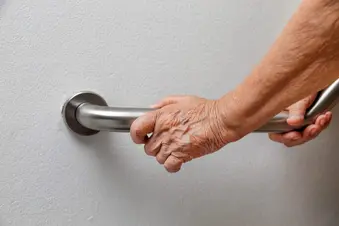 Mobility is how well you walk and move, whether that's getting out of bed, climbing a flight of stairs, or driving to meet friends at a restaurant.
There are many things you can do to maintain your mobility as you get older. You may decide to adapt your home or move into a senior living community. Having a plan in place can help you prepare for life's changes.
What Causes Mobility Loss?
Many things can take a toll on your ability to move. These include:
Obesity
Health issues, such as arthritis and diabetes
Lack of physical activity
Certain medications that make you dizzy or tired
Injuries, which are often related to falls
Among older adults, poor balance is a main factor. You may have less muscle strength and flexibility. Your eyesight, reflexes, and hearing may not be as sharp as they used to be.
More than one in three people over age 65 fall at least once a year. In fact, about 10% to 15% of these falls result in a serious injury, like a bone fracture. This can all make you unsteady on your feet. What's more, a fear of falling may cause you to avoid activities, such as walking or visiting friends.
Adapting Your Home
Most older adults want to stay in their homes as they age. Maybe you feel the most comfortable in your home, and it's close to friends and family. Whatever the reason, it's smart to think about the changes you can make so that your home is safer and more accessible. That's especially the case if you have any mobility issues, have started to trip or fall, or have a chronic illness.
You may want to work with an occupational therapist, nurse, or physical therapist. Ask your doctor to set you up with a home safety evaluation. Research shows that people who lived in homes that were modified by one of these experts were more independent than those who didn't. They were also less afraid of falling and had less trouble with their daily activities.
There are many changes you can do yourself or with the help of a handyman.
Stairs, steps, and entryways:
Install lever door handles, which are easier to push.
Repair loose or uneven stairs, and fix broken handrails.
Place light switches at the top and bottom of the stairs.
Floors:
Remove or tape down rugs.
Put non-skid mats or no-slip strips on slippery surfaces, such as tile or wood that may get wet.
Clear clutter and objects off the floor.
Coil or tape cords and wires next to the wall.
Bedrooms:
Use bright light bulbs.
Put lamps within reach of your bed.
Have nightlights so that you can see a path in the dark.
Kitchen:
Put food and the items you use the most within easy reach, or about waist-level.
Use a sturdy step stool to get to the things you can't reach.
Invest in lightweight pots and pans.
Bathrooms:
Install grab bars in the tub or shower and near the toilet.
Put non-skid mats or no-slip strips in the tub or shower floor.
Use an elevated toilet seat and/or plastic shower seat.
Lighting:
Lights may need to be brighter than what's comfortable for younger people.
Use switches that glow in the dark.
Use remotes or switches that work when you clap.
Use bright light bulbs.
Stash flashlights in easy-to-reach places around your house in case the power goes out.
Renovating Your Home
If it's tricky for you to move around safely, you may need to make bigger changes to your home. This requires hiring an architect and contractor to make changes like widening doorways for a wheelchair. That can cost thousands of dollars. While that sounds like a lot, it may be cheaper than moving into a new home.
Many contractors offer sliding-scale fees based on how much you can pay. You may also qualify for government funds to pay for repairs or changes. Contact your local Area Agency on Aging to find out. Some states also offer tax breaks for these changes.
To make your home more livable, you can:
Build a ramp to the front door if you use a walker or wheelchair.
Install rails on both sides of stairs or a motorized lift, called a stair glide.
Lower kitchen counters and cabinets.
Switch out your toilet with a higher one, making it safer to sit down and stand up.
Replace a bath with a walk-in shower, so you can bathe more easily.
Moving Into a Senior Living Community
If you decide to move into a senior living community, the next step is choosing the type. There are three main options based on the level of care you need:
Independent living: In these apartments or condos, you take care of yourself. They offer services, such as cooking and cleaning.
Assisted living: You live in a private room or apartment, and the staff helps you with some daily activities, like getting dressed or bathing.  
Skilled nursing: You need the help of a nurse or nursing assistant 24 hours a day. You live in a private or shared room.
Then you should check the community's safety record. You can look up the facility through Medicare, your state's licensing agency, and the Better Business Bureau. Once you make a list of potential communities, tour each one and speak with the managers, residents, and health care providers. Ask the following questions:
Is the facility licensed? Can you see recent inspection reports?
Can they provide references?
What's the staff-to-resident ratio?
Are the doors and locks secure?
Are staff and medical services available 24 hours a day, or is there an emergency call service?
What meals are provided?
Are there exercise and education programs?
Will the costs go up automatically every year, or only if my/my loved one's needs go up? If so, how much?
Show Sources
Photo Credit: iStock / Getty Images Plus / Getty Images
SOURCES:
Harvard Health Publishing: "5 steps to adapt your home as you age," "Choosing a Senior Living Community," "Two Questions Can Reveal Mobility Problems in Seniors."
Patricia Palomar, instructor, occupational therapy, University of St. Augustine for Health Sciences.
National Institute on Aging: "Aging in Place: Growing Older at Home," "Aging in Place: Tips on Making Home Safe and Accessible," "Fall-Proofing Your Home," "Prevent Falls and Fractures."
University of California, Berkeley Wellness: "Keeping Your Balance as You Age."
AARP: "2018 Home and Community Preferences: A National Survey of Adults 18-Plus."
Aging In Place: "Aging In Place Vs. Assisted Living."
McMaster University: "Adapting your home to age in place."
CDC: "MyMobility Plan."
Eldercare Locator: "Home Improvement Assistance."
AginginPlace.org: "Aging in Place Vs. Assisted Living."
CDC: "Important Facts about Falls."
Massachusetts College of Pharmacy and Health Sciences: "Lighting Evaluation and Solutions to Prevent Falls."
Mayo Clinic: "Fall prevention: Simple tips to prevent falls."
National Caregivers Library: "The Basics Of Assisted Living."