Breastfeeding Tips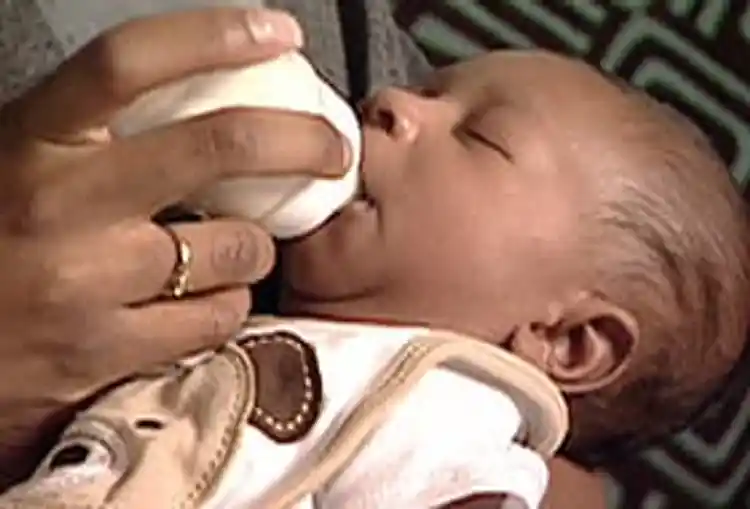 Video Transcript
Tanya Altmann, MD
If you've decided to breastfeed your baby – let's start with some solid reassurance: Millions of moms have successfully gone before you; And just like them, the difficulties you face early on will likely disappear. We have tips to clear the hurdles step by step. When mothers' milk first comes in, breasts suddenly become full – and sometimes engorged. To relieve pressure:use gentle massage apply warm compresses.
Then try to
express milk; And nurse.
Mom and Baby
Nice look at that. That's a good one
Tanya Altmann, MD
Things usually begin to even out once milk production matches baby's needs. Another common concern – milk supply. Is it enough? If so, baby should be exhibiting these signs: Another common concern – milk supply. Is it enough? If so, baby should be exhibiting these signs: Sucking and swallowing sounds while feeding; An increase of wet and dirty diapers; And weight stabilization or gain
Mom and Baby
Are you ready to eat? Kiss
Tanya Altmann, MD
Fortify your little one's health – and your own by being careful with what you consume: Eat a balanced, healthy diet; Stay well hydrated. You need water to make all that milk. Avoid or limit alcohol intake – and if you do choose have an occasional drink, do so soon after baby is fed; But hey, you have the green light on a cup of coffee! A welcome pick-me-up for the bleary eyed. Questions often arise over what's called nipple confusion. That's the theory that newborns may shy away from the breast once they've experienced the artificial nipple from a bottle or pacifier. Usually, you can avoid that if you: Wait to introduce the bottle or pacifier until the infant is two-to-six weeks old when breastfeeding is well established; And keep limits on how often – and how long – the pacifier is in use Supplementing with formula is trickier. Although it may be tempting when you are simply frustrated or tired – it can lessen milk production. Consider pumping your milk on a regular basis to have on hand for babysitters and other caregivers or whenever nursing is not an option. It's not at all uncommon for newborns to fall into their own quirky little habits. What's key is get advice early – before these behaviors interfere with supply and demand.
Mom and Baby
Sometimes I'm distracted cause I'm 7 months old!
Tanya Altmann, MD
Is baby refusing the breast? Sometimes babies who have been nursing well seem to lose interest and go on strike. Stay the course, keep offering and nurse in a quiet, serene setting free of distractions.
Other tips
nurse while rocking, when baby is sleepy or after expressing some milk to encourage letdown and a faster meal for baby.
Mom and Baby
Oh--You look so happy stretching I hate to pick you up….
Tanya Altmann, MD
Does baby favor one breast over the other? Make an effort to alternate the side you offer first for each feeding. If you're still feeling lopsided, use a pump to alleviate excess fullness.
Mom and Baby
Early on he would chomp, chomp down…
Tanya Altmann, MD
Is baby a biter? First, understand that infants cannot bite the breast that feeds them if they on fully latched on with most of areola and nipple in the mouth. When they start to pull away, break the suction with your finger to protect the nipple. And don't forget to offer praise when a feeding is bite free. (smack) Breastfeeding a newborn requires patience and persistence – but the bonding and benefits for mother and child last a lifetime when you take it step by step. For WebMD, I'm Dr.Tanya Altmann.