Choosing Baby High Chairs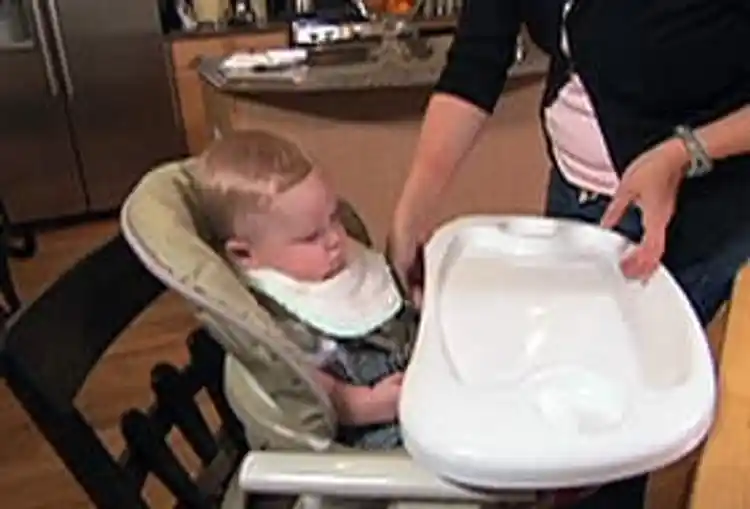 Video Transcript
Ellie
By six or seven months of age, most babies are able to sit up in high chairs for feedings.Melissa
Melissa
But with that convenience comes safety risks.
Ellie and Melissa
Hi, we're Ellie and Melissa, the Baby Planners, and we'll help you make feeding time fun and safe step by step.
Melissa
No matter what type of high chair you like--from classic wood to a more modern style–always buy new. That's because recalls of high chairs are fairly common, so older models may not be safe. Be sure to check out recall notices on the Consumer Product Safety Commission website before you go shopping.
Ellie
There are four basic models: The classic, with a tray. Some even recline so you can use them earlier.;
Melissa
The European style, with no tray. At around nine months you can bring baby close to the table, and they can last through toddlerhood.;
Ellie
The hybrid, which does have a tray but looks more like furniture. It too can grow into a toddler chair.;
Melissa
And the portable chair, which clips onto a table and is great for small places and traveling.
Melissa
Some high chairs need no assembly – others have simple-to-follow setup instructions.
: (fast music)
Melissa
As with all things baby, be sure to read all instructions and safety warnings, and don't hesitate to ask for help.
Ellie
Choose a chair with a wide base, sturdy enough to stay in place in case it gets bumped. Look for some of the following features:
Melissa
Adjustable seats and footrests for baby;
Ellie
Adjustable height for you and your back;
Melissa
Can it fold up for easy storage;
Ellie
And can you adjust all of the features with one hand?
Melissa
If it's a collapsible model, secure the locking devices before each use. If there are wheels – lock those down too.
Ellie
A fixed, center crotch post helps keep baby from slipping under the tray. The leg openings should be only wide enough for one little leg at a time.
Melissa
Always use safety straps to prevent baby from sliding or standing. Chairs should be equipped with three point or five point harnesses—any less just isn't safe.
Ellie
Keep the high chair out of reach of counters, tables or stoves to prevent burns and the possibility the child could push against those surfaces and tip over.
Melissa
Do not allow older children to use the chair as a toy – climbing, pulling or swinging all pose a risk.
Ellie
All plugs and caps should be firmly attached to the chair – not loose enough to pull off and create a choking hazard.
Melissa
Trays with wide rims help keep food in place and detach when it's time for a rinse.But have a plan before you take it off and walk away. Never leave baby unattended.
Ellie
High chairs provided by restaurants are magnets for germs – keep your baby wipes handy.
Melissa
And often they have missing or broken safety straps – that's why some parents choose to bring their own.
Ellie
Just know this: designs that hook on to tables are not for everyday use. When traveling or eating out, select one that locks securely onto the table – and make sure the table supports baby's weight without tipping. Keep tiny toes away from table legs so there's no danger the child can push back and dislodge the seat.
Melissa
The move to the high chair is a major milestone in a baby's first year.
Ellie
Everyone will enjoy the freedom as long as you play it safe – step by step.
Ellie and Melissa
For WebMD, we're Ellie, Melissa, and Yalli, the Baby Planners.