Styling Thinning Hair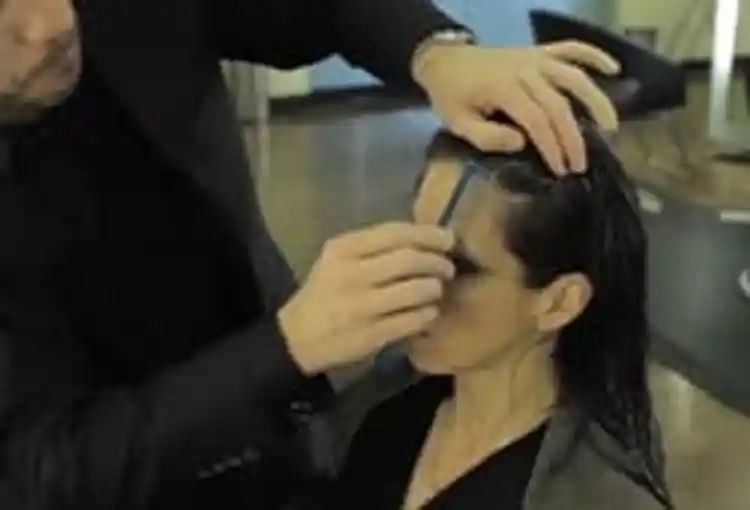 Video Transcript
[MUSIC PLAYING]
BRANDON DARRAGH
There's not really one hair type that sees a lot of hair loss. All hair types can see hair loss. Anybody with thinning hair should probably avoid alcohol based products so that they don't overly dry and dehydrate their hair.
OK, so we're going through right now called the detangling process. And we're going to detangle the hair. We're going to make sure that we're going to analyze the direction in which her hair grows. Her hair grows out of her scalp in this direction. And you can see the hair growing that way. And it lays flat and conforms to her head.
So what we're going to do is then probably part her hair on the opposite way a little bit, maybe slightly closer to center. But when you part this way, you can see that the root direction is still going this way. But now it arcs and creates a lift. So that movement there is going to give us a bit more volume. So even with it wet you can see it wants to stand up a little bit more when you go against the direction of the root.
Dana said that you know, she wanted to talk about hair loss. And I didn't think I really noticed any signs of hair loss at all around the face. But as I got it shampooed and then I started to comb through, a few pieces started to poke out. And so I'm going to point out these little hairs.
See these little baby hairs right here? They're just in the temple area. And we're going to be looking here as well. And they'll be just right in here. These are just beginning signs, just little signs of hormone pattern hair loss.
I find people with thinning hair ask, should I blow dry every day? And I think that one of the challenges there is that oil production is different for each person. Some people may have to blow dry every day because they have to wash their hair everyday.
There are alternatives to blow drying. And that would be like wet setting your hair or setting your hair in rollers and letting it air dry. And that effect will be a little bit safer and less wear and tear on the hair. Definitely when your hair is long, heavy, and possibly damaged, and then if you find that your hair is thinning, definitely taking it a bit shorter, maybe finding a new style, removing that weight is going to be your best bet in achieving more body, and probably a thicker looking hair.
So we talk to Dana a little while ago about how we were going to change her part. And what we decided to do is we're going to work her part from the side, but we're going to work it back towards the center. Working it back towards the center gives an effect of taking the top layers and spreading them evenly so that you have more of a balance. And you know, that you don't have 1/3 of your hair on one side and 2/3 on another. It's just the visual that the side part creates on the front. But in the back, it's actually dead center and more uniform.
From a styling perspective, the best way to deal with thinning hair is starting with products. You want to use certain products that are designed to make the hair shafts swell. That's going to immediately give you a short term effect. It goes away when you wash it. And then using products that are going to create more volume such as rollers, round brushes. Avoid flat brushes and flat irons. And work with more curling irons and rounded tools versus flat tools.
Women with thinning hair definitely have hope. They can create a lot more volume through styling techniques and just proper care of the hair.