Uses
How to use GYNAZOLE 1 Cream With Prefilled Applicator
Read the Patient Information Leaflet if available from your pharmacist before you start using butoconazole, and each time you get a refill. If you have any questions, ask your doctor or pharmacist.
This product is for vaginal use only. Wash your hands before and after use. Avoid contact of this cream with your eyes. If it gets into your eyes, wash them right away with plenty of water. Call your doctor if eye irritation lasts.
Use this product as directed by your doctor, usually given as a single dose. Learn all preparation and usage instructions in the product package. Lie on your back with your knees toward your chest. Insert the applicator filled with medication into the vagina as far as it will comfortably go. Slowly press the plunger of the applicator in to apply the full dose of the cream.
Do not use tampons or douches while using this medication. Unscented sanitary napkins may be used for your menstrual period or to protect your clothing from leakage of the medication.
Tell your doctor if your condition does not improve or if it returns within 2 months. You may need a different or additional medication to treat your condition.
Side Effects
Increased vaginal/urethral burning/itching/pain, or mild abdominal cramps may occur. If any of these effects last or get worse, tell your doctor or pharmacist promptly.
Remember that this medication has been prescribed because your doctor has judged that the benefit to you is greater than the risk of side effects. Many people using this medication do not have serious side effects.
A very serious allergic reaction to this drug is rare. However, get medical help right away if you notice any symptoms of a serious allergic reaction, including: rash, itching/swelling (especially of the face/tongue/throat), severe dizziness, trouble breathing.
This is not a complete list of possible side effects. If you notice other effects not listed above, contact your doctor or pharmacist.
In the US -
In the US - Call your doctor for medical advice about side effects. You may report side effects to FDA at 1-800-FDA-1088 or at www.fda.gov/medwatch.
In Canada - Call your doctor for medical advice about side effects. You may report side effects to Health Canada at 1-866-234-2345.
Precautions
Before using this medication, tell your doctor or pharmacist if you are allergic to it; or to other azole antifungal agents (such as clotrimazole, fluconazole); or if you have any other allergies. This product may contain inactive ingredients, which can cause allergic reactions or other problems. Talk to your pharmacist for more details.
Before using this medication, tell your doctor or pharmacist your medical history, especially of: diabetes, immune system problems (such as HIV-AIDS), frequent vaginal yeast infections (more than 4 per year).
Before having surgery, tell your doctor or dentist about all the products you use (including prescription drugs, nonprescription drugs, and herbal products).
Ask your doctor whether you can have sexual intercourse while using this product. This product may weaken rubber products (such as latex condoms, diaphragms, cervical caps) and lead to failure. This can result in pregnancy. Do not use these products during treatment with this medication and for 3 days after treatment is over. Consult your doctor about other forms of barrier protection/birth control (such as polyurethane condoms) during this time.
During pregnancy, this medication should be used only when clearly needed. Discuss the risks and benefits with your doctor. Pregnant women should use extra care when using the vaginal applicator. Follow your doctor's instructions closely on how to insert the medication using the applicator.
It is unknown if this drug passes into breast milk. Consult your doctor before breast-feeding.
Interactions
Drug interactions may change how your medications work or increase your risk for serious side effects. This document does not contain all possible drug interactions. Keep a list of all the products you use (including prescription/nonprescription drugs and herbal products) and share it with your doctor and pharmacist. Do not start, stop, or change the dosage of any medicines without your doctor's approval.
Does GYNAZOLE 1 Cream With Prefilled Applicator interact with other drugs you are taking?
Enter your medication into the WebMD interaction checker
Overdose
This medicine may be harmful if swallowed. If someone has overdosed and has serious symptoms such as passing out or trouble breathing, call 911. Otherwise, call a poison control center right away. US residents can call their local poison control center at 1-800-222-1222. Canada residents can call a provincial poison control center.
Do not share this medication with others.
To help prevent vaginal yeast infections, dry the genital area thoroughly after showering, bathing, or swimming. Avoid wearing tight jeans, nylon underwear, pantyhose, a wet bathing suit, or damp/sweaty exercise clothes for long periods. Wear cotton underwear, and change your underwear daily.
This medication has been prescribed for your current condition only. Do not use it later for another infection unless your doctor tells you to.
If your sexual partner experiences symptoms, they should contact their doctor right away.
Not applicable. This medication is usually given as one dose only.
Store at room temperature. Keep all medications away from children and pets.
Do not flush medications down the toilet or pour them into a drain unless instructed to do so. Properly discard this product when it is expired or no longer needed. Consult your pharmacist or local waste disposal company.
Images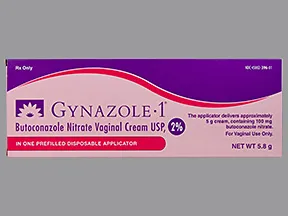 Gynazole-1 2 % vaginal cream
Color: white
Shape:
Imprint:
This medicine is a white, cream
Drug Survey
Are you currently using GYNAZOLE 1 Cream With Prefilled Applicator?
This survey is being conducted by the WebMD marketing sciences department.
Selected from data included with permission and copyrighted by First Databank, Inc. This copyrighted material has been downloaded from a licensed data provider and is not for distribution, except as may be authorized by the applicable terms of use.
CONDITIONS OF USE: The information in this database is intended to supplement, not substitute for, the expertise and judgment of healthcare professionals. The information is not intended to cover all possible uses, directions, precautions, drug interactions or adverse effects, nor should it be construed to indicate that use of a particular drug is safe, appropriate or effective for you or anyone else. A healthcare professional should be consulted before taking any drug, changing any diet or commencing or discontinuing any course of treatment.