Uses
This medication is used to treat dry mouth and throat. It is an artificial saliva that moistens and cleans the mouth. This allows you to be more comfortable when drinking, chewing and speaking. It also provides relief from mouth sores, also called mucositis, caused by radiation treatment or cancer chemotherapy.
How to use Bocasal 538 Mg Mucosal Powder In Packet
Follow all directions on the product package for using this medication correctly. The dosage is based on your medical condition and response to treatment. To relieve dry mouth, use this medication as directed by your doctor by swishing your prescribed dose in your mouth and then spitting it out. Do not swallow this medication.
If you are using the powder form of this medication, prepare the medication as directed by the product package.
If you are using this medication during radiation treatment or cancer chemotherapy for mucositis, follow your doctor's instructions carefully.
Depending on your product, avoid eating or drinking for at least 15 to 30 minutes after using this product. Read the product instructions for more specific information.
Use this medication regularly to get the most benefit from it. To help you remember, use it at the same times each day.
Tell your doctor if your condition lasts or gets worse.
Side Effects
Saliva substitutes can be used with no side effects. If you have any unusual side effects, tell your doctor or pharmacist promptly.
A very serious allergic reaction to this drug is rare. However, get medical help right away if you notice any symptoms of a serious allergic reaction, including: rash, itching/swelling (especially of the face/tongue/throat), severe dizziness, trouble breathing.
This is not a complete list of possible side effects. If you notice other effects not listed above, contact your doctor or pharmacist.
Call your doctor for medical advice about side effects. You may report side effects to FDA at 1-800-FDA-1088 or at www.fda.gov/medwatch.
In Canada - Call your doctor for medical advice about side effects. You may report side effects to Health Canada at 1-866-234-2345.
Precautions
Before using saliva substitute, tell your doctor or pharmacist if you are allergic to it; or if you have any other allergies. This product may contain inactive ingredients, which can cause allergic reactions or other problems. Talk to your pharmacist for more details.
Before using this medication, tell your doctor or pharmacist your medical history.
This medication may contain sodium. Before using this medication, talk to your doctor if you are on a salt-restricted diet or if increased salt intake could worsen your condition (such as heart failure, high blood pressure).
Tell your doctor if you are pregnant before using this product.
It is unknown if this drug passes into breast milk. Consult your doctor before breast-feeding.
Interactions
Drug interactions may change how your medications work or increase your risk for serious side effects. This document does not contain all possible drug interactions. Keep a list of all the products you use (including prescription/nonprescription drugs and herbal products) and share it with your doctor and pharmacist. Do not start, stop, or change the dosage of any medicines without your doctor's approval.
Does Bocasal 538 Mg Mucosal Powder In Packet interact with other drugs you are taking?
Enter your medication into the WebMD interaction checker
Overdose
Overdose with this medication is unlikely even if swallowed. However, if someone has overdosed and has serious symptoms such as passing out or trouble breathing, call 911. Otherwise, call a poison control center right away. US residents can call their local poison control center at 1-800-222-1222. Canada residents can call a provincial poison control center.
If you miss a dose, use it as soon as you remember. If it is near the time of the next dose, skip the missed dose. Use your next dose at the regular time. Do not double the dose to catch up.
Store at room temperature away from light and moisture. Do not refrigerate the solution. Do not store in the bathroom. Keep all medications away from children and pets.
Do not flush medications down the toilet or pour them into a drain unless instructed to do so. Properly discard this product when it is expired or no longer needed. Consult your pharmacist or local waste disposal company.
Images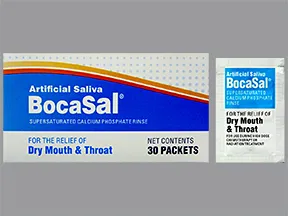 BocaSal 538 mg mucosal powder in packet
Color: clear
Shape:
Imprint:
This medicine is a clear, clear, powder
Drug Survey
Are you currently using Bocasal 538 Mg Mucosal Powder In Packet?
This survey is being conducted by the WebMD marketing sciences department.
Selected from data included with permission and copyrighted by First Databank, Inc. This copyrighted material has been downloaded from a licensed data provider and is not for distribution, except as may be authorized by the applicable terms of use.
CONDITIONS OF USE: The information in this database is intended to supplement, not substitute for, the expertise and judgment of healthcare professionals. The information is not intended to cover all possible uses, directions, precautions, drug interactions or adverse effects, nor should it be construed to indicate that use of a particular drug is safe, appropriate or effective for you or anyone else. A healthcare professional should be consulted before taking any drug, changing any diet or commencing or discontinuing any course of treatment.