Uses
Crizanlizumab is used by people with sickle cell disease to reduce the number of painful crises caused by the disease. It works by attaching to a certain substance in your body (P-selectin) and preventing blood cells from sticking together. Crizanlizumab belongs to a class of drugs known as monoclonal antibodies.
How to use Adakveo 10 Mg/Ml Intravenous Solution Monoclonal Antibody - Selectin Inhibitors
Read the Patient Information Leaflet if available from your pharmacist before you start using crizanlizumab and each time you get an infusion. If you have any questions, ask your doctor or pharmacist.
This medication is given by a health care professional. It is given as directed by your doctor on a treatment schedule. It is injected slowly into a vein usually over 30 minutes. The first 2 infusions are usually given 2 weeks apart. After that, an infusion is usually given every 4 weeks. Follow your doctor's treatment schedule.
Infusion reactions may happen while you are receiving this medication and for up to 24 hours after treatment. Tell your doctor or nurse right away if you have symptoms such as pain, headache, dizziness, fever, chills, shivering, nausea, vomiting, diarrhea, itching, or trouble breathing. Your doctor may slow down or stop your treatment for some time if you have infusion reactions. Your doctor may also prescribe other medications (such as acetaminophen, nonsteroidal anti-inflammatory drugs-NSAIDs, antihistamines) before each treatment to help prevent these side effects. Carefully follow your doctor's directions for all of your medications.
The dosage and treatment schedule are based on your medical condition, weight, and response to treatment. Use this medication regularly to get the most benefit from it. To help you remember, mark the days on the calendar when you need to receive the medication.
Side Effects
See also How to Use section.
Nausea, stomach pain, fever, or joint/back pain may occur. If any of these effects last or get worse, tell your doctor or pharmacist promptly.
Remember that this medication has been prescribed because your doctor has judged that the benefit to you is greater than the risk of side effects. Many people using this medication do not have serious side effects.
A very serious allergic reaction to this drug is rare. However, get medical help right away if you notice any symptoms of a serious allergic reaction, including: rash, itching/swelling (especially of the face/tongue/throat), severe dizziness, trouble breathing.
This is not a complete list of possible side effects. If you notice other effects not listed above, contact your doctor or pharmacist.
In the US - Call your doctor for medical advice about side effects. You may report side effects to FDA at 1-800-FDA-1088 or at www.fda.gov/medwatch.
In Canada - Call your doctor for medical advice about side effects. You may report side effects to Health Canada at 1-866-234-2345.
Precautions
Before using crizanlizumab, tell your doctor or pharmacist if you are allergic to it; or if you have any other allergies. This product may contain inactive ingredients, which can cause allergic reactions or other problems. Talk to your pharmacist for more details.
Before using this medication, tell your doctor or pharmacist your medical history.
Before having surgery, tell your doctor or dentist about all the products you use (including prescription drugs, nonprescription drugs, and herbal products).
Tell your doctor if you are pregnant or plan to become pregnant. You should not become pregnant while using crizanlizumab. Crizanlizumab may harm an unborn baby. If you become pregnant, talk to your doctor right away about the risks and benefits of this medication.
It is unknown if this medication passes into breast milk. Consult your doctor before breast-feeding.
Interactions
Drug interactions may change how your medications work or increase your risk for serious side effects. This document does not contain all possible drug interactions. Keep a list of all the products you use (including prescription/nonprescription drugs and herbal products) and share it with your doctor and pharmacist. Do not start, stop, or change the dosage of any medicines without your doctor's approval.
This medication may interfere with certain lab tests (such as platelet counts), possibly causing false test results. Make sure lab personnel and all your doctors know you use this drug.
Does Adakveo 10 Mg/Ml Intravenous Solution Monoclonal Antibody - Selectin Inhibitors interact with other drugs you are taking?
Enter your medication into the WebMD interaction checker
Overdose
If someone has overdosed and has serious symptoms such as passing out or trouble breathing, call 911. Otherwise, call a poison control center right away. US residents can call their local poison control center at 1-800-222-1222. Canada residents can call a provincial poison control center.
Keep all medical and lab appointments.
It is important to get each dose of this medication as scheduled. If you miss a dose, ask your doctor or pharmacist right away for a new dosing schedule.
Not applicable. This medication is given in a hospital or clinic or doctor's office and will not be stored at home.
Images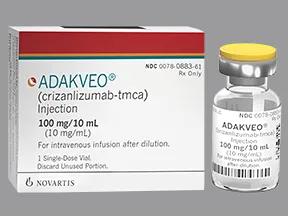 Adakveo 10 mg/mL intravenous solution
Color: colorless
Shape:
Imprint:
This medicine is a colorless, clear, vial
Free RX Coupon
Save up to
80%

on your prescriptions.
Available coupons
Save up to 80% on your prescription with WebMDRx
Drug Survey
Are you currently using Adakveo 10 Mg/Ml Intravenous Solution Monoclonal Antibody - Selectin Inhibitors?
This survey is being conducted by the WebMD marketing sciences department.
Selected from data included with permission and copyrighted by First Databank, Inc. This copyrighted material has been downloaded from a licensed data provider and is not for distribution, except as may be authorized by the applicable terms of use.
CONDITIONS OF USE: The information in this database is intended to supplement, not substitute for, the expertise and judgment of healthcare professionals. The information is not intended to cover all possible uses, directions, precautions, drug interactions or adverse effects, nor should it be construed to indicate that use of a particular drug is safe, appropriate or effective for you or anyone else. A healthcare professional should be consulted before taking any drug, changing any diet or commencing or discontinuing any course of treatment.