Uses
This medication is used before X-ray imaging tests (such as CT scans). Iohexol contains iodine and belongs to a class of drugs known as contrast media or dyes. It works by adding contrast to body parts and fluids in these imaging tests. Iohexol improves the images obtained during a CT scan, so your doctor can more easily diagnose your condition.
How to use Omnipaque Vial
Read your doctor's specific instructions on when and how to take iohexol before your imaging test. To make it easier to swallow, this medication can be mixed with water, carbonated beverages, milk, or juice. Your doctor or pharmacist should tell you the amount of iohexol to use and how much liquid to dilute it in.
Take this medication by mouth as directed by your doctor. It is usually taken just before the imaging test. The dosage is based on the specific imaging test, your age, and your weight.
Drink plenty of fluids before and after the imaging test, unless directed otherwise by your doctor.
This medication may also be given by a health care professional by injection into a vein, joint, the spine, or placed in the bladder or the rectum. If given these ways, there are different precautions and side effects to be aware of. Talk to your doctor or pharmacist for more details.
Side Effects
Diarrhea, nausea, vomiting, stomach pain, gas, or headache may occur. If any of these effects last or get worse, tell your doctor or pharmacist promptly.
Remember that this medication has been prescribed because your doctor has judged that the benefit to you is greater than the risk of side effects. Many people using this medication do not have serious side effects.
Tell your doctor right away if you have any serious side effects, including: signs of kidney problems (such as change in the amount of urine).
A very serious allergic reaction to this drug is rare. However, get medical help right away if you notice any symptoms of a serious allergic reaction, including: rash, itching/swelling (especially of the face/tongue/throat), severe dizziness, trouble breathing.
This is not a complete list of possible side effects. If you notice other effects not listed above, contact your doctor or pharmacist.
In the US - Call your doctor for medical advice about side effects. You may report side effects to FDA at 1-800-FDA-1088 or at www.fda.gov/medwatch.
In Canada - Call your doctor for medical advice about side effects. You may report side effects to Health Canada at 1-866-234-2345.
Precautions
Before taking iohexol, tell your doctor or pharmacist if you are allergic to it; to other contrast media; or to iodine; or if you have any other allergies. This product may contain inactive ingredients, which can cause allergic reactions or other problems. Talk to your pharmacist for more details.
Before using this medication, tell your doctor or pharmacist your medical history, especially of: asthma, hay fever, kidney disease.
Before having surgery, tell your doctor or dentist about all the products you use (including prescription drugs, nonprescription drugs, and herbal products).
During pregnancy, this medication should be used only when clearly needed. Discuss the risks and benefits with your doctor.
When taken by mouth, this medication is unlikely to pass into breast milk. Consult your doctor before breast-feeding.
Interactions
Drug interactions may change how your medications work or increase your risk for serious side effects. This document does not contain all possible drug interactions. Keep a list of all the products you use (including prescription/nonprescription drugs and herbal products) and share it with your doctor and pharmacist. Do not start, stop, or change the dosage of any medicines without your doctor's approval.
One product that may interact with this drug is: metformin.
Does Omnipaque Vial interact with other drugs you are taking?
Enter your medication into the WebMD interaction checker
Overdose
If someone has overdosed and has serious symptoms such as passing out or trouble breathing, call 911. Otherwise, call a poison control center right away. US residents can call their local poison control center at 1-800-222-1222. Canada residents can call a provincial poison control center.
Not applicable. This medication is given once before your imaging test. It is important to take this medication at the time prescribed by your doctor. If you forget to take the dose, your imaging test may need to be rescheduled.
Store at room temperature away from light. Do not freeze. Keep all medications away from children and pets.
Do not flush medications down the toilet or pour them into a drain unless instructed to do so. Properly discard this product when it is expired or no longer needed. Consult your pharmacist or local waste disposal company.
Images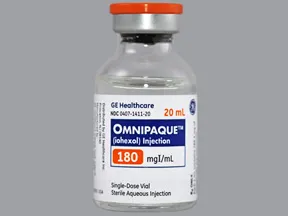 Omnipaque 180 mg iodine/mL intrathecal solution
Color: colorless
Shape:
Imprint:
This medicine is a colorless, clear, vial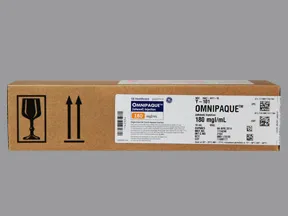 Omnipaque 180 mg iodine/mL intrathecal solution
Color: colorless
Shape:
Imprint:
This medicine is a colorless, clear, vial
You Might Also Like
View More
Drug Survey
Are you currently using Omnipaque Vial?
This survey is being conducted by the WebMD marketing sciences department.
Free RX Coupon
Save up to
80%

on your prescriptions.
Available coupons
Save up to 80% on your prescription with WebMDRx
Selected from data included with permission and copyrighted by First Databank, Inc. This copyrighted material has been downloaded from a licensed data provider and is not for distribution, except as may be authorized by the applicable terms of use.
CONDITIONS OF USE: The information in this database is intended to supplement, not substitute for, the expertise and judgment of healthcare professionals. The information is not intended to cover all possible uses, directions, precautions, drug interactions or adverse effects, nor should it be construed to indicate that use of a particular drug is safe, appropriate or effective for you or anyone else. A healthcare professional should be consulted before taking any drug, changing any diet or commencing or discontinuing any course of treatment.