Chef Lizzie: Fizzy Fruit Video Recipe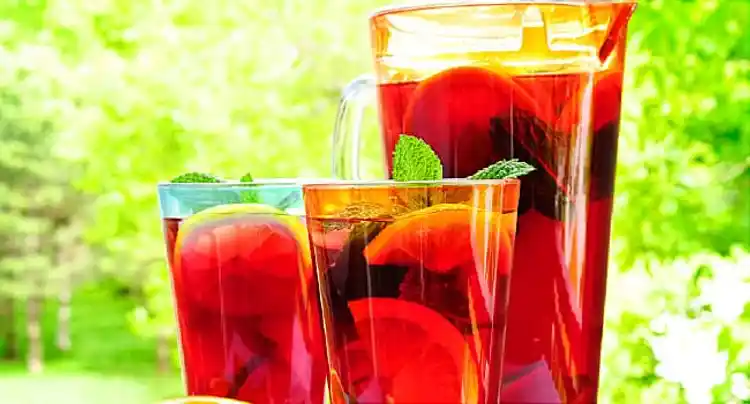 Video Transcript
[MUSIC PLAYING]
LIZZIE
Cheers, everybody. Sometimes there's nothing cooler than a cold and bubbly drink. On this episode, I'm going to show you how to make one that's sparkly and sweet and also good for you. It's your very own homemade soda. I like to call it Fizzy Fruit.
Welcome back to the Fit Kitchen. I'm here with my friend Latiqua.
LATIQUA
Hi.
LIZZIE
And we're talking about soft drinks. So do your parents ever let you drink soda, or do they say it's bad for you?
LATIQUA
They say it's bad.
LIZZIE
Well, what about juice? That's supposed to be good for you, right?
LATIQUA
Yeah it depends on what kind of juice.
LIZZIE
Exactly. Well, we're making something that's a bit of both. See, soda can be really bad for you, with lots of syrup and sugar and empty calories. On the other hand, juice alone is not always perfect.
SPEAKER 1
What?
LIZZIE
Are you mixed up yet?
LATIQUA
I don't know, sort of.
LIZZIE
[CHUCKLES] Well, if you are mixed up, get ready to get really mixed up, because now we're going to mix up one of my favorite drinks-- a homemade pop that's just as fun as a cold soda and has just the right amount of juice.
So let's start with some ice. Grown-ups say it's "on the rocks" when you pour a drink with ice in it. One for me, one for you.
LATIQUA
Thank you.
LIZZIE
Next, we're going to pour 4 ounces of sparkling water. This is where the fizziness comes from. You can use any sparkling water. I like to use a special Italian brand. But there are lots of good ones on the market.
Add that to my glass. See how it bubbles? All the sparkling waters on the market are low in calories but are a lot more exciting than plain old ice water. Next, we're going to choose our favorite all-natural juice. That's the fruit part of the Fizzy Fruit. Today, we've got cranberry, grape, and pear. What's your favorite?
LATIQUA
Grape.
LIZZIE
OK. So what we're going to do is we're going to measure out 4 ounces and then pour it into your glass. Perfect. Then I will do the same. I think I'm going to try the pear today.
You've got to be careful when you buy juice at the market, because sometimes they write tricky labels when they aren't always using the best stuff. The best juice will say on the label, 100% fruit juice, no added sugar, simple as that.
Doesn't that look nice and bubbly? It has a nice fun color too. You can mix juices too, if that's what floats your boat.
[BOAT HORN]
Feel free to have fun and make your own Fizzy Fruit flavor combination.
SPEAKER 2
Ahoy, matey!
LIZZIE
You can also drop in some slices or chunks of fruit, if you like. Real fruit will give you a little extra fiber, which is really good for you. It can also be fun to drink out of a cool straw. Why don't you try?
LATIQUA
Thank you.
LIZZIE
Yeah. Mm, what do you think?
LATIQUA
Mm, delicious.
LIZZIE
It's just like a sweet soda pop, only homemade and healthier than soft drinks that you usually buy at the store-- fizzy, fruity and delicious. How about a toast?
LATIQUA
To us.
[CLINK]
LIZZIE
Cheers.
[MUSIC PLAYING]