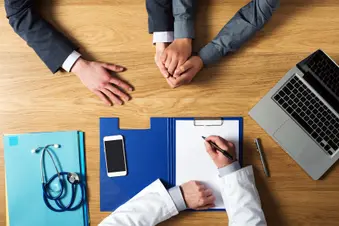 When you're looking for a doctor, it's key that you find one that's a great fit for you. It can take some time and effort, but it's worth it.
You want to choose a doctor who listens to your questions and concerns and explains things in ways that you can understand.
If you need to find a doctor, ask friends or family members if they like theirs and why. If your doctor is retiring or moving, ask them for recommendations.  Your health plan may limit the doctors you can see and will list them on their website.
Once you've narrowed down your choices to a few doctors, check their websites or call their offices to get the answers to these questions:
The Basics
Are they taking on new patients?
Do they accept your insurance plan?
Does the doctor accept Medicare?
About the Doctor
How many other doctors are in the practice?
Who will see you if your doctor isn't available?
Which hospital does the doctor use? Medicare's website has a feature called "Hospital Compare" that rates most hospitals, including VA and military medical centers.
Do they practice telemedicine?
If you have a specific medical condition, how much experience does the doctor have treating it?
Does the doctor have certifications or special training? The American Board of Medical Specialties has a website (certificationmatters.org) that can help you find out.
Does anyone answer calls in an emergency or when the doctor is away?
Has the doctor harmed someone in their care or been in trouble for other reasons?  Check the website of the Federation of State Medical Boards or the medical board in your state. Or try a Google search.
Does the doctor get research money from drugmakers or invest in drug or medical device companies? Medicare has a website (openpaymentsdata.cms.gov) that can tell you. 
About the Office
Where is the office (and are you willing to travel there)?
What are the office hours?
How long does it take to get an appointment?
Do they offer evening or weekend appointments?
What is the cancellation policy?
How long do appointments usually last?
How do they deal with patients who might be contagious?
Do they do lab tests at their office?
What kind of online presence does the office have? Is there a site where you can see your records whenever you want? Can you make appointments, get lab results, communicate with the doctor, or ask for prescription refills online?
How does the office handle phone calls if you have questions? Will a nurse or physician assistant call you back?
If you are more comfortable speaking another language, is there anyone in the office who speaks that language?
After the First Visit
You may want to call several doctors' offices to see if you can visit them and see what they're like. Some may even let you meet with a staff member to ask questions.
Once you've chosen a doctor and had your first visit, ask yourself how it went.
Did the doctor listen to you and respect what you had to say?
Were things explained in a way you could understand?
Did you get enough time with the doctor?
Were all of your questions answered?
Was the staff friendly and helpful?
Was the office clean and comfortable?
If you answered "no" to any of these questions, you might want to continue to search until you find a doctor who's a better match for you.
Online Reviews
There are plenty of places online where patients can post their opinions about their doctors. They may rate how well the doctor:
Listens
Keeps on time
Explains medical problems
They may even rate the office staff and how long you have to wait to get in. These reviews are fun to read, but they can have problems.
First, they're opinions, not facts. What one person thinks is a good doctor might be different from what you think. Worse, some reviews are phony or paid ads, but there's no way to find that out.
Show Sources
SOURCES:
Healthfinder.gov: "Choosing a Doctor: Quick tips."
National Institute on Aging: "17 Questions to Ask About Your New Doctor."
Washington Health Alliance: "Questions to Ask Before Choosing a New Primary Care Provider."
Scripps Health: "5 Questions to Ask When Looking for a New Doctor."
HealthCare.gov: "5 questions to ask about your new doctor."
Blue Cross/Blue Shield: "Five tips for choosing a new primary care physician."
The New York Times: "Insurer's Flawed Directories Leave Patients Scrambling for In-Network Doctors."
 ConsumerReports.org: "How to Find a Good Doctor."
Medicare.gov: "Hospital Compare."
American Board of Physician Specialties (Certificationmatters.org).
Docinfo.org.
Forbes.com: "Does Your Doctor Have Malpractice Claims? How to Find Out."
Opendatapayment.org.