Erectile Dysfunction Pills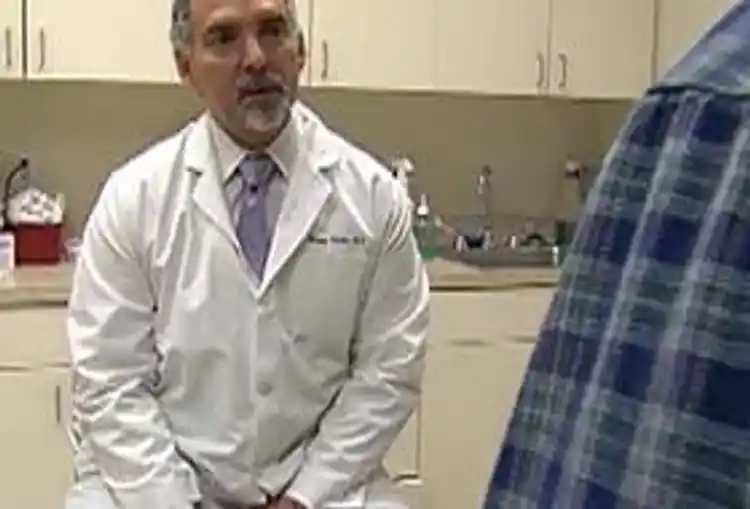 Video Transcript
Narrator
What are the treatments for ED?
Bruce Stein, MD
…Turning around the condition that may have brought it in…whether it be hypertension or prostatitis, or low testosterone…and if everything is normal and you just can't improve the patient, I think the first line of action, if it is indicated, is one of the pills. And these, quote unquote, 'sex pills' include Viagra, Levitra and Cialis…And they all seem to have equal effectiveness. There is small nuances and differences between the three.
Narrator
Beyond the pills, what other treatments are available if they don't work?
Bruce Stein, MD
Then you're dealing with a more severe case. And there are always predisposing medical problems associated with it. And …what you're trying to do is help the patient achieve a functioning erection where he and his partner are happy. And the best ways to do that are with injection therapy. You actually take a needle with a chemical inside a syringe and inject the needle into the body of penis. This starts a cascade of events that can help blood rush through into the penis and give someone a functioning erection. They're expensive…they're a little problematic in that people don't like the idea of it, but once they get used to it, they can relegate themselves to it. The chemical can also be replicated in pellet form. The pellet can be inserted into the tip of the penis with a plastic device that helps you administer it. And it has the same chemical that is injected. And that pellet with that chemical in it defuses, from the inside of the urethra, which is the tube where you urinate through, and it defuses into the body of the penis. And you can get a good erection there…with that. …Sometimes that pellet is used to augment or in addition to one of the pills. So we're talking about injection therapy, pellets with a chemical in them into the urinary tube. A third thing is a vacuum device, which is an external device that you actually put a suctioning device over the penis. And it has a suctioning effort where blood is pulled into the penis…you then use a mechanical like rubber band device around the base to maintain the erection. And they both mechanical and electrical vacuum erection devices that they can prescribed.